How to Get to Easter Island
By Emily Zemler

; Updated August 11, 2017
Everything you need to know about traveling to Easter Island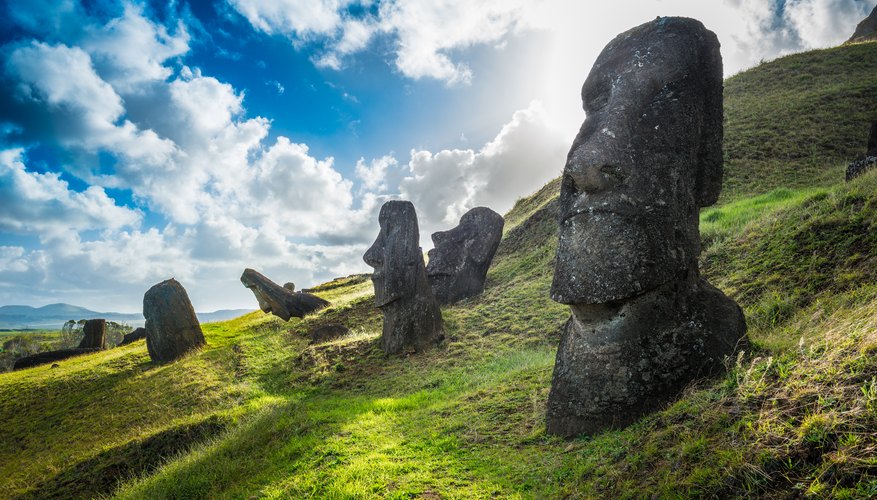 Easter Island is a remote destination, 2,000 miles off the coast of South America. The inhabited 63-square-mile island is home to around 900 Easter Island Heads statues, which can be found in various states of disrepair around the island. It's a challenging place to visit, both because it's remote and because there are few amenities (almost no Wi-Fi, for example). Rapa Nui National Park, with its wide open, uninhabited spaces, covers half the island, and there are several white sand beaches. It's the sort of trip that requires a lot of planning.
Flying to Easter Island
The best way to journey to Easter Island is via plane. The island's capital city of Hanga Roa is serviced by one airline, LATAM, a Chilean airline headquartered in Santiago. Travelers must first fly to Santiago and then connect to Mataveri International Airport on Easter Island. The flight between Chile and Hanga Roa is approximately five and a half hours, and the schedule is limited, which means travelers may have to spend a lengthy layover in the Santiago airport. There is also a flight from Papeete, Tahiti available once per week via LATAM, which also takes approximately five hours.
Sailing to Easter Island
Cruise ship lovers have several options to voyage to Easter Island by sea. Book an excursion to Easter Island and its sights when traveling with Princess Cruises on one of several itineraries, or select Crystal Cruises' "Storied Isles of the Pacific," which stops at Easter Island for one day. These visits are typically short, however, so travelers who hope to spend several days on the island should consider making Easter Island their sole destination.
All travelers, regardless of length of stay, will need a valid, current passport to enter Easter Island, which is part of Chile. U.S. visitors staying less than three months do not need a visa to visit. A tourist card valid for 90 days will be issued upon arrival, usually during a transfer in Santiago.
Traveling around the island
Once on Easter Island, it can be difficult to arrange ground transportation because cellphone service is limited. You can pre-book taxi services through your hotel or arrange a rental car. If the narrow, rough roads are a concern, book a private or group tour, which handles the logistics for you. Private tours with Easter Island Travel run $145 per person, while small group tours of eight people or less cost $90 per person. Parts of the island are accessible only via foot, so travelers can hike their way around to see the Pacific Ocean views and giant statues.
Weather is also an important consideration when traveling to Easter Island. The island's climate is subtropical, which means that it can be very rainy all year. April through June are the wettest months, with less rain expected in the winter. Temperatures typically range from 66 degrees F to 80 degrees F, depending on the time of year. It's best to be prepared with rain gear during a visit. Be sure to check the forecast ahead of time and consider the weather when planning your trip.