A Guide to Hop-On-Hop-Off in Barcelona
By Kristin Amico

; Updated September 26, 2017
Take to the streets to experience Barcelona's history, architecure and seaside vistas with ease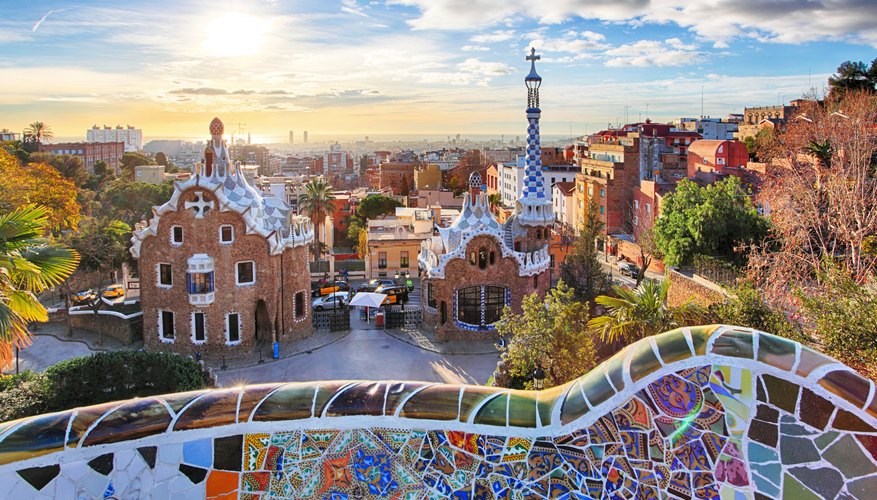 From the cobblestone Gothic Quarter to Park Guell high above the city, Barcelona is a visual feast. Its nearly 40 square miles are packed with cultural, natural and nautical wonders. To experience as much as possible during a visit, consider one of the hop-on, hop-off tours. In addition to saving time, you'll receive historical background from narrated guides while zooming around the city. Follow these tips before you book.
Multiple tour operators mean more options
There are two major hop-on, hop-off tour companies. Barcelona Bus Turístic offers three routes that cover the east, west and central geographies of the city. All routes are covered under the price of one ticket and include 45 stops in all. Barcelona City Tour has a two-route plan that covers the east and west side of the city. Both routes are included in the price of a single ticket, with 35 total stops. Both operators offer one-day or multi-day passes, allowing pass holders to board or exit the bus at any stop along the way. If you are short on time or in the city for only a day, Barcelona Bus Turísti's central "red" route is the ideal trip to see the most popular highlights in the shortest amount of time.
Navigation primer
Spending the first day on a hop-on, hop-off tour helps orient you around the city's twisty streets and grand boulevards, and ultimately helps you figure out how to easily get around Barcelona for the rest of your visit. Be sure to get a free map or guidebook when you board detailing the bus routes and landmarks with descriptions of each.
Purchase tickets online
To ensure a spot on your bus of choice, book online. In the busy summer months, it's recommended to purchase at least a day or two in advance. Both operators offer online discounts with pricing for children, adults and seniors. Ticket prices for both companies average $30 to $41 for adults, $25 to $37 for seniors and $16 to $21 for children, and both offer an app for mobile purchasing. Barcelona City Tour's app also includes interactive content, real-time bus locations, tourist guides and detailed point-of-interest information.
Seasonal itineraries may change
High tourist season runs from June through July. During that time all bus routes are active, with an expanded number of daily departures. Buses also run longer hours (earlier start times and later end times) in the summer, but expect longer lines and more crowds. In addition to planning your trip to work around peak times, be sure to take note of public holidays when some major sites or museums are closed.
Keep in mind that double-decker buses have open-roof upper seating. Winter will be cooler, and the chance of rain is higher. While lower-level seating in inclement weather will be warmer, the views are better on top, of course.
Plan your route based on interests and time
All bus companies offer multiple tour routes, so have a rough itinerary planned before you board to ensure you can fit in your must-see spots. Some circuits stay close to the tourist hot spots in the city center, while others venture further out to areas that are harder to reach on foot, such as Olympic Park, Port Vell and the Barcelona Zoo. There are also tour routes that focus on Gaudi architecture and cultural highlights.
Don't go hungry
Barcelona is a food lover's dream. If you plan to make a lunch or dinner stop along the way, be sure to check beforehand to ensure the restaurant doesn't require reservations and that it will be open when you plan to arrive. Many close after lunch and don't open again until 8 or 8:30 p.m. for dinner service. Keep crowds in mind, too. Food hot spots such as La Boquería market are extremely crowded from late morning to early evening. For the best experience, arrive early.