How to Get From Barcelona to Ibiza
By Brenna Swanston

; Updated August 11, 2017
Finding the way to Party Island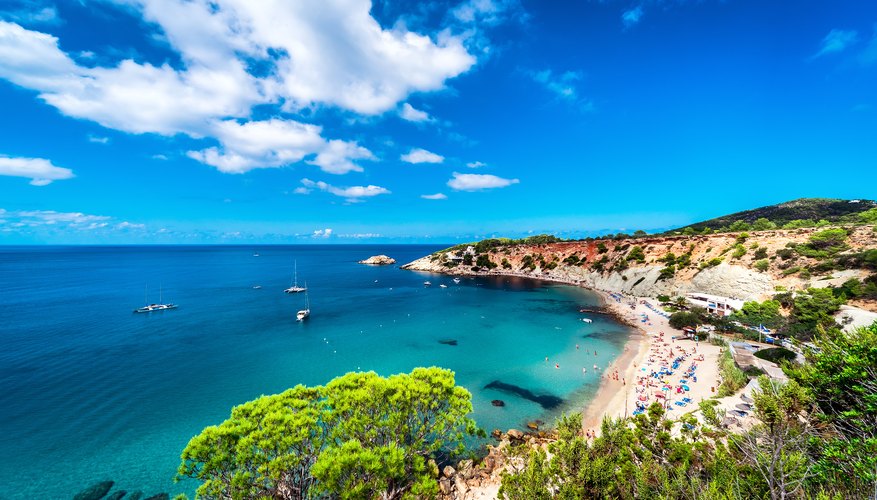 Of the Balearic Islands off the coast of Spain, Ibiza, also called "the White Isle," is known as the party island. It's got beauty and beaches and world-famous "superclubs," and it's only about 134 miles from Barcelona.
Flight or ferry?
It's an island, so there are two ways to get there: by plane and by boat. Flying is, of course, the fastest option, and in many cases it might be the cheapest as well.
Several airlines fly between Barcelona and Ibiza regularly, but the most cost-effective options are Vueling and Ryanair. Flights last about an hour each way and can run as low as $21 round-trip – though costs vary depending on the time of year, day of the week and length of the trip. Booking at least three weeks in advance for off-season weekdays yields the lowest prices.
Ibiza visitors can also reach the island by ferry, which might prove the cheapest option for last-minute trips. Ferries operated by Balearia and Trasmediterranea leave daily from the Barcelona port around 11 p.m. and arrive in Ibiza around 6:15 a.m. – that's an eight-hour, 14-minute overnight trek. The trip back usually departs from Ibiza at 11:15 a.m. and arrives in Barcelona around 7:30 p.m.
The cheapest ferry tickets run at about $70 round-trip for the the informal area or seated section. For cabins with beds, tickets inch closer to $200.
Weather worries
Barcelona and Ibiza enjoy a Mediterranean climate, meaning the weather stays pretty mild year-round. Likewise, the ferries run all year, so don't worry about rain or wind canceling a boat trip to or from the island.
Ibiza is also experiencing a groundwater shortage. Much of the island's tap water has chlorine in it, and in some areas it contains high salt or calcium levels – so even though it's technically safe to drink in the short term, it's not ideal. Visitors can purchase bottled water at the store for drinking, and they don't have to worry about water and ice at restaurants, as they usually get safe, potable water from outside sources.
Here's what to expect from each season:
Winter: From December to February, the weather is cool and rainy, but temperatures don't usually drop below freezing (32 degrees F). The club scene winds down during this time of year, but the local culture blooms – Ibiza offers plenty of hikes, markets, restaurants, and holiday festivities to enjoy in winter.

Spring: In March and April, daylight hours extend, and people are drawn outside. It's not a particularly popular travel time – museums and other tourist attractions are relatively empty during this time of year. Outside temperatures are pleasant but usually cap around 68 degrees F.

Summer: In May and June, temperatures rise to a comfortable level, and extremely hot days are rare. This makes for perfect beach weather, though the ocean might be too cold for swimming. In July and August, however, the air heats up with humidity and temperature highs reaching the 80s. The ocean also warms up, inviting visitors to swim. Locals often vacation during this time of year, so shops and museums (especially in Barcelona) tend to close or shorten their hours.

Autumn: September and October maintain comfortable ocean temperatures, and sightseeing opportunities abound, though the tourist crowd begins to thin out. The rainy season kicks into gear around November, which is also when the night air cools drastically.

Ibiza in the off-season
In the summers, Ibiza is all about tourists – about house music and crazy nights out. But in the off-seasons from October through April when the clubs close their doors and the flood of tourists thins to a trickle, the island returns to its locals.
Ibiza's markets feature more local products and cuisine, as well as a healthy dose of Spanish culture with live music and a festive vibe. The weather cools enough for visitors and residents alike to enjoy hiking the island's mountains for a bird's-eye view of the towns and beaches. And the local restaurants are open in the off-season with the same cuisine at significantly reduced prices.