About the Weather in Greenville, South Carolina
By Judy Wolfe

; Updated August 11, 2017
Sizzling summers: dressing for the weather in Greenville, S.C.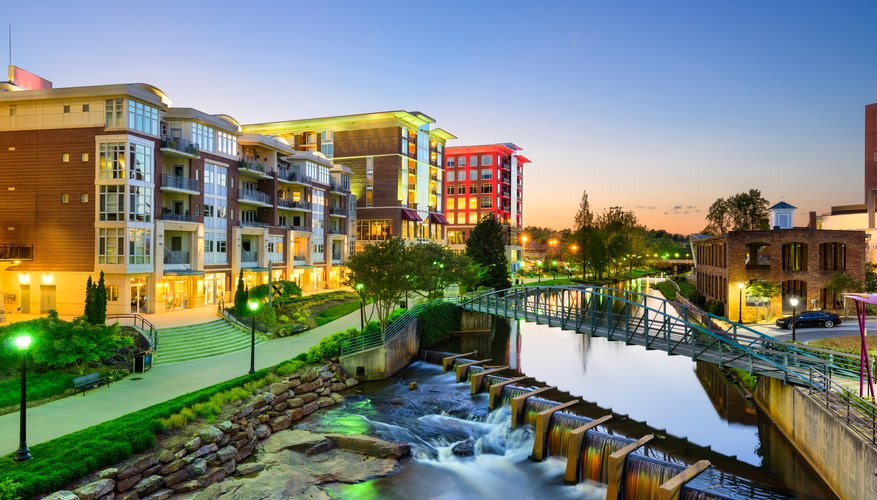 How's the weather in Greenville, South Carolina? Good enough that the city schedules multiple outdoor events for every month except February – and even then, the cool daytime temps are ideal for cycling the 22-mile Swamp Rabbit Trail. That said, Greenville's weather has its challenges. Knowing how to meet them can be the difference between a good and a hate-to-leave stay.
Hot enough to Southern-fry an egg
Of Greenville's four distinct seasons, summer is the busiest and hottest. Daytime highs in the low 80s to low 90s feel even hotter, thanks to the humidity. Elevated dew points keep perspiration from drying and make cooling off a struggle. The right combo of clothes comes to the rescue:
Roomy, lightweight tees or sleeveless tops and shirts of loosely woven natural fabrics. Cotton, linen, rayon or silk are good choices.

Loosely cut pants and shorts of the same materials. If you're short on luggage space, convertible pants with zip-off legs make a lickety-split transformation to shorts.

Sandals, flip-flops, sneakers or shoes with breathable uppers. For cycling shoes or hiking boots, think mesh and synthetic leather uppers.

A wide-brimmed, mesh or straw hat for sun protection.

An umbrella. Summer is Greenville's wet season, so watch for developing p.m. thunderstorms which can bring heavy downpours and high winds.

Hot tip: Light-colored fabrics reflect the heat better than dark ones.
Autumn in the air
The fall months see a slow but steady cool-down in Greenville, with average daily highs dipping from 81 degrees F in September to 61 degrees F by late November. Rainfall measures slightly under four inches per month, but the thunderstorms disappear as the temperatures drop. A heavy sweater or light jacket layered over long sleeves will get you through most September nights but by Thanksgiving, you'll welcome a heavier coat. The summer crowds that faded after school opened often return for weekend leaf peeping in late October or early November.
Cold-weather chill-out
Even in winter, Greenville is an outdoor lover's dream. Expect daytime temps in the low 50s dropping into the 30s at night and about 10 sunny days per month from December through February. Snow is a near non-starter. Whether you're into brisk walking, strenuous hiking or downtown restaurant hopping, layered clothes are the way to go. Think thermal underwear and a fleece top – both available in light, mid- and expedition weights – and a windproof, water-repellent jacket with hood for the daytime with a heavier hooded coat at night. Shed the outer layers as you warm up.
Know before you go: While winter is Greenville's slowest tourist season, the reduced hotel prices rise again around the year-end holidays.
April showers? Not so much
Greenville's spring days gradually climb from the low 60s in March to nearly 80 degrees F by the end of May. Keep layering anyway: even in May, the average nighttime temp is in the high 50s. While humidity also starts rising in April, the driest month of the year is wet enough to bring the city's many public gardens into bloom. Like fall, spring is a Greenville shoulder season with limited crowds and discounted hotel rates.