Where to See Christmas Lights in Los Angeles
By Leah Rendon

; Updated August 11, 2017
'Tis the season: Looking for illumination during December in LA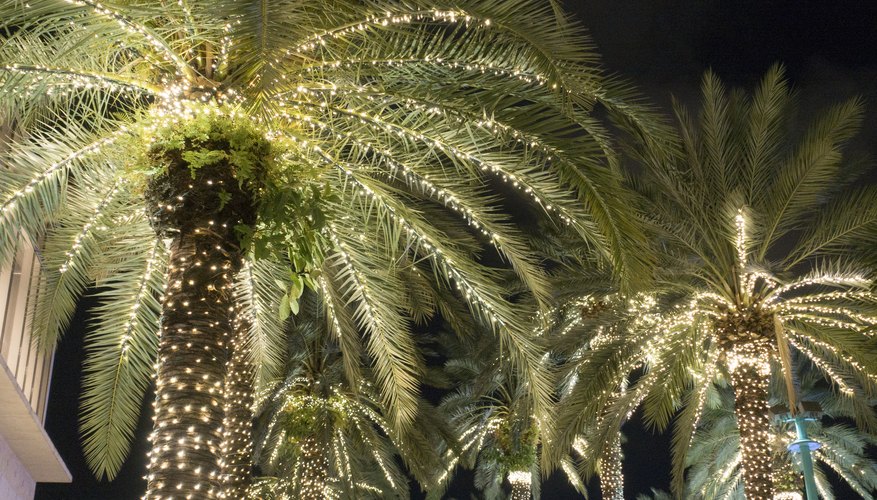 While palm trees, sandy beaches and 70-degree weather may not conjure thoughts of the holidays, Los Angeles still knows how to create some holiday magic. In fact, you'll find some of the city's most elaborate light displays tucked away in unexpected spots, from an upscale outdoor mall to a sprawling, world-renowned zoo. Christmas cheer comes alive in seemingly modest locations throughout the City of Angels as well, including a sleepy Southern California suburb and a peaceful canal-front community.
Lights and luxury shopping
Nestled in the Fairfax district, the Grove is a trendy outdoor shopping mall that's illuminated with holiday lights from mid-November through Christmas. Stroll through this elegant complex dotted with shops, restaurants and a movie theater, pausing to admire the Christmas lights strung through trees and across the pedestrian-only thoroughfare. Stake out a spot near the massive water fountain in the early evening and enjoy a great view of the nightly show where water dances to holiday music and "snow" falls from above. Grab a free blanket from the nearby kiosk and relax on the lawn as you admire the towering 110-foot Christmas tree decked out with more than 15,000 lights and 10,000 festive ornaments.
Christmas in the canals
Just steps from the Pacific Ocean, the Venice canals flow through one of LA's most iconic neighborhoods, snaking their way past cozy bungalows and under quaint bridges. The holiday season kicks off with the famed Christmas boat parade, where residents ride in small vessels covered in lights and kitschy decorations. Neighborhood homes are elaborately decorated throughout the holiday season as well, and you can view them from waterfront pedestrian paths. While cars are allowed in the region, narrow streets mean you're better off parking a few blocks away and viewing the lights on foot, so wear comfy shoes. Make sure you also bundle up. Evening temps can dip into the 40s.
Holiday cheer in the 90210
Enjoy a glitzy and glamorous Christmas in the heart of Beverly Hills. Start your evening with a walk or drive down the world-famous Rodeo Drive, where ornate crystal chandeliers and approximately 150,000 lights dress the landscape. The surrounding city center is equally festive with lights wrapped around palm trees and strung across Wilshire Boulevard. To fully experience the atmosphere, including elaborately decorated storefront windows, explore the area on foot. Two Rodeo Drive, a pedestrian-only shopping zone, also plays host to Santa Claus and Christmas carolers on select nights. On weekends, hop aboard the Jolly Trolley, which offers a holiday-themed tour of Beverly Hills and tickets available for purchase on board.
Winter in the wild
Descanso Gardens in La Canada Flintridge offers a holiday lights show in a natural setting, but admission is pricey, the display is small and the crowds are large. Instead, head to LA Zoo Lights, a Christmas light display held after hours in the world-famous animal sanctuary, from mid-November through early January. Marvel at animals and Los Angeles landmarks made from Christmas lights and enjoy live music, entertainment and food. Though most of the animals are asleep, you'll see reindeer as well as scaly critters inside the reptile house during a black light party. Buy your tickets online to avoid long lines. Prices are cheaper if you go during the first week or on a weekday. Wear comfortable shoes as the evening requires a lot of walking, with a bit of it uphill.
Holiday magic in the suburbs
Every year, the residents of Upper Hastings Ranch, an upscale neighborhood in Pasadena, dress their homes with extravagant holiday decorations, but traffic moves at a snail's pace and the streets are too steep for walking in some areas. Visit Robert Road in the Torrance neighborhood of Sleepy Hollow instead, where the homes feature lavish Christmas decor and music. While traffic is also overwhelming, the flat terrain is easily walkable. You'll also find plenty of parking on nearby Pacific Coast Highway, Calle Mayor or Prospect Avenue. Lots of residents sell snacks and hot cocoa, so bring cash. Because there are no public bathrooms, be sure to go before you go. The display runs every night from early December until New Year's Day.