Does it Snow in Amsterdam?
By Kathryn Walsh

; Updated August 11, 2017
What winter looks like in the Netherlands' capital city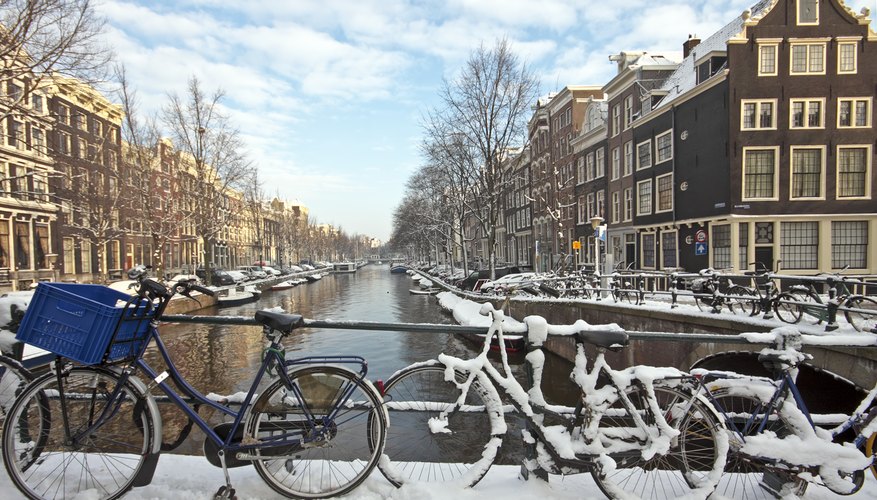 Amsterdam is known for its canals, tulips and bikeability, but not so much for its wintertime charms. That's too bad, because "the Venice of the north" is downright picturesque during winter – sometimes. Visit between December and February and you might spend your entire stay dodging puddles under a gloomy sky. But if you're lucky, your visit will coincide with one of Amsterdam's occasional snowfalls, which makes walking through this city feel like stepping into an old-fashioned Christmas card.
Amsterdam's winter weather
If you're hoping to avoid snow during a visit to Amsterdam, you may be in luck. The Netherlands doesn't get a ton of snow in the average year. In Amsterdam, winter temperatures typically fall between 30 and 40 degrees F. The city usually gets between one and four inches of precipitation per month in winter, including both rain and snow. When it gets cold enough to snow, Amsterdam is more likely to be dusted with just a bit of the white stuff than blanketed by it. Blizzards and big snowstorms are rare in the area.
The country's weather can be a little unpredictable, though, so you should plan for the possibility of seeing snow, and you should expect rain. Bring a pair of rain boots or other shoes that have been treated to resist water, as well as a travel umbrella or rain jacket and a variety of cold-weather clothes.
Visiting Amsterdam in winter
One downside of visiting Amsterdam in winter is that the days are short. By the end of December, the sun doesn't rise until nearly 9 a.m., and sunset happens less than eight hours later, before 5 p.m. You may want to plan to sleep in or start your day with a long breakfast.
That early evening darkness isn't all bad news, though, as it allows Amsterdam's annual light festival to really shine. The event is held throughout December and January each year. Hundreds of illuminated art installations are placed along two routes, one a boat route and the other a walking route. Each is its own experience with a different theme. You can see the installations on the boat route from land, but they're best enjoyed from a tour boat.
Ice skating is a popular wintertime activity in Amsterdam, which is no surprise, considering how much water runs through the city by way of canals. It's sometimes possible to skate the canals, but a prolonged deep freeze is needed for these makeshift rinks to form. Most years, when canal skating isn't possible, skaters head to other temporary rinks that are set up in the city each winter – skate rentals and all.
If your visit coincides with one of Amsterdam's drizzly, rainy periods, stay warm inside by visiting the city's museums. Fewer tourists visit in winter, which means shorter lines and more space to call your own. The Anne Frank House, the Van Gogh Museum and the Rijksmuseum (the Dutch national museum) are all open every day throughout the winter.