How to Get to Tijuana from San Diego
By Teo Spengler

; Updated September 26, 2017
Saying hello to Tijuana fun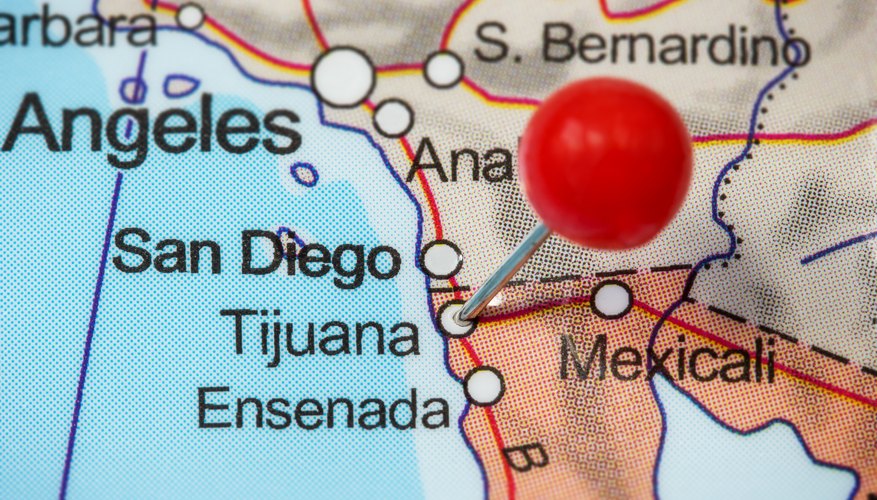 If you find yourself in San Diego yearning for a day-trip adventure, Tijuana might be just the ticket. Compared to its former negative reputation, Tijuana has since grown up. Its great restaurants attract foodies from far and wide, and savvy bargain-minded shoppers head to Plaza Rio Tijuana Shopping Center where the locals frequent. The journey to Tijuana isn't a long one in a car or public transportation. Here's a few options.
On the road again
Many people prefer to drive their own cars to Tijuana, and it's definitely a plan with significant advantages. First, it's fast and less than an hour drive. Take Interstate I-5 or Interstate 805 and before you know it, you're pulling into the Tijuana border crossing. Then you are faced with the first big decision: Continue on your own car or take a bus or shuttle.
Making the journey across the border in your car means fewer obstacles at the time, but requires more preparation beforehand. You'll need to buy Mexican auto insurance even if you are staying for only a few hours. That's because Mexico doesn't recognize U.S. insurance policies, and you don't want to risk the chance of an accident in Mexico without insurance. Under Mexican law, anyone involved in an accident is presumed guilty and, if found with absent insurance, jailed until things are sorted out. You can buy it at the border, but it's much easier to buy online and just print out the policy and carry it with you.
When you recross the border into the U.S., you'll have to wait in line. The wait might be up to 90 minutes because its the most traveled through port of entry in the world – and the border patrol takes a look at every single car.
Getting to the border
If you are in San Diego without a car, take the red trolley from downtown San Diego to and from the border. It's part of the Metropolitan Transit System Blue Line. Fares are cheap, and you can connect to other public transport in San Diego to get you to your hotel.
Bus options from the border
If you decide not to drive across the border, you can park in the easy-to-find, well-lit Border Station Parking Lot (look for the "Last U.S. Exit Parking" sign). Prices are cheap on Monday through Thursday, but triple on weekends. Then take the Turismo Express Shuttle Bus to Tijuana right from the lot, leaving every hour on the hour. It's inexpensive traveling one-way and even cheaper round trip.
Know before you go: The last bus leaves Tijuana at 7 p.m. If you decide to use it anyway, you'll zip across the border since it has its own dedicated lane at the crossing.
If your boots are made for walking
Walking across the border from the Border Station Parking Lot is not a pure, unadulterated pleasure. You'll be trudging for some 15 minutes before you get to the border, and it's a strenuous hike, climbing hills and crossing bridges. Once you cross, grab a cab to take you where you want to go, being careful to agree to the price of the ride before you get in. On the return trip, take a cab back, then wait in long lines to get inspected. It can be 45 minutes or an hour to get across.
Crowd considerations
This is a popular border crossing always, in every season. On an average day, border agents process 70,000 northbound vehicle passengers and 20,000 pedestrians. You'll wait longer on Saturdays than weekdays, but even longer on Sundays when it can take you up to two hours or longer to get across between 9 and 10 p.m.