Does it Snow in Portland?
By Teo Spengler

; Updated August 11, 2017
How Portlandia does winter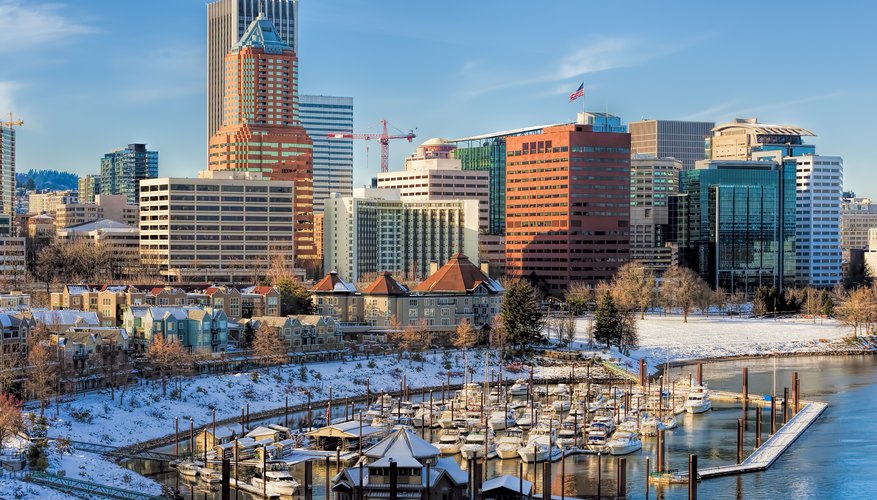 Despite it's motto, "Keep Portland Weird," this is one West Coast city with the reputation of offering a pleasant lifestyle. But one person's "pleasant" might be another person's "awful," and anyone who has spent time in Portlandia knows that the region gets its share of rain. But how about snow? When? How much? These are obviously things you are going to want to know before you head west in winter. Read on for Portland climate tips.
Snow? In Portland?
When they were handing out weather, Portland could have done a lot worse. It's climate is mild, with warm, dry summers and cool, rainy winters. A comparison to nearby Seattle shows that Portland's average temperatures are warmer, its hours of sunshine longer and its precipitation less.
Portland's average high temperature year-round is about 63 degrees F and its average low around 46 degrees F. It gets a yard or more of rain every year, from 36 to 44 inches, depending on who you ask. And a little snow. Really very little – some 3 to 4 inches. Compare this to the U.S. average of 26 inches per year, and it looks as negligible as it is.
Breaking down the weather
Portland is a city with distinct seasons. Summers in Portland are truly warm. Average highs shoot up to between 74 and 81 degrees F in the summer months. The average lows for those months (54 to 58 degrees F) are warmer than the average highs in winter.
Average high temperatures in spring and fall are 15 to 20 degrees lower than summer weather, although the shoulder months of May and September are warmer and closer to summer temperatures. December, January and February are the cold months, with average low temperatures just above freezing.
It's important to know when all that rain falls, so you can plan when to go and what to pack. November and December get the most rain, about 5.5 inches each month, followed by January in second place with a little under 5 inches. February and March tie for third at just under 4 inches. The summer months of July and August get just over half an inch each, while June and September are only slightly higher.
Packing for Portlandia adventures
If you're heading to Portland in fall, winter or spring, prepare for rain. That means you want to pack a solid raincoat and comfortable rain boots or waterproof shoes. The umbrella question is one you must tackle yourself. An umbrella might come in very handy, but locals scorn umbrellas and aren't partial to tourists who use them.
This cool city in the Pacific Northwest is the perfect place to layer clothes. Even summer afternoons can get breezy, and night temperatures drop way too low for shorts and a T-shirt. In other seasons, you'll regularly need long sleeves, hoodies or jackets to stay warm at times. For winter, make room for a warm coat.
Don't worry about sartorial elegance. Bring comfortable, "crunchy" clothing and you'll fit right in. Jeans work well by day, but women might bring flowing hippie-style skirts if that suits your mood. Stiletto heels and furs will definitely stand out – and not in a good way.