What Island Is Honolulu On?
By J. C. Thomas

; Updated August 11, 2017
Hawaii's capital city on an island paradise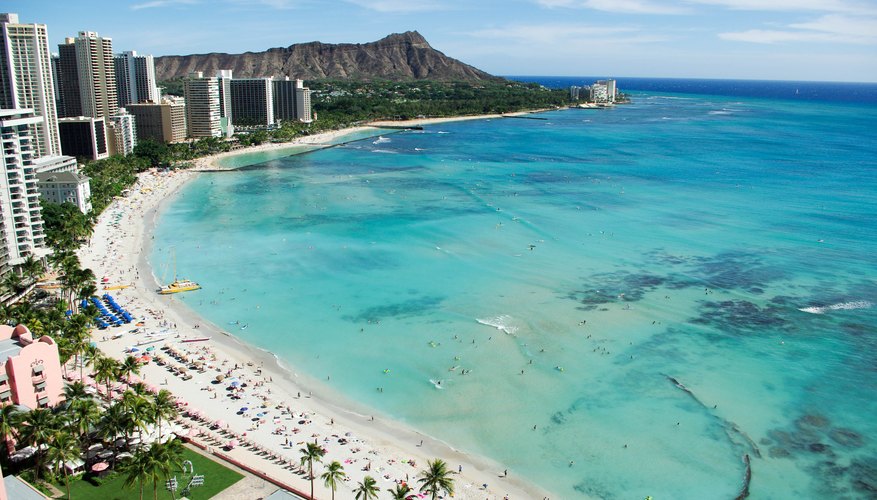 Honolulu, the capital of Hawaii, is located on the island of Oahu, the third-largest Hawaiian island. A city of 345,000 people, Honolulu sprawls over the hillsides and coastline of southeastern Oahu and encompasses some of Hawaii's most famous icons, among them Waikiki Beach, Leahi (Diamond Head), Pearl Harbor and Iolani Palace. Countless hotels and resorts, a huge diversity of restaurants and shops, and a dynamic nightlife make Honolulu the major cultural and entertainment hub of Hawaii. It's also the most-visited destination in the state, whether as a starting point for an island-hopping adventure or home base for the duration of your stay.
How to get to Honolulu
With the exception of those coming to Honolulu by cruise ship, Daniel K. Inouye International Airport (HNL) is the point of arrival for all of Oahu's visitors. It's the largest airport in the state, welcoming more than 20 million visitors every year, and is served by 27 international and domestic airlines as well as three inter-island airlines. Among them are Air Canada, Alaska Airlines, American Airlines, Delta Airlines, Hawaiian Airlines, United Airlines, Virgin America and WestJet. You can fly directly to Honolulu from most major cities in the western United States, including Los Angeles, San Francisco, Seattle and Phoenix, plus some major cities in the Midwest, the South and the East Coast, including Dallas, Atlanta, Boston and Newark. Getting to Honolulu from smaller cities involves connecting flights.
Traveling from the airport and all around
Daniel K. Inouye International Airport is approximately 10 miles north of Waikiki. You can travel from the airport to Waikiki and other Honolulu destinations using "TheBus," taxis, a shuttle service or a rental car. Stop by one of the airport's Visitor Information Assistance counters if you need transportation help upon arrival.
TheBus is a bus service operated throughout the city, serving the airport and covering all major tourist attractions. If you're visiting only Honolulu, you can use TheBus for all your transportation needs. Routes 19, 20 and 31 serve the airport, arriving and departing approximately every 30 minutes. Bus stops are along the central median on the second-level roadway. Tickets are $2.50 for adults, or you can get a four-day, unlimited-use visitor pass for $25.

Taxis are available at the central median in front of the baggage claim areas outside all terminals. Taxi dispatchers wearing yellow shirts will assist you with getting a cab. When you want to travel around Honolulu by taxi, hotel front desks, restaurants and other establishments are able to arrange the service for you. You might also be able to hail a cab on busier streets.

SpeediShuttle, a private company, is authorized to provide door-to-door shuttle services at the airport. Check in with an attendant at a pickup zone next to baggage claim at all terminals.

Car rentals are provided by six major companies with offices at the airport. Shuttles take you from designated stops outside baggage claim areas to car pickup locations. Car rental is the most convenient option for many visitors. Having your own vehicle is especially useful if you intend to visit Oahu destinations other than Honolulu, such as the North Shore and the Polynesian Cultural Center.

The Waikiki Trolley is an option for non-airport transportation. The hop-on, hop-off service covers major tourist attractions and offers unlimited day and multiday passes as well as destination-specific tours.
Honolulu travel tips
Many tours and other excursions on Oahu include roundtrip transportation. You might get custom door-to-door pickup and drop-off, or the operator might make several stops throughout the city, such as major resorts and landmarks, to pick up and drop off customers.
If you stay at a hotel in Waikiki and intend to do spend most of your vacation on the beach, you can probably get around almost entirely on foot. Waikiki has enough shops, restaurants and tourist-focused services that you won't need to venture out of the neighborhood unless you want to.