How to Get to Muir Woods From San Francisco
By Teo Spengler

; Updated August 11, 2017
Make your way to the mighty redwoods from the City by the Bay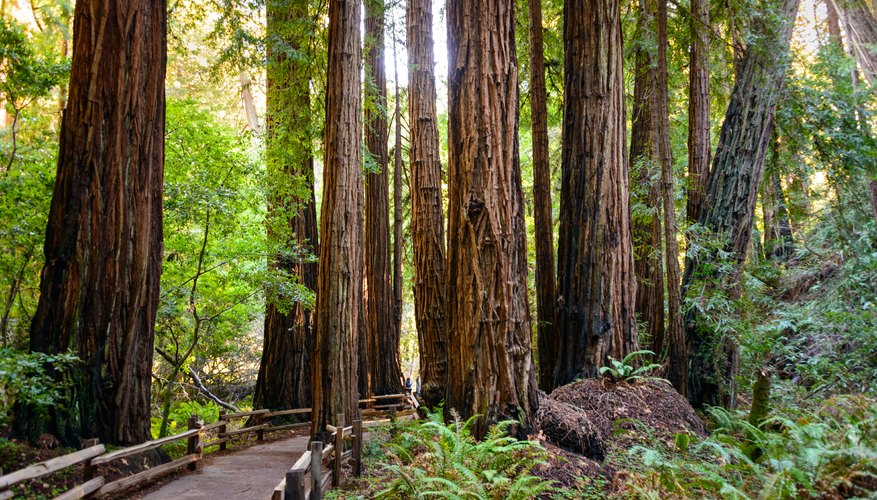 Old-growth redwoods and beautiful views define Muir Woods National Monument, part of California's Golden Gate National Recreation Area. It's just a hop, skip and a jump north of San Francisco. How to best get to Muir Woods from SF? Both driving and public transportation options work, but each has its own challenges. A few tips about Muir Woods will prepare you for the issues and help you make the most of this exceptional experience.
Driving to Muir Woods
Driving a car from San Francisco to Muir Woods is quick and easy. Cross the Golden Gate Bridge on Highway 101, and then take the Highway 1 exit. You'll travel 12 miles from the time you exit the bridge until you get to the monument entrance.
Parking, however, is very limited and fills up quickly, so go early; it opens at 8 a.m. If you aren't there by 10 a.m., you won't get a place, and sometimes it's full as early as 9 a.m. When the parking is full, you can't enter but must wait in line for a spot that may or may not open up. Driving an RV or other long vehicle is also impractical because there is no oversize parking at Muir Woods.
Taking alternative transportation to Muir Woods
In the summer, on weekends, you have a public transportation option. You can drive to Marin and park in the Pohono Park and Ride, then take the Muir Woods shuttle to the park. Alternatively, take the Sausalito Ferry and catch the shuttle from Bay and Bridgeway.
But beware. The shuttle runs only weekends mid-May through the last weekend in October, plus weekdays mid-June to mid-August. If your trip doesn't coincide with these dates, don't plan on using public transportation.
How about a taxi ride-sharing service like Uber or Lyft? This works well to get you to Muir Woods and avoid parking issues, but remember that there is little-to-no WiFi or cellphone service in the park. So, be sure to schedule a return ride before you get out of the car.
Tips for avoiding the crowds
Muir Woods attracts a million visitors a year, with summer months being the most popular. If you're visiting in fall, winter or spring, you'll have more elbow room. In spring and summer, you can stay until 8 p.m. instead of 6 p.m. This is a great time to visit and have the park – mostly – to yourself.
Tips for experiencing the park's seasonal magic
Enjoy this park as an extraordinary immersion into the natural world. Look for these special park "events" if your visit coincides with the timing:
In spring, admire the pink and purple redwood sorrel blossoms on the forest floor.
Also in spring, watch the flowers of coast trillium bloom white, then turn deep pink when pollinated.
In late spring through summer, listen for woodpeckers pounding the tree trunks.
In late spring or early summer, fawns are born and start roaming around with their mothers.
Look for ladybugs toward the end of May. They migrate from California's Central Valley.

Keep your eye out in fall for migrating hawks.

In winter, watch steelhead and coho salmon spawn.