How to Get Cheap Broadway Tickets
By Leah Rendon

; Updated August 11, 2017
Enjoy a show on the Great White Way without breaking the budget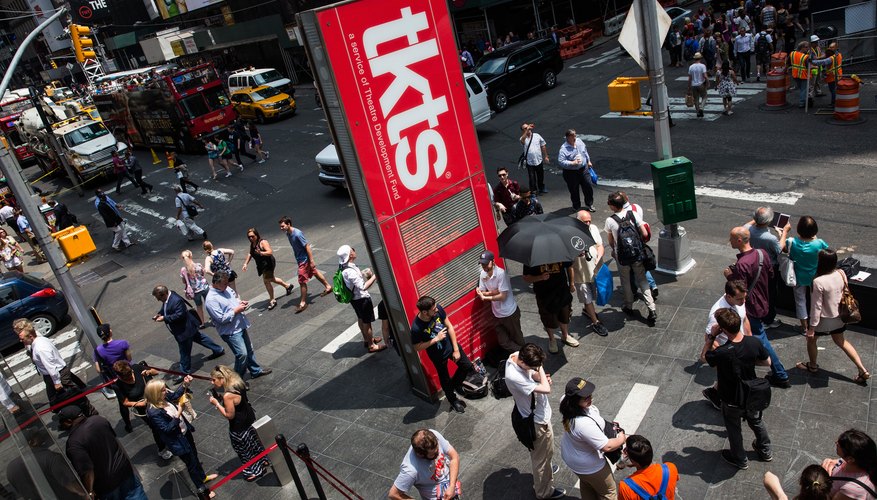 While seeing a Broadway show is a quintessential part of any New York City vacation, just one look at ticket prices could prompt thoughts of a small loan application. Whether you want to see a big-budget musical or an intimate stage drama, Broadway shows are typically pricey excursions. Avoid sticker shock and explore different methods for finding discounted prices – from ticket-buying apps, to theatrical membership programs, to special lotteries.
Last-minute tickets at TKTS
Set up around NYC, TKTS are booths that sell Broadway tickets up to 50 percent off for same-day matinee and evening performances. The main booth is located in Times Square, so anticipate long lines filled with tourists. If you want tickets for just a play, you'll save time by lining up for the significantly shorter "Play Express" window. Beat the crowds by heading to the booths in downtown Brooklyn, Lincoln Center and at the South Street Seaport in Lower Manhattan. These booths also sell matinee tickets for performances on the following day, while the Lincoln Center location offers tickets for performances at the world-famous performing arts center. There's a limit of six tickets per person, and patrons may pay with credit cards or cash. Tickets can't be purchased online, only in person, but the TKTS app and website provide constant updates on the shows with available tickets. You can even ask to receive notifications when a show you want to see gets added to the board.
Try for rush tickets and lotteries
Some productions set aside tickets to be purchased the day of a performance at a significantly reduced price. The tickets are usually released at a set time, on a first-come, first-served basis, so try to get there early, particularly if it's a popular show. Other productions distribute discounted tickets by lottery, with the box office drawing names a few hours before showtime. Some shows host digital lotteries either online or through apps. If you win, the theater will notify you by text, phone or email.
Check discount apps and websites
Download theater ticket apps, such as TodayTix, which let you purchase discounted tickets on your phone, in some instances up to 30 days in advance. Tickets may be delivered electronically, available for will call at the box office or hand delivered outside the theater by a TodayTix staffer.
Sites like BroadwayBox and Entertainment-Link offer discount codes for every eligible Broadway show. Some sites also provide monthly subscribers with even lower rates or access to newsletters with up-to-the-minute news on discounts.
Sign up for membership programs
The organization that runs TKTS, the Theater Development Fund, offers annual memberships for eligible individuals, including full-time teachers, union members and art professionals. Members can purchase discounted tickets online to select Broadway shows sometimes weeks ahead of time. Make sure you plan early, however, because membership approval takes up to 30 days.
Look into age-based discounts
Some individual theaters offer discount programs for theatergoers. For instance, the Roundabout Theater Company, which operates two Broadway theaters, features the Hiptix program for those between the ages of 18 and 35. It's free to join, and members can purchase tickets at a reduced price in advance. The Manhattan Theatre Club, which stages Broadway and off-Broadway shows, also offers a discount program. Their 30 Under 30 program is reserved for patrons age 30 or younger, allowing members to buy tickets to their shows for just $30. Sign up for free and receive an email when tickets become available.