How Much Is the Flash Pass?
By Jodi "Jato" Thornton

; Updated August 11, 2017
Step to the front of the line with a Six Flags Flash Pass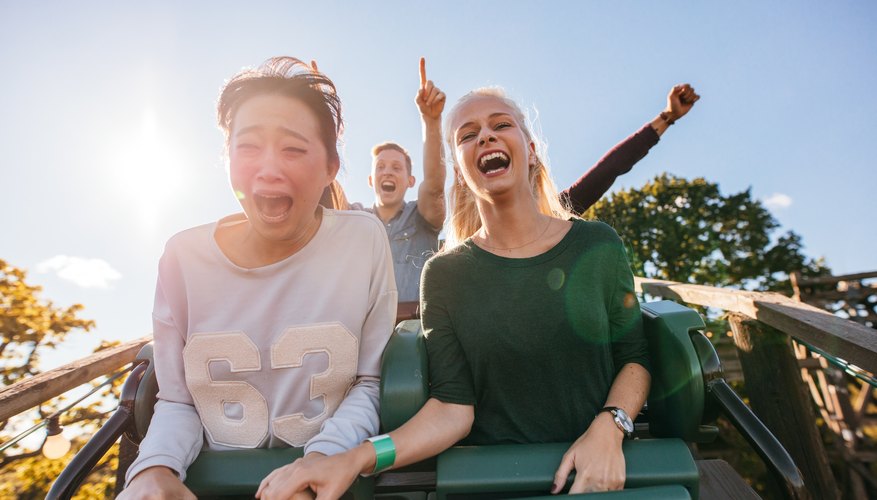 The thrill of zipping through heart-pounding loop-de-loop thrill rides for minutes on end is sometimes worth a long wait at a busy amusement park. But if winding through rat-like mazes of wall-to-wall people, striking up conversations with random strangers to pass the time or wearing down your phone battery playing Tetris isn't your cup of tea, take heart. You don't have to always suck it up and wait at Six Flags parks when you can move to the head of the line for a fee.
How the Flash Pass works
Six Flags has parks in seven U.S. states, Mexico, Canada, China and Dubai. Eleven parks in the U.S. offer "The Flash" Pass, and each park offers a regular, Gold or Platinum version of this pass.
The regular Flash Pass lets you reserve your space on one ride of your choice at a time. When it's your turn to ride, the Flash Pass device you carry with you, known as a Q-Bot, vibrates to let you know it's your turn. You can then proceed through a special entrance to the head of a line. While you're waiting for your Q-Bot to vibrate, ride a ride or two with short lines, have lunch or just walk around and explore.
The Gold and Platinum versions of pass reduce your wait times by 50 and 90 percent, respectively. If the wait time for a ride is one hour, your ride reservation time would be 30 minutes with the Flash Pass Gold and 10 minutes or less with the Flash Pass Platinum.
How much does the Flash Pass cost?
Buying a Flash Pass is an extra expense that is added on top of your regular park admission. The cost of a Flash Pass is per person, with up to six people allowed per each pass. Prices vary by date. For example, costs for a Flash Pass at California's Six Flags Discovery Kingdom in early August were $45 per person for a regular pass, $70 for Gold and $110 per person for Platinum. In September, the rates go down by $5 for each level. The Flash Pass covers 22 rides in the park.
At New York's The Great Escape and Splashwater Kingdom in Lake George, the park's Go Fast Pass lets you go to the front of the line on 11 of the park's most popular attractions for a flat fee of $55 per person. Instead of a Q-Bot, riders get a wristband that lets them head to the front of the line for unlimited rides. The park also has a seasonal Go Fast Pass for $200 per person.
Is the cost of the Flash Pass worth it?
Some Six Flags Parks, like Six Flags Discovery Kingdom in California, only offer Flash Passes during super-busy park times. Premium rides that are especially crowded – like The Joker, Superman and Wonder Woman – allow Flash Pass use only at the Gold and Platinum levels. If you're planning a summer vacation, you can buy Flash Passes any day of the week. By mid-August, the park offers Flash Passes only on weekends, making it a better choice to save the extra dough and go during the week when the park is less crowded.
The Great Escape and Splashwater Kingdom's wristband can be well worth the extra $55 if the eleven rides that let you go to the front of the line are ones you want to ride again and again. If only one or two of these rides are on your "must ride" list, you're better off arriving at the park 30 minutes before opening so you can be first in line for them.
You can buy a Flash Pass after you enter the park and take stock of how crowded the rides you want to go on are. Keep in mind that the queues will move slower if there are a lot of people using Flash Passes.
Make the most of your Flash Pass
If you decide to opt for a Flash Pass, a few insider tips can help you make up some of the money you're shelling out and optimize your time at the park:
Go early and head for the premium rides near the back of the park. You'll likely get in with little or no waiting. While you're loading up, reserve another ride that attracts crowds with your Q-Bot, helping you make the most of your time before the crowds build.

Clip your Q-Bot to a belt loop or other item securely attached to your body. Chances are, you'll be going upside down, and you don't want to pay the $100 fee for a lost Q-Bot.
Save money on expensive parking fees. Park in the back lots to find cheaper parking and walk in. Better yet, park near a bus stop outside the park and ride public transit right to the front gate.
Look for package deals. Save money on park admission by looking for combo deals. For example, Six Flags Over Georgia offers park admission and a Home Run Porch ticket at an Atlanta Braves game for $64 per person, less than a regularly priced ticket to the park.