How Much Does it Cost to Send a Postcard?
By Judith K. Tingley

; Updated September 26, 2017
Sharing travel adventures by sending postcards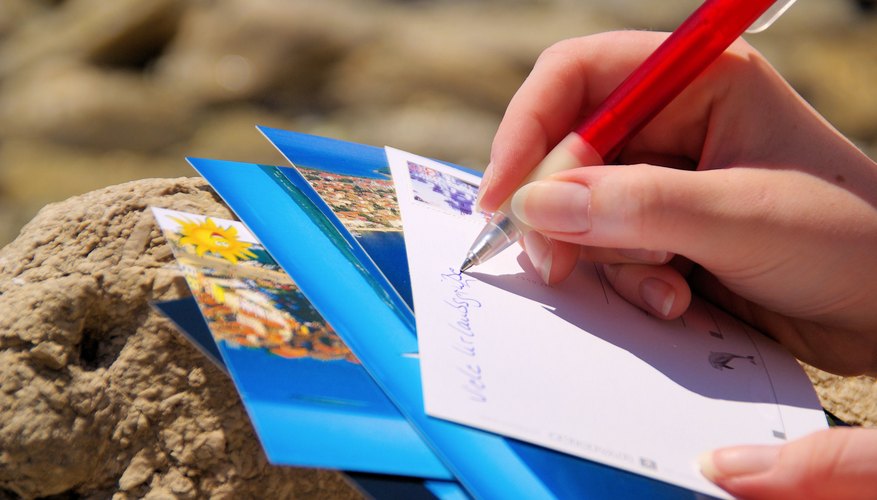 While you're on the road, you can share your experiences with loved ones anywhere by sending them postcards. Handwritten messages on real cards will be kept as tangible reminders of your sharing and caring. What a terrific – and cost-effective – way of giving your friends and relatives a vicarious vacation!
Postcards: Quick, easy, cheap and personal
Wherever folks vacation, there will be spots to buy postcards, usually featuring local attractions and historical sites. While you're shopping, visiting landmarks or touring museums, be on the lookout for racks of postcards, and have fun trying to match the pictures on the postcards with the personalities of the people who will be receiving them. Who likes cultural history? Who loves photography? Who's crazy about sports? Or street scenes, natural beauty, architecture – the list goes on.
Sending postcards from the U.S.
The cost of a postcard-rate postage stamp is 34 cents within the U.S. and $1.15 from the U.S. to virtually any other country in the world. In order to qualify for the postcard rate, the card must be at least 3 1/2" high by 5" long by 0.007" thick and no more than 4 1/4" high by 6" long by 0.016" thick. It must be rectangular.
Don't fret too much about the thickness – just use card-stock as a standard and you're golden. You can send a "postcard" up to 6 1/8" high by 11 1/2" long by 1/4" thick but you'll have to pay for regular first-class letter rate, currently 49 cents. Both postcard stamps and letter stamps are available in "forever" editions – that is, stamps that will continue to be usable even when postage rates increase in the future. Take a look at the USPS website, and you'll see a variety of attractive postcard stamps at both domestic and international rates. A pretty stamp in the corner makes a postcard special, so stock up before you begin your trip.
How to write a postcard
Writing a postcard is quick and easy, so your vacation can be spent having the good times you're writing about. Simply date the postcard and write your message. Though it is necessarily brief, it can still be entertaining and informative. A short anecdote or personal reference will make the card stand out, and is a lot more interesting than a simple weather report! You can make your handwriting smaller than usual for the message itself in order to fit more in, at the same time making sure it's legible and the lines are as straight as you can make them. But when addressing the card, print the name and address in your very best block lettering, using capital letters. Make sure you add the full country name as the bottom line if you're mailing from overseas to the U.S.
Sending postcards from other countries
Take the postcards to a local post office and request air mail stamps, which can be paid for with local currency. Some post offices will have stamp vending machines. If you use these, make sure you're paying the correct postage rate for the country or countries you're mailing to. Once properly stamped, hand the cards to the postal clerk. There may also be designated mailboxes available (again, make sure the box is the proper receptacle for your postcards' destination country).
The cost of sending a postcard from overseas to the U.S. varies from country to country. For example, in the U.K. the rate for a postcard is the same as for a letter weighing 10g or less, i.e. £1.17 ($1.51); if the weight is 10-20g, the cost rises to £1.40 ($1.80). The Italian Post Office (Poste Italiane) charges €2,20 ($2.59) for either a lightweight letter or postcard. In the case of Italy, it might be a good idea to send the postcard in an envelope (as long as the total weight comes in under 20g), since letters seem to take much less time than postcards to arrive in the U.S. A postcard sent from France to the U.S. will cost €1.30 ($1.53), but the price goes down to €1.10 ($1.29) when the postcard is mailed from France to another country in the European Union.