What Size Backpack Do I Need for My Travels?
By Meg Jernigan

; Updated September 26, 2017
Choosing the right backpack for a hike of any length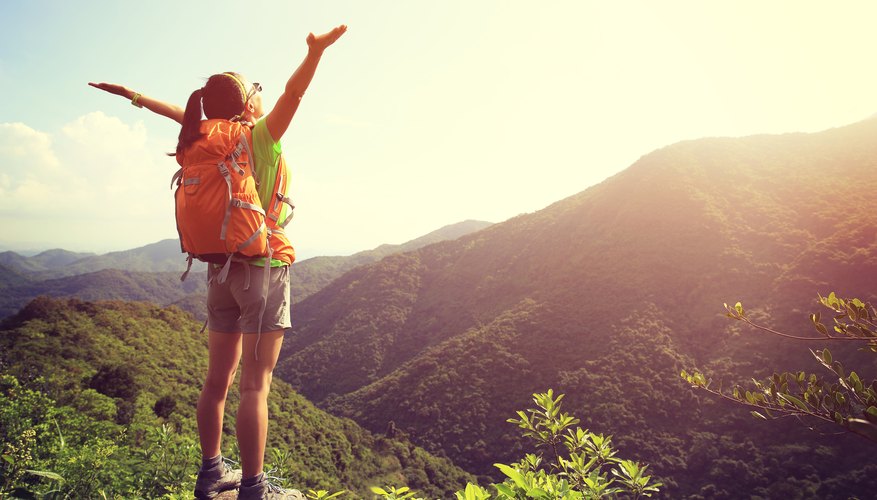 Hikers trekking through the mountains for days or simply taking a day-long walk to a popular destination understand that the right backpack keeps the wanderer in them happy. A carelessly chosen pack, on the other hand, can spell inconvenience, discomfort and just an overall bad hiking experience. You may find yourself struggling over how much to spend, but the need to make sure your choice is the right size, weight and fit for you should be nonnegotiable.
Backpacks for city walks, day hiking and shorter multi-day trips
Most of the features of an overnight hiking backpack work well in daypacks, but not all of them are necessary. You need a pocket or clip for your water bottle, enough room for a laptop if you're headed out to work, space for snacks or energy bars and an interior pocket with a zipper for your wallet and phone. Solar backpacks have USB ports and battery packs to keep your devices charged. Consider a daypack with a hydration reservoir if you're walking in high heat.
Backpack capacity is normally measured in liters. A backpack with a 20-liter capacity is sufficient for a half-day walk.
You'll need a little more capacity in a backpack used for long hikes or overnight trips so you can carry enough water, food and gear. Things you'd carry on a long hike that you wouldn't necessarily pack on a shorter walk include a map and compass, sunscreen, a first-aid kit and illumination of some sort, like a headlamp or flashlight. Overnight hiking requires room in the pack for shelter, a sleeping bag, clothing, food and a cooking kit.
Buy a pack with a 35-liter capacity for longer day hikes. For one or two overnight hikes, aim for 50 liters.
The best backpack for long overnight hikes
Considering which backpack to use for those long overnight hikes creates a conundrum, especially for very long hikes. Ultralight is preferable, but you also want a pack that's big enough for all the things you'll need to carry. Experts recommend a pack with a frame, padded straps and added bungee cords or straps for your sleeping bag and ground pad. The best packs have external pockets for things you need to grab quickly or frequently. External pockets also provide space to stow wet items away from the rest of the gear. Choose a pack with easy-to-reach water bottle pockets so you can refill without having to take it off.
For a long-distance overnight trip of three to five days, you'll need a 50- to 80-liter backpack. Expedition backpacks for very long hikes hold 80 to 100 liters of gear.
Backpacking in inclement weather
Remember that most backpacks are made from water-resistant fabrics, but they still have seams and zippers that water can seep through. If you frequently hike on snowy or rainy days, invest in a pack made from enhanced waterproof fabric with taped seams and carry a waterproof cover for your pack. Dry sacks – waterproof bags to hold things that must stay dry – can tuck into your backpack.
Other backpacking considerations
Beyond capacity, fit is one of the most serious considerations when buying a backpack. Almost all packs have adjustable straps. Higher-end packs come in a range of torso lengths that fit people of different heights and have adjustable hip belts that fit any girth. Try on the pack in the store to see if it rides comfortably. Pay attention to potential spots where the pack will rub, and choose one with extra padding in those areas.
Fill your pack and take a couple of short hikes. Make any needed adjustments – or exchange the pack for another – before setting out on a long hike.
If you're hiking in the summer, make sure the pack you choose has ventilation.
If you hike off the beaten path, or in difficult terrain, choose a pack made from a material that will hold up to rough treatment. Nylon tears easily. Instead, buy a pack made from a synthetic fabric like Dyneema.