Sleep in glass-bottomed bungalows and swim in colorful coral reefs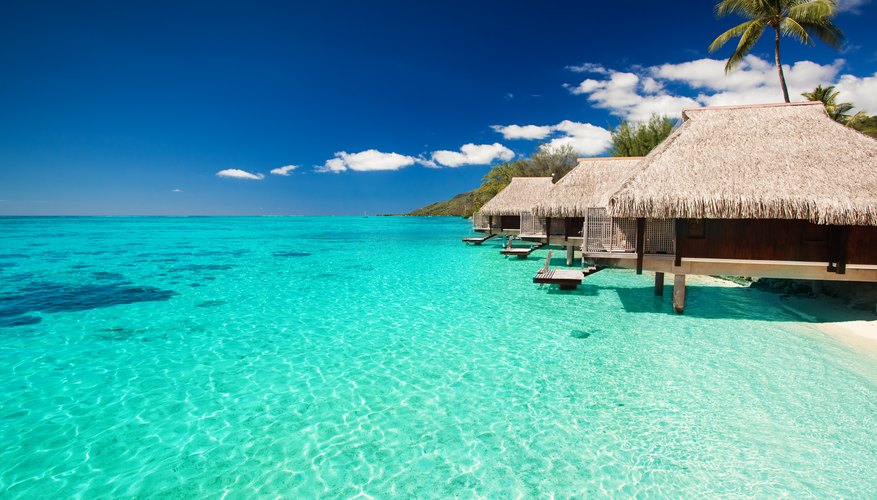 Unspoiled white sand beaches and crystal clear waters make Bora Bora one of the top luxury and honeymoon destinations in the world. While there are no true budget options on the island, with some advanced planning, savvy travelers can visit without a million-dollar budget. Here are typical costs for different styles of travel to Bora Bora.
When to go
Dry season is May through August, though due to its popularity as a honeymoon destination, the most popular and therefore expensive months are June through October. That's when hotel accommodations will be about 15 to 20 percent more expensive. If travel dates are flexible, April and May are the best months to visit to take advantage of off-season rates and minimal rain.
Flight costs and airport tips
The most effective way to keep costs in check is to book airline tickets early. Costs vary depending on season and departure city. Generally, flights from New York City range from $1700 February through May, to $2,500 and up in the peak months of summer and early fall. Flights departing from the west coast are cheaper, but not by much. Los Angeles round-trip tickets range from $1,500 in winter and spring, to $2,000 June through October.
Regardless of your departure city, you'll need to fly into Tahiti's capital city of Papeete. Major airlines that service this airport include Air France, Hawaiian Airlines, Air New Zealand and Air Tahiti Nui. Once in Papeete, you'll collect luggage, proceed through customs and transfer to Bora Bora on a small plane. Schedules for these commuter propeller planes are flexible, and often leave earlier or later than stated. It's imperative to stay attentive to flight announcements.
Accommodations
Bora Bora has a limited number of hotels. That means there are few bargain deals. However, there are ways to make a trip to this French Polynesian paradise relatively affordable. Costs vary dramatically depending on location, size of accommodations (room or entire suite) and whether or not you have a yen for a bungalow that sits above the water.
On the low end, you can find a few shared pension-style accommodations priced at $200 to $300 per night. These resemble hostels rather than hotels and are not on the waterfront. Small rooms in resort complexes fall in the mid-range of $300 to $500 a night. These may or may not offer an ocean view. At that range, booking in advance might find you garden-facing rooms at the Sofitel Bora Bora Marara for $400 to 500 per night. If you want luxury accommodations, or even simple bungalows over the water, you'll need to budget at least $500 a night for a basic room, while a luxury suite on stilts boasting glass bottom floors, like private a bungalow at the Intercontinental, will cost at least $1,000 per night.
Popular activities
Given its famed blue waters, swimming, boating, snorkeling and scuba diving are quite popular. it's easy to find equipment and boat rentals, or hire an instructor for a few hours or an entire day. Half-day group snorkeling tours around colorful reefs start at $120, while private snorkeling excursions cost at least $150 for a two to three-hour outing. Jet skis, paddleboards and kayaks can be rented, and typically start at $100 for a few hours of use. Prefer to have someone else drive the boat? A boat hire through Moana Adventure Tour costs about $160 to $200 for half a day trip around lagoons and reefs.
Want to explore Bora Bora on land? Daily bike rentals run about $25, and several paths lead to scenic views. Natura Discovery offers jeep tours of the island, letting you explore old military bases and ancient temples. Tours start at $70 per person for three to four hours, or $650 for a private tour.
Family vacations
Idyllic weather and calm waters make Bora Bora a great location for a family beach vacation. Kids can embrace the water on paddleboards or swim in shallow waters. Family-friendly boat excursions will get a thumb's up from both kids and adults. A glass bottom boat tour led by Moana Adventures is approximately $400 for a family of four, while the Natura Discovery jeep tour offers half-price discounts for children under 12. The Four Seasons Bora Bora offers family packages and caters to kids with game rooms, splash pools and supervised activities. Family villas at the Four Seasons start at approximately $2000 a night.
Food for thought
Most of the food on Bora Bora is shipped in, and therefore dining tends to be more expensive than at most other holiday destinations. A burger and one cocktail at the popular casual restaurant Bloody Mary's costs $30-40 per person. An upscale seafood dinner with an appetizer and wine will average $150 to $200 per person. To cut costs, make a trip to one of the grocery stores in town to stock up on snacks and bottled water. In town, a liter of water costs $1 to $2, while a bottle from the hotel averages $7 to $8.