Are There Alligators in Texas?
By Judith K. Tingley

; Updated September 26, 2017
The living dinosaur of Texas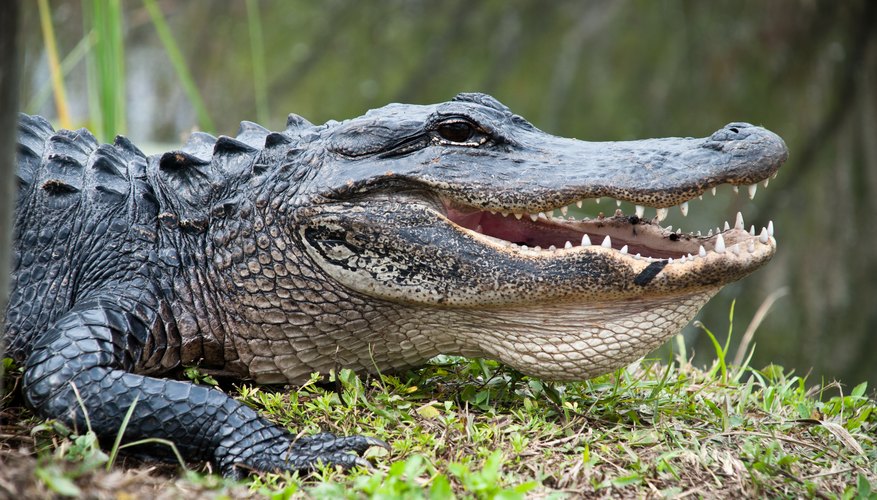 The American Alligator, once considered an endangered species, is now flourishing in 10 states, including Texas. Whatever your personal opinion of alligators, their time on this planet is impressive; the first American Alligator made its appearance about 150 million years ago. In fact, an alligator might be the closest thing to a living dinosaur you'll see in your lifetime. It's massive, it's relentless, it has sharp teeth and a bite that won't quit. It eats virtually anything it comes across, including you, so be on your toes. Don't worry too much, though; alligators are not normally aggressive towards human beings unless people get in the gators' way or otherwise annoy the critters. Texas is especially proud of its alligators – their sheer impressiveness as animals and their equally impressive contribution to the state's economy.
Alligator country
The eastern third of Texas is alligator country, with abundant marshes, lakes and rivers that these reptiles call home. Just 45 miles south of Houston is Brazos Bend State Park, where visitors can roam a network of hiking paths and trails. Here is Texas nature in all its glory, including the occasional alligator. Be sure to read the alligator safety precautions guide provided by the Texas Parks and Wildlife Department before your trip.
For a more structured alligator experience, check out Gator Country Adventure Park in Beaumont, an alligator sanctuary where over 400 gators and other reptiles are provided a permanent home and proper care (many obtained through "nuisance" rescues). Gator Country is also dedicated to educating the public about their reptilian residents, and internships are available. Be sure to take the "swamp tour" – an intimate, small-group boat ride with a knowledgeable guide who explains the bayou's ecological importance and the interconnected lives of its inhabitants. As you glide past cypress trees and Spanish moss, you may spot any number of wild creatures, perhaps even an alligator or two. Other opportunities to explore the ecosystems of the region include taking the "Ivory Bill" River Boat tour along the Neches River and visiting Cattail Marsh, a nearby wildlife refuge.
Gatorfest
And then there is Gatorfest, the annual celebration of all things gator held each September in the small town of Anahuac. The opening of the fest coincides with the alligator hunting season (hunting the once-endangered animal is now allowed but strictly regulated), and the "harvested" alligator carcasses are brought to the fest by hunters in competition for the biggest catch. There's also lots of music and dancing, carnival rides, arts & crafts booths and an Alligator Education Tent. Alligator products of all descriptions are offered for sale, everything from barbecued tail meat to back-scratchers made from alligator feet.
Respect the alligator
Whether you regard alligators primarily as fascinating animals who have adapted remarkably to their environment over the past several million years, or as a yummy, if slightly chewy treat (tastes like chicken) or even as the source hide of a stunning pair of cowboy boots – show respect. Mr. Alligator has been around a lot longer than we have, and despite his sometimes sluggish demeanor, is faster than you might think and smarter than he looks.