Does it Snow in North Carolina?
By Judith K. Tingley

; Updated September 26, 2017
In North Carolina, it's location, location, location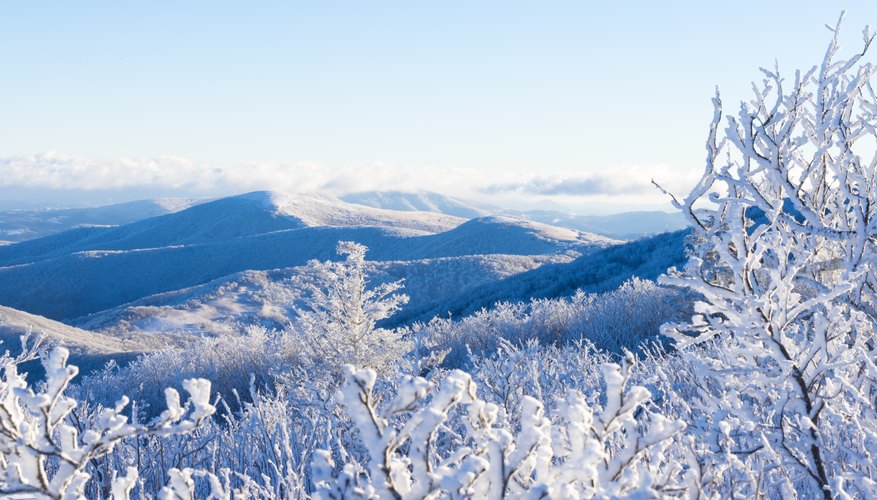 North Carolina is a state of contrasts, its 500-mile length encompassing the Coastal Plain, the Piedmont, and western mountains . Its range of altitudes is extreme, from sea level on the eastern coast through gently rolling hills to the Blue Ridge and Smoky Mountains at its western border – including Mount Mitchell, the tallest peak in the eastern United States. Because of this topographical singularity, North Carolina has one of the most variable climates of the eastern states. In all seasons, the temperature can vary by 20 degrees F from border to coast. And yes, it does snow in North Carolina, but it snows a lot more in the mountains to the west than on the coastline of the east.
East is east and west is west
As an example of how North Carolina's average temperature seems to operate on a sliding scale, note the following winter highs and lows: in mountainous area of Boone, the high for January is normally 39.3 degrees F, the low 19.6 degrees; in Raleigh located in the Piedmont region, the high is 49.8, the low 29.6; while in coastal Wilmington, the high is 56.2 and the low 33.3.
Snowfall, predictably, is much less on average along the coast (about 1" per year) than in the Piedmont (about 10" per year) or the mountains of the western border (16" per year in the southern mountains and up to 50" at the higher mountain peaks). This means that a vacationer could take a winter holiday in North Carolina and find a place for just about any outdoor activity she prefers. Except, perhaps, skinny-dipping.
Where you go and what you'll wear
Where does your North Carolina vacation take you? Will you be traveling across the state? Taking advantage of off-season bargains along the coast? Staying with friends from college who now live in fashionable, temperate Asheville? Or possibly visiting the ski areas and winter sports resorts where you can partake in snowshoeing, ice skating and other snow-dependent activities available in the west?
Weather prediction in North Carolina is a tricky proposition, what with all the variables caused by its topography and coastline. Still, do pay attention to the weather reports, especially if you have your heart set on snow. As far as clothing goes, you'd best be prepared for anything, or at least anything within reason and within your scope of activities. Think about layering. Layer thermal tops, tunics and jackets; take along scarves, waterproof boots and thick socks. Don't forget an all-purpose hat to protect you from anything the sky can throw down – snow, rain or even a ruthless winter sun.
Wherever you go and whatever you do, have a great winter stay in North Carolina. It's a beautiful state no matter what the weather may be.
References