What Is the Weather Like in Florida in March?
By Leah Rendon

; Updated September 26, 2017
Springtime in the Sunshine State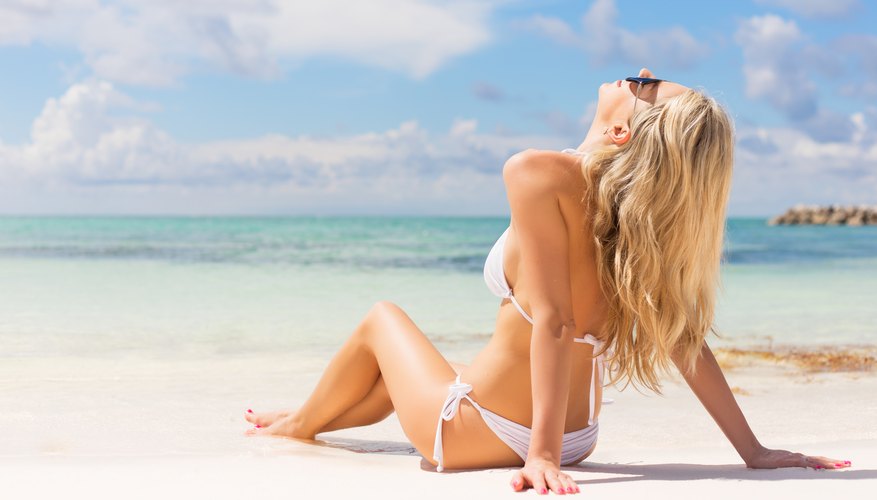 Sunbathe on the sandy beaches of the Gulf Coast or the Atlantic Ocean. Snorkel in the crystal blue waters of the Florida Keys. Enjoy big thrills at Orlando-area theme parks. No matter where you go or what you do, you'll encounter a host of weather conditions during your Florida vacation in March. Avoid undue stress by knowing exactly how to prepare for a wide range of temperatures, humidity levels and rainfall across the Sunshine State during your spring getaway.
Overall conditions in March
Florida's subtropical climate produces mild conditions throughout most of the state in March. You'll also encounter plenty of sunshine, low humidity and warm-to-mild daytime temps throughout the spring month. Rare cold spells, complete with some frost, may occur in early March, particularly in the evening or early morning in the more northern regions. The odds of a hurricane hitting Florida in March are very low as most occur between June and November.
Weather across different regions of the state
Temps in Southern Florida, including areas such as the Florida Keys, Miami and Fort Lauderdale, reach the high 80s before dipping into the mid-60s. It's also the sunniest region of the state, particularly the Keys, which experience sunny days for about 75 percent of the month. While the Keys see as little as 2 inches of rain in March, Atlantic coastal cities, like Pompano Beach and West Palm Beach, may receive up to 4.5 inches. Encompassing cities such as Tampa, Orlando and Daytona Beach, Central Florida features highs in the mid-70s, lows in the mid-50s, and between 3 to 4 inches of rain during the spring month. North Florida cities, such as Gainesville, St. Augustine and Jacksonville, see daytime highs in the low 70s, evening temps in the low 40s and between 4 to 5 inches of rain. The Florida Panhandle, home to cities such as Panama City and Pensacola, typically garners the most rain in March, with about 6 inches. Temperatures in the region usually top out in the low 70s and bottom out in the low 40s.
Humidity averages a mild 70 percent throughout the state in March, with mornings charting the highest levels. The panhandle city of Tallahassee and Southern Florida's Fort Myers often experience the highest statewide humidity in March at 90 percent.
Clothes to pack for your Florida vacation
With the state experiencing warm daytime temperatures in March, make sure you keep plenty of shorts, tank tops, short-sleeve shirts and sandals on hand if you're venturing to the far south. You might need something a little warmer in the evening when things cool off, so pack a light sweater along with cotton pants, jeans or a maxi dress for added warmth. As the sun shines a little brighter in March, beach bums often head for the water, so pack a swimsuit, trunks, flip-flops, a coverup and a hat for a day at the beach or an afternoon by the pool. However, note that the water still may be too cool for some, depending upon how far south you are.
If you plan to hit Orlando's popular theme parks, comfortable walking shoes are a must. The resorts are typically packed during spring break, so you'll spend most of your time standing in long lines. Prepare for any cooler weather by packing a pair of jeans, just in case, for Orlando's more northern location.
Preparing for outdoor activities
It's usually warm enough for many visitors to go swimming in Florida's more southern regions by mid-March, when the water temperature in the Gulf of Mexico and Atlantic Ocean starts to climb to the mid-70s. Whether you spend the day hiking through Everglades National Park or shopping along Miami Beach's Lincoln Road Mall, carry plenty of water, particularly in the early morning when conditions are especially humid. Make sure you bring an umbrella as rain can come on suddenly, and wear sunscreen, even when it's cloudy out, to avoid getting burned.
Florida's popular March events
Florida features a host of special events in March, many of which take place outdoors. Beach cities, including Miami and Fort Lauderdale, are popular destinations for spring-breakers, while enormous crowds of motorcycle enthusiasts descend upon Daytona Beach for the annual Daytona Beach Bike Week. Walt Disney World is also jam-packed during spring break, with hordes of visitors in town to enjoy Epcot's International Flower and Garden Festival and the St. Patrick's Day celebration.