Arizona's No Stranger to the Cold White Stuff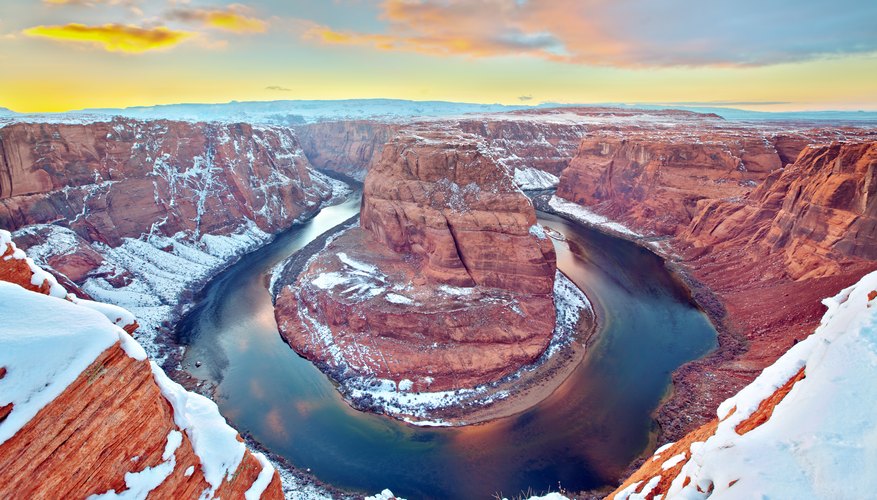 Most of us are used to picturing Arizona as canyon, desert and red rock country, where endless sunshine lures the winter-worn and snow is rarer than a cold day in June. The truth is that alpine snow is as much a part of Arizona as desert sand – and most of the time, there's enough to support a robust winter sports scene. Periodically, Arizona has even had severe snow events to rival any in the country:
Northern Arizona's White Mountains received more than 100 inches of the white stuff over eight days in December, 1967. On December 14, 38 inches fell at Heber – the heaviest single-day total in the state's history.

In the winter of 1978, snowfall on the Grand Canyon's North Rim reached 23 feet, nearly double the normal amount.

High and not-so-dry
What causes these monster snowfalls? Pacific storms collide with sub-zero Canadian air masses in Arizona's mountains and high plateaus, where their moisture freezes and falls as snow. Total accumulation of 100 inches is common in the White Mountains and San Francisco Peaks.
Go low, no snow
Winter on the roof of Humphreys Peak over than 2 miles above sea level is very different from winter in Yuma, only 138 feet above sea level. For most of southwestern Arizona's desert valleys, snow is a no-show. Even Phoenix, at 1100 feet above sea level, has never seen more than 1 inch of snow.
Not just a snow job
As impressive as Arizona's snowstorms can be, they're only one feature of a wildly diverse climate. Rainfall ranges from about 3 inches per year in the desert to more than 10 times that in the mountains. Desert summer temperatures that exceed 120 degrees F during the day may drop 50 to 60 degrees at night. In winter, the contrast is only slightly less dramatic – days in the 70s and nights in the 30s.
Know before you go: Arizona's rainiest months are July and August when moisture-laden air from the Gulf of Mexico moves in. Afternoon or evening thunderstorms result when the air passes over warm land. The most severe usually occur near the mountains.
What to pack for an AZ winter trip
With such variable winter conditions, Arizona makes packing a challenge. So why not come prepared for anything?
For skiing and snowboarding weather with daytime temps range from the 20s to the mid-40s and subzero nights, bring a thermal, long-sleeved shirt, a weatherproof ski jacket, insulated snow pants, long socks, a hat and waterproof ski gloves. To guard against snow blindness, add ski goggles with yellow or amber lenses and 100-percent UVA/UVB protection.

For low desert days with highs in the 70s, think shorts and tees or tanks, a swimsuit, sandals, flip-flops or sneakers and UVA/UVB-proof dark glasses. For nights tumbling into the 30s, pair long pants and long-sleeved tops or sweaters with a warm jacket, hat and gloves.

For everywhere: A minimum SPF-30 sunscreen and lip balm, also with sunscreen.