How Many State Parks are in Tennessee?
By Karon Warren

; Updated September 26, 2017
Explore the great outdoors in the Volunteer State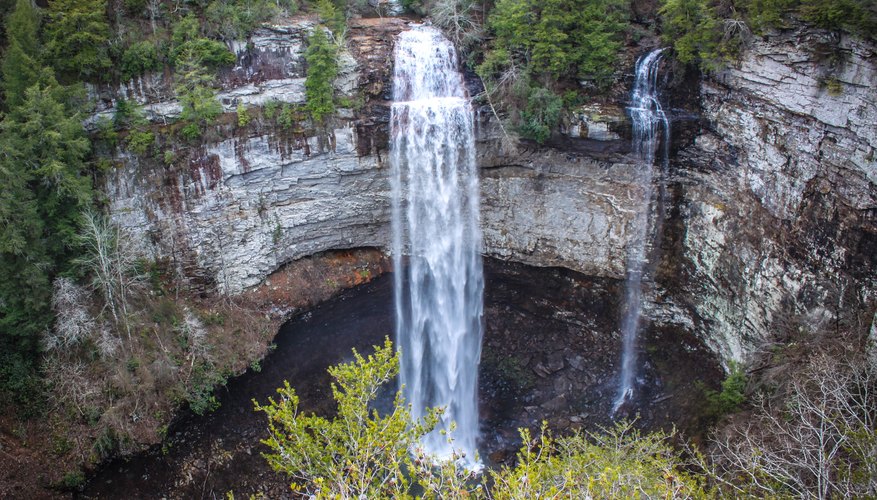 Tennessee established its state park system in 1937 to preserve the state's natural, cultural and historical resources. Since that time, it has created 56 state parks that contain 1,100 miles of trails, 36 campgrounds with 365 cabins, and more than 80 waterfalls. Plus, visitors can enjoy a wide range of activities, including fishing, hiking, boating, swimming, camping and horseback riding. And, with the parks scattered throughout the entire state, it's easy to reach one in no time.
Voted most popular
While every Tennessee state park offers something interesting to every visitor, some parks experience a higher visitation rate than others. For instance, Fall Creek Falls State Park in Spencer is the state's largest and most visited park. With more than 26,000 acres across the length of Cumberland Plateau, this park features such natural attractions as waterfalls, gorges, streams and cascades.
At Rock Island State Park in Rock Island, visitors love the views of the Caney Fork Gorge below Great Falls Dam. In Wildersville, visitors can explore an alternate route of the old Natchez Trace at Natchez Trace State Park. Well-known for its water recreation on both a lake and a river, Pickwick Landing State Park in Hardin County also offers golf, disc golf, nature walks and tennis. Of course, this is just a sample of the more popular Tennessee state parks.
Planning a visit
Every park is free to all visitors, although certain activities may incur additional fees, so research the park's activities prior to any visit. In addition, all Tennessee state parks are open year-round although they may have special holiday hours. As such, most cabins and some campgrounds remain open throughout the year, so there's no reason to postpone a camping trip based on time of year.
Each park hosts a number of events throughout the year, so be sure to check the park's website to find out what is happening at the park when you plan to go. It's also a good idea to check the calendar of events to see if the park will be busier than usual if you want to avoid crowds.
Dress for the occasion
When visiting one of the Tennessee state parks, wear clothing appropriate for the time of year as well as the activities you want to do. For example, if you plan to go hiking in the fall, wear good hiking shoes and layered clothing. This way, you can remove layers as you warm up, and cover up if temperatures drop during your stay. Likewise, if planning to camp, pack for the weather, but bring along some extra blankets and rain protection in the event of an unexpected weather change. It's always better to be over-prepared rather than find yourself in an uncomfortable situation. There is no shortage of outdoor recreation available at the many Tennessee state parks; it's only a matter of discovering the park that offers the experiences you want to enjoy.
References