Are There Flamingos in Florida?
By Judith K. Tingley

; Updated September 26, 2017
The Florida bird: past, present and possible future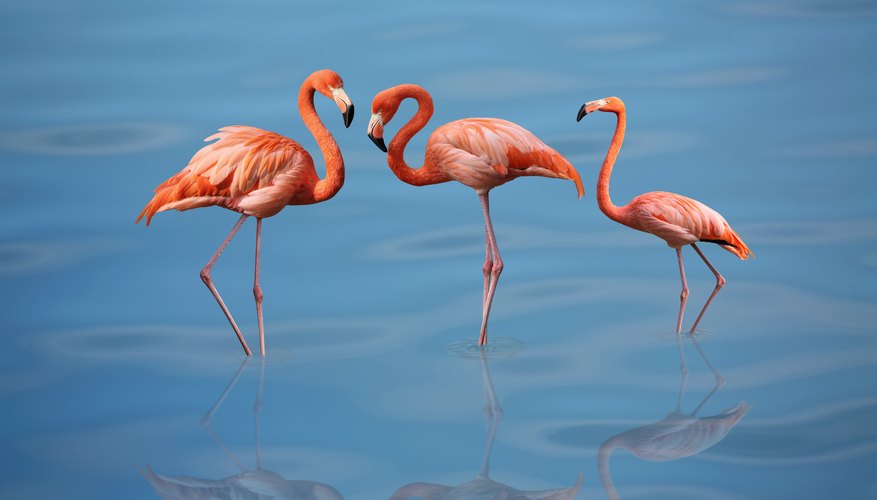 Surprisingly enough, wild flamingos – the birds most closely identified with Florida – are actually quite rare in the Sunshine State. Although flamingos did once inhabit the southernmost point of Florida, they were done in by a fashion fad: the use of flamingo feathers in ladies' hats pretty much wiped out Florida's native flamingo population a century ago. Wild flamingos survive in the Caribbean and other areas of the world, and there is some hope that they could possibly make a comeback in Florida, too. In the meantime, flamingos are kept safe from fashion trends in zoos and conservation areas.
A flamboyance of flamingos or a bowl of roseate spoonbills?
Tourists in search of the wild flamingo will often mistake a "bowl" of roseate spoonbills for the "flamboyance" of flamingos they seek. Although both birds are social animals who live in large groups, they aren't even close relatives. Also, neither one of them is the bright pink of those classic kitsch plastic flamingos that you most definitely will see all over Florida. Both the spoonbill and the flamingo come in a warmer shade of pink, an almost coral hue. While the spoonbill does indeed have a bill shaped like a long spoon, the flamingo is slightly more svelte and has a distinctive down-turned black bill.
Where to be sure of finding flamingos
Zoos. There are flamingos in zoos. As you enter Zoo Miami, for example, you will encounter the zoo's 40 flamingo residents, usually found in their at-ease position (standing on one stick-like leg, head tucked in). This zoo takes care to provide as natural a habitat as possible for its birds, even to the extent of providing bird couples with a special clay for their nest mounds. Usually a single egg is laid, and the couple can stay mated for life.
At the Palm Beach Zoo, small groups have the opportunity to actually become "part of the flock" in a behind-the-scenes experience with the zoo's Chilean flamingos. Visitors cannot touch the birds, but are allowed to feed them from cups, take walks with them and get up-close-and-personal enough for some great photo opportunities. This special interactive experience must be booked ahead of time; there is an additional fee outside of regular zoo admission; each child must be accompanied by an adult, and everyone must wear closed shoes, not sandals. Those wiggly toes can look mighty tasty to a hungry flamingo!
If you want the whole Florida flora and fauna experience in one place, head to Flamingo Gardens in the Ft. Lauderdale area. Here you will find beautiful botanical gardens as well as the largest collection of Florida wildlife in the state from big cats to butterflies – including, of course, flamingos. Take advantage of their wildlife encounter shows and tram tours, too.
Wild flamingos making a comeback
As mentioned earlier, there's a chance that the wild flamingo might move back to Florida after decades of what appeared to be permanent relocation to other places. A small flock of American flamingos has been coming to the same area in Palm Beach County for several years during the spring season. The Audubon Society of the Everglades has partnered with the South Florida Water Management District to offer tours to the public. Nothing is guaranteed; no one knows if this phenomenon of "flamboyance" will diminish or grow or simply go away. But in the meantime, what an adventure it is to take part in a flamingo quest!