When do the Leaves Change in North Carolina?
By Karon Warren

; Updated September 26, 2017
Searching out fall foliage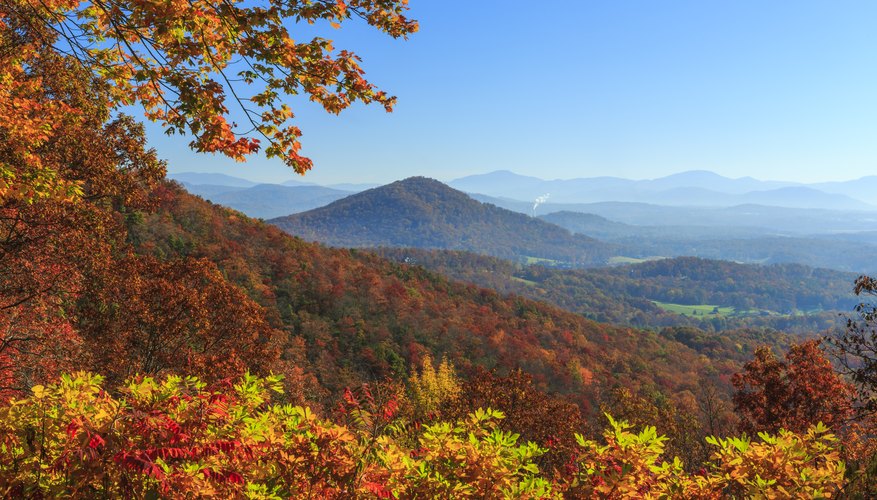 From the mountains to the beach, North Carolina contains more than 200 native tree species, making it ripe for colorful fall foliage. In fact, there are more than 130 tree species just in the Great Smoky Mountains National Park that covers the western side of the state. As a result, North Carolina overflows with fall color, and it's all on display for leaf-lookers every September through November.
Making a change
Obviously, tree leaves undergo a color change every fall in North Carolina, but when that change takes place depends on the tree species, its location and the weather conditions leading up to fall. Color change during autumn generally starts in Western North Carolina in the higher elevations of the mountains, usually at the beginning of October. As the season progresses, so, too, does the color change throughout the state. If the area experiences warmer weather, expect that change to move slowly. On the contrary, if the state undergoes an early frost or cooler temperatures, fall color will happen more rapidly, and possibly for a shorter time period.
A colorful view
There are some great locations throughout North Carolina that provide prime viewing spots to see fall foliage. With so many tree species and its high elevations, the Great Smoky Mountains National Park offers several overlooks and scenic drives where visitors can see a variety of colorful leaves. For instance, head to the North Carolina/Tennessee state line, elevation 5,056 feet, which has a great overlook. Another way to see changing leaves is a drive along the Blue Ridge Parkway, which includes 252 miles in North Carolina. Start at the Blue Ridge Parkway Visitor Center in Asheville for maps and information on overlooks along the way.
Find some fall fun
Of course, enjoying the beautiful fall foliage is only a fraction of the autumn entertainment found in North Carolina. The state hosts a number of festivals filled with food, live entertainment, family-friendly activities and more. For example, find plenty of apples at the Brushy Mountain Apple Festival in North Wilkesboro. Or head to Raleigh, and spend the day on the rides at the North Carolina State Fair. Food enthusiasts will enjoy sampling all the treats at the Barbecue Festival in Lexington. But these are just a few of the many festivals hosted statewide. For information on these and other festivals, check out the Visit official North Carolina website.
Other traditional fall favorites include picking apples, visiting a pumpkin farm or weaving through a corn maze. When heading out to the many orchards, farms and fields that host these activities, plan some extra time to enjoy everything they offer. Think petting zoos, horseback riding, hayrides and, of course, shopping for local produce, jellies, jams and other delicious goodies.
For additional outdoor entertainment, hit one of the state's many hiking trails or plan a weekend camping trip. Another option is playing in the trees at one of the various zipline outfitters or tackling a ropes course. These literally put you in the middle of the North Carolina's beautiful fall foliage.