Where is Six Flags in Texas?
By Karon Warren

; Updated September 26, 2017
Thrilling adventure in the Lone Star State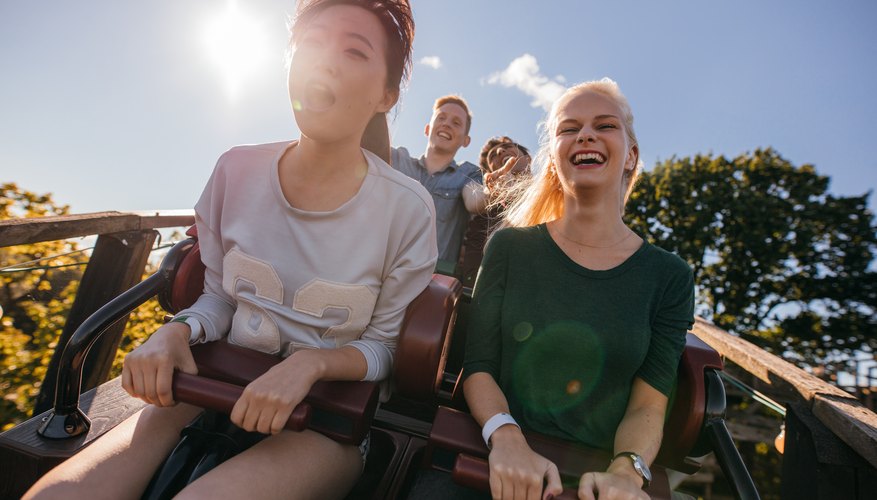 With wild roller coasters, cool water rides and a wide array of entertaining shows, amusement parks offer a variety of fun for visitors of all ages. In Texas, three such parks welcome both locals and visitors to come stay and play for a while: Six Flags Fiesta Texas, Six Flags Over Texas and Six Flags Hurricane Harbor. Choose one, or visit all three. Just make sure you do plenty of advance planning so everyone in your group has the best time possible.
Get to know the parks
Opened in 1961, Six Flags Over Texas in Arlington became the nation's first regional theme park. Today, nearly 50 rides operate on its 212 acres. Six Flags Hurricane Harbor – also in Arlington – opened in 1983 as Wet 'n Wild before being purchased and renamed in the mid-90s. The lively water park attracts guests and keeps them cool with more than 15 water rides, a wave pool, a lazy river and an activity pool. Six Flags Fiesta Texas in San Antonio welcomed its first visitors in 1992 and offers more than 50 amusement and water park rides along with daily live entertainment.
Get a ticket to ride
Tickets purchased at the gates of both Six Flags Over Texas and Six Flags Fiesta Texas range from around $60 to $80 for general one-day admission for adults and children under 48 inches tall. Admission is free for children age 2 and younger.
At both parks, discounts are available when purchasing advance online tickets, with additional savings available through the purchase of season passes and park memberships. Add-on packages related to dining, parking, FLASH passes, digital photo mementos and private VIP tours also are available.
At Six Flags Hurricane Harbor in Arlington, ticket prices for general admission run from approximately $30 for children under 48 inches tall to around $40 for adults. Children age 2 and younger are free. Like the standard Six Flags amusement parks, additional discounts are available with online purchases made in advance. Add-on packages for dining, parking and FLASH passes also are available.
Get with the program
While Six Flags parks enthusiastically welcome visitors, they place limitations on what guests can bring into each park. For all three parks in Texas, the following items are prohibited: alcohol, all outside food (except special diet and infant food), coolers, lawn/folding chairs, magic markers, spray paint, aerosol cans, glass bottles, knives, laser pointers, spiked clothing/jewelry, fireworks/explosives, firearms/ammunition, chemical weapons, mace/pepper spray, unmanned aerial vehicles (drones), GoPro cameras, selfie sticks, monopods and similar devices and radios and two-way walkie-talkies.
Because the parks are family-focused, they maintain a dress code requiring proper attire and footwear at all times. Clothing and tattoos with offensive language or graphics are prohibited. Each park reserves the right to bar entry to anyone wearing clothing or displaying tattoos it deems offensive. Bathing suits are permitted only in the water parks.
Get going
For the best Six Flags experience, visit the individual websites for each park, being sure to focus on the "FAQ" and "Tips for Family Fun" sections. Schedule shows you want to see, and look into restaurant offerings. Get familiar with the park layout by using the online map so you can easily find the attractions everyone in your group wants to experience. When you get there, hit the popular rides first to keep wait times down.
Planning ahead is essential to making the most of any visit to the Six Flags parks in Texas, but most important? Simply remembering to have a good time.