What Is the Climate of Florida?
By Kathryn Walsh

; Updated September 26, 2017
Sun, sand and hurricanes: what to know about the weather in Florida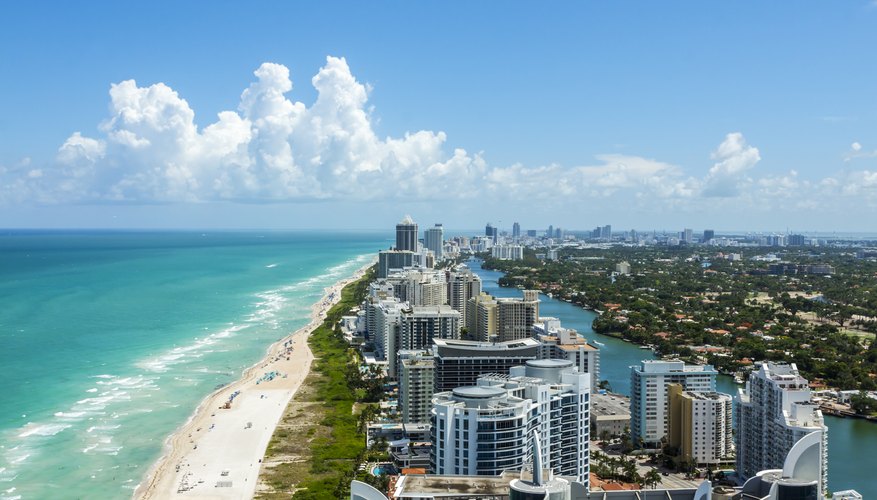 It's not a Jimmy Buffett song all the time, but Florida's reputation as the land of perpetual summer isn't totally unearned. The state has a tropical/subtropical climate, and as such, Florida is generally hot, wet or both hot and wet at the same time. Hurricane season is an especially soggy time in the Sunshine State. But even with its rainy summers and year-round scattered storms, Florida temperatures tend to fall between warm and blazingly hot (with plenty of humidity to spare), so brace yourself for sweat on a visit to Miami or Orlando.
What to expect from Florida's weather
Like many states, Florida experiences some fluctuation in temperatures from one part to another. Both the northern and southern halves of the state tend to have steamy summers, with average high temperatures around or above 90 degrees F. But North Florida winters can be cool, with nighttime temperatures in cities, including Tallahassee, dropping below freezing occasionally. By contrast, low winter temperatures in Miami are around a balmy 60 degrees F.
Frequent rain is common throughout Florida. It often comes in the form of quick, strong storms that blow through suddenly. Rain is common throughout the year in all parts of Florida, with winter the driest season. However, North Florida gets more rain in the winter than South Florida. But all bets are off during summer and early fall. That's hurricane season, when all of Florida tends to get frequent rain; more on that to come.
Hurricane season
Florida's hottest season is also its most volatile. Thanks to its location on both the Atlantic Ocean and the Gulf of Mexico, the state is generally hit by several hurricanes each year. The Atlantic hurricane season (which dictates when storms hit both the Atlantic and Gulf of Mexico) officially lasts from June 1 to November 30 each year, but mid-August through mid-October tends to be the most active time for hurricanes to sweep through the state. All parts of Florida can be affected by hurricanes.
Some hurricanes simply seem like severe thunderstorms, but stronger hurricanes can cause flooding, tremendous property damage and even fatalities. Luckily for nervous visitors, Florida businesses are experienced in dealing with hurricanes, and these storms can be tracked and predicted. If one is coming while you're visiting the state, your hotel staff and local news can help you determine whether you need to evacuate before the storm hits.
When to visit Florida
As you might guess, late summer and early autumn aren't the best seasons to visit Florida if you're basing your decision on weather alone. With the humidity, summer days routinely feel hotter than 100 degrees F, and you may feel sticky and sweaty as soon as you walk outside each morning ‒ to say nothing of the hurricane possibilities. Despite the heat and humidity, popular tourist destinations like the Disney parks in Orlando are still crowded during summer when kids are on vacation from school. If you're going to visit Florida during this time, stick to beach towns where the breezes tend to cool things down, and just resign yourself to cut your trip short if a big storm is predicted.
If you have leeway in your scheduling, aim to visit Florida in the early part of the year. Between February and April, most parts of Florida are warm without being too hot. Visit popular cities outside of common spring break weeks to get the best deals and the smallest crowds. Early winter can be lovely in the Sunshine State, too.