Your Most Pressing Questions About San Diego Answered
By Kathryn Walsh

; Updated September 26, 2017
Visit one of America's most beautiful cities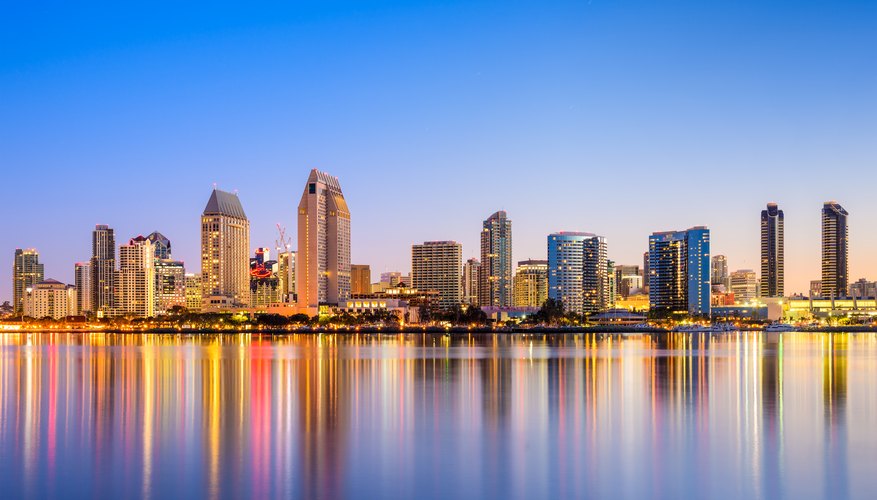 Fair warning: From the day you arrive in San Diego, you probably wouldn't want to leave. You may find yourself fantasizing about buying a little place on the beach and taking up surfing – if a look at the housing prices don't quickly discourage you of that idea. San Diego is just one of those places that casts a spell on most people who visit. The weather is warm and breezy, the people are friendly and the scenery is incredible. Prepare to fall in love.
Q: What is San Diego known for?
A: Some people think of weather when they think of San Diego, because it's so consistently sunny and pleasant there. Sports fans probably best know the city as the home of the San Diego Padres, an MLB team. Entertainment industry insiders may associate San Diego with the annual Comic Con convention, while others know it as a military city where tens of thousands of Navy and Marine service members live.
Q: What is the weather in San Diego?
A: Don't confuse San Diego with its neighbor to the north, Los Angeles. This SoCal city doesn't suffer from sweltering heat in the summer. In fact, average temperatures fall in the 60s and 70s throughout the year, with only about a 10-degree swing between the January and July average highs. San Diego gets very little rain. It tends to be warm, sunny and comfortable most days of the year, and snow is exceedingly rare.
Q: How often does it rain in San Diego?
A: Not often at all. The city gets an average of only about 10 inches of rainfall each year. Summer is the driest season. Winter is the wettest. About one quarter of the city's annual rainfall occurs in the month of February.
Q: When is San Diego Pride?
A: The annual event, which celebrates the city's LGBT community, is held on a weekend in mid-July each year and typically takes place over two days. San Diego Pride consists of a music festival and a massive parade that begins near Balboa Park and ends in the Hillcrest neighborhood. The parade alone generally attracts 100,000 people or more.
Q: What should I see in San Diego?
A: Many of San Diego's attractions allow you to explore the area's natural beauty, like the Torrey Pines State Natural Reserve, Mission Trails Regional Park and the beach at La Jolla Shores. You may also want to visit the USS Midway Museum and walk through the Gaslamp Quarter of downtown San Diego, which is filled with quirky shops and trendy bars and restaurants. No trip to the area is complete without a trip to Coronado, the picturesque peninsula city just across the San Diego Bay. Be sure to check out the famous and historic Hotel Del Coronado. It's expensive to stay there, but you can visit for free or dine in one of its oceanfront restaurants.
Q: Can you bring food into San Diego Zoo?
A: Bringing your own snacks or lunch into the San Diego Zoo is a good idea because concessions at the famous park are pricey, and lines can be long on popular days. Luckily, the zoo does allow guests to bring in personal food. However, large food storage containers like coolers and picnic baskets aren't allowed, and the zoo asks visitors not to bring straws, glass containers or alcohol into the park.
Q: What is there to do in Old Town San Diego?
A: Old Town San Diego is considered the birthplace of California because it was the location of the state's first Spanish settlement. The area has been well preserved and many original 19th-century buildings still stand. Some historic sites operate today as museums. Visit the Old Town San Diego State Historic Park, taste freshly-made tortillas and wander the streets to get a sense of the area's rich history.
Q: When is Comic Con in San Diego?
A: Comic Con is held on a long weekend in July each year at the San Diego Convention Center, with official events generally beginning on Wednesday and running through Sunday. The event began as a single-day comic book convention, but has ballooned over the years and now celebrates TV and movies as well as comic books. Comic Con is wildly popular, with well over 100,000 people descending on the city annually for the event. Tickets go on sale in the winter, selling out far in advance.
Q: What are the purple trees in San Diego?
A: They're called jacaranda trees and their purple flowers bloom each spring. You can see them throughout San Diego during spring and summer. Head to Balboa Park to see a large number of the blooming purple beauties.