All Your Questions About New Orleans Answered
By Meg Jernigan

; Updated September 26, 2017
The French Quarter and beyond in the Big Easy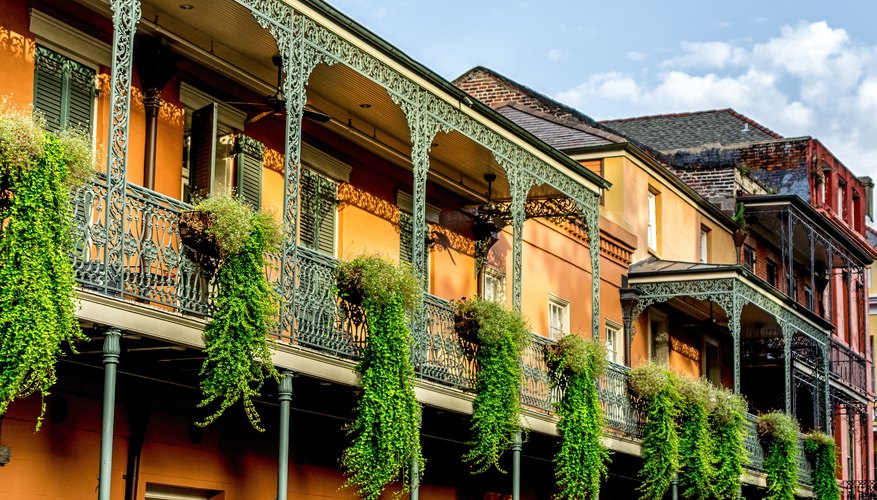 Mardi Gras, above ground cemeteries called cities of the dead, the sluggish Mississippi River and trees draped with Spanish moss bring New Orleans to mind. Locals, used to throngs of tourists during carnival, recommend spending part of your visit away from the revelry on Bourbon Street. Explore the city's neighborhoods, take time to listen to the buskers and ride the celebrated streetcars.
Q: Where should I stay in New Orleans' French Quarter?
A: Soniat House, in a quiet residential area of the French Quarter, has everything travelers expect in a French Quarter hotel. A quiet courtyard, balconies with wrought-iron railings combined with modern amenities like in-suite Jacuzzi tubs and in-room massage make it a romantic destination. Leave Fido and the kids at home. Pets and children 10 and under are not allowed.
Opened in 1886, Hotel Monteleone is just a block from Bourbon Street's shops and restaurants. The historic hotel is home to the Carousel Bar & Lounge, the only rotating bar in New Orleans, and a prime spot for people watching in the Quarter. The pet-friendly hotel has a rooftop pool and a full-service day spa.
Q: What sites should I see in New Orleans?
A: Take the Riverfront streetcar line to the Audubon Nature Institute on the banks of the Mississippi River. The institute is home to Audubon Park, a century-old urban oasis, the Audubon Zoo, the Aquarium of the Americas, and the Audubon Butterfly Garden and Insectarium.
Several historic buildings frame Jackson Square. The triple spires of the St. Louis Cathedral rise over the park, where an equestrian statue dedicated to Andrew Jackson is the focal point. Nearby, one of only four remaining death masks of Napoleon is on display at the Cabildo, an 18th century building that was home to Spanish government in Louisiana.
Q: When is New Orleans Jazz Fest?
A: New Orleans' Jazz and Heritage Festival, commonly known as Jazz Fest, is held on the last weekend in April and the first weekend in May. In 1970, gospel singer Mahalia Jackson was a headliner at the first festival, attended by only 350 people. Since then, artists like the Preservation Hall Jazz Band, Buckwheat Zydeco, B.B. King and Dave Brubeck have performed, as well as musicians not normally associated with jazz like Bob Dylan and Willie Nelson.
The festival is held at the Fair Grounds Race Course, the third oldest in the U.S. Hundreds of thousands of visitors make the trek to New Orleans to hear music, buy the original silkscreen poster created for the festival each year and eat authentic Louisiana cuisine.
Q: What are the best ways to get around New Orleans?
A: New Orleans' streets, especially in areas like the French Quarter, can be crowded, and parking can be hard to find. If you fly into the city, buses, shuttles and taxis operate between Louis Armstrong International Airport and the French Quarter, about 15 miles east. Once you're in town, you probably won't need a rental car.
City buses serve many of New Orleans' neighborhoods and its suburbs. Passengers can pay one-way fares in exact change when they board, but if you're staying in the city for a few days, a Jazzy pass provides unlimited trips on buses and streetcars. Two ferry routes connect New Orleans with towns across the Mississippi River. Streetcars, New Orleans' historic form of transportation, provide more limited access to outer parts of the city.
Download the GoMobile app to purchase passes for the bus, streetcar and ferries.
Q: Is Uber in New Orleans?
A: Uber began providing convenient car service to New Orleans residents and visitors in 2015, with Lyft not far behind a year later. Fares charged by the two companies are roughly comparable, and both practice surge pricing in which fares rise due to a temporary increase in demand. Both services cover New Orleans, the western suburbs like Kenner, and the towns across Lake Pontchartrain such as Covington and Slidell, but Lyft service extends south of the city to the far reaches of the Mississippi Delta.
Download the Uber and Lyft apps for your smartphone and use it to arrange for rides, calculate fares and choose which sort of vehicle you want to hire.
Q: What should visitors do in New Orleans when it rains?
A: Afternoon thunderstorms are common in New Orleans during the warm months. Sitting at a covered sidewalk café, drinking a cup of Café Du Monde coffee and nibbling on a beignet may be the best way to pass an hour. Or, sip a Hurricane at one of the bars on Bourbon Street with tall double doors that create an indoor-outdoor feeling when they're open.
Spend an hour touring Mardi Gras World. The museum, where you can watch as floats are built and learn the history of the celebration, is open seven days a week. Immerse yourself in Southern culture at the Ogden Museum of Southern Art. The museum's exhibits cover visual art, literature, music and the region's culinary heritage.
Q: How old is New Orleans?
A: The city of New Orleans was founded in 1718, but Woodland and Mississippian Native Americans inhabited the region long before that. Explorers Hernando de Soto and Rene-Robert Cavelier, Sieur de La Salle visited the area in 1542 and 1682, respectively. Treaties signed in 1762 and 1763 transferred New Orleans to Spain, but in 1803 the city reverted to French control. Twenty days later, New Orleans became part of the United States as part of the Louisiana Purchase. French remained the most-common language in use in the city until 1830.
Q: Where is Mardi Gras in New Orleans?
A: Technically, Mardi Gras, or Fat Tuesday, falls 47 days before Easter during the season of Lent that begins on Ash Wednesday. But celebrations begin weeks before that on Three Kings Day with small parades around the city and its suburbs. The biggest parades, like those of Zulu, Bacchus and Rex, happen the weekend before Fat Tuesday.
The Krewe of Rex, founded in 1872, parades from western New Orleans along St. Charles Street into the French Quarter. Choose a spot farther away from the Quarter if you don't want to be consumed by revelry on the Quarter's narrow streets. The Krewe of Zulu, a historically African-American club, begins marching in the Central City section of New Orleans, makes its way along St. Charles into the French Quarter and then back out through the Treme neighborhood.
Q: What are the best places to eat oysters in New Orleans?
A: You'll find oysters, raw, broiled, baked, deep-fried or piled on a po'boy, in almost every corner of New Orleans. The lines are long at Acme Oyster House, the oldest oyster bar in the French Quarter, but it's a must stop for oyster lovers. Choose a seat at the bar were you can watch your oysters being shucked. If you'd rather have a beer with your oysters, try Crescent City Brewhouse. The restaurant hosts jazz bands most nights and has a full menu if you're traveling with companions who don't appreciate oysters.
Get more for less by searching out restaurants with happy hour pricing on oysters. Samuel's Blind Pelican has raw bar oysters for a quarter and charred oysters for $10 a dozen, as well as 50 beers on tap.