Your Most Pressing Miami Questions Answered
By Kathryn Walsh

; Updated September 26, 2017
Preparing for the glitter and sunshine of Magic City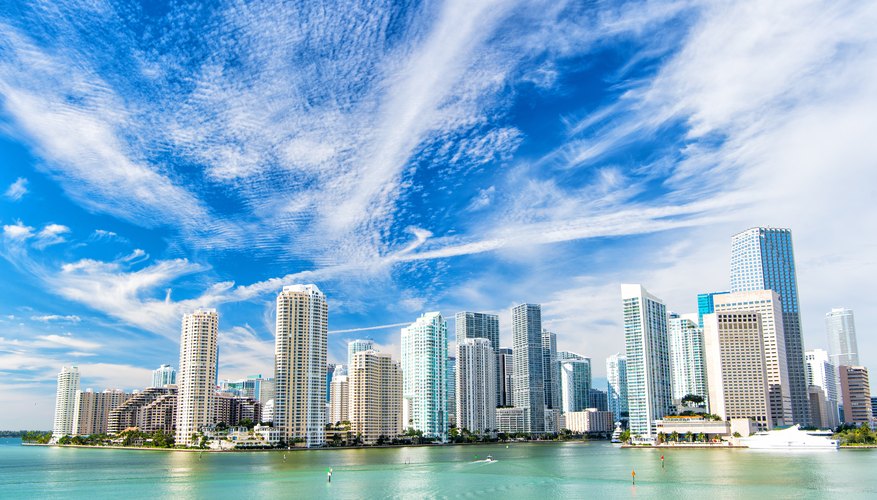 Be on the lookout for JLo when you're strolling down Ocean Drive. Miami is a favorite hangout for some of the world's biggest celebrities, which gives you an idea about just how glamorous this beach city really is. But although you may not rub sunscreened shoulders with any A-listers, you'll probably have a blast in Miami anyway. It's an oceanside oasis by day, a party town by night and a food-lover's paradise always.
Q: Where does the name "Miami" come from?
A: The name is believed to be derived from the Calusa word Mayami, meaning "big water." The Calusa Indian tribe inhabited southwest Florida before it was settled in the late 1800s.
Q: How is the weather in Miami?
A: Hot and wet, sometimes at the same time. Even in winter, average high temperatures are above 70 degrees F, and lows rarely dip below the 60s. Miami's climate is tropical, which means it's humid and rainy, especially during summer. Hurricane season is in full swing from June 1 through November 30, which means intense tropical storms can happen anytime during those months. This period also comprises Miami's rainiest season. June and September are, in general, the wettest months.
Q: What should I wear in Miami?
A: Light, breathable fabrics are the key to comfort on a trip to Miami. All that heat and humidity equals sweat, so opt for fabrics that dry quickly and wick moisture away from the skin. That means that silk and denim aren't great choices. Performance fabrics and thin, breathable textiles like linen and chambray are best. Plan to dress casually by day and pump up the style at night. Miami's known for its glamorous nightlife, so embrace color and bold accessories. Don't forget a bathing suit, cover-up, sandals and brimmed hat for sun protection.
Q: How can I get around in Miami?
A: Miami is a sprawling city clogged with traffic. Finding your way around can be time-consuming and confusing, especially if you're venturing across Biscayne Bay to Miami Beach, which is technically an island. The public transportation system includes a network of buses; a Metrorail train system that includes service to Miami Dade Airport and other points of interest; and the automated Metromover, a free train that loops around the downtown area and connects to both bus and Metrorail stops. Miami also has a trolley system that travels around central areas. The city has some bike trails. Getting around via car-sharing service is another easy way to navigate Miami without having to get behind the wheel yourself.
Q: Where is there to eat in Miami?
A: Miami is known for its plentiful and delicious dining options that often emphasize fresh seafood and Cuban food. Many of the city's hottest (and priciest) restaurants are located near water's edge, along Biscayne Boulevard and Brickell Avenue. Head west of the water into the neighborhood of Little Havana to find authentic Cuban pastries and fritas, or Cuban hamburgers. You'll also see tons of food carts and food trucks around the Miami area.
Q: How do you get to Key West from Miami?
A: By land, there's only one way in and out of Key West: U.S. Route 1, also known as the Overseas Highway. It's a direct route from Miami to Key West. The two are about 160 miles apart, with about 100 miles of that drive on the Overseas Highway. The highway is nothing more than a bridge over open water in some spots, but you'll also pass through towns with restaurants and gas stations along the way. Don't want to drive yourself? Bus companies, including Greyhound, make daily trips between the cities. Another option is to take a short flight from Miami International Airport to Key West International Airport.
Q: What is there to do in Miami Beach?
A: Miami Beach is, as you might expect, prime sunbathing territory. The entire eastern coast of the island consists of sandy beaches, including the famous South Beach. Miami Beach is home to some of the area's swankiest resorts, and high-end shops and Art Deco buildings line Ocean Drive. Admire contemporary art at the Bass Museum of Art, and check out the wide variety of art pieces at the Wolfsonian, part of Florida International University.
Q: What is there to do in Miami when it rains?
A: Miami is a beach city, so many of the area's most popular attractions are under the open air. Rainy days are common, though, and the city offers plenty of indoor activities to hold you over until skies clear. Visit the Freedom Tower in Downtown, which has been called "the Ellis Island of the South," because it was once the reception point for Cuban refugees. It also houses a contemporary art gallery. The Miami Children's Museum and the Phillip and Patricia Frost Museum of Science are both good indoor options. Venture north to the Miami Auto Museum at the Dezer Collection to see vintage cars from the Batman and James Bond movies, or taste local flavors in one of Miami's craft breweries.