Everything You Need to Know About Charleston
By Meg Jernigan

; Updated September 26, 2017
Southern charm and good eats in South Carolina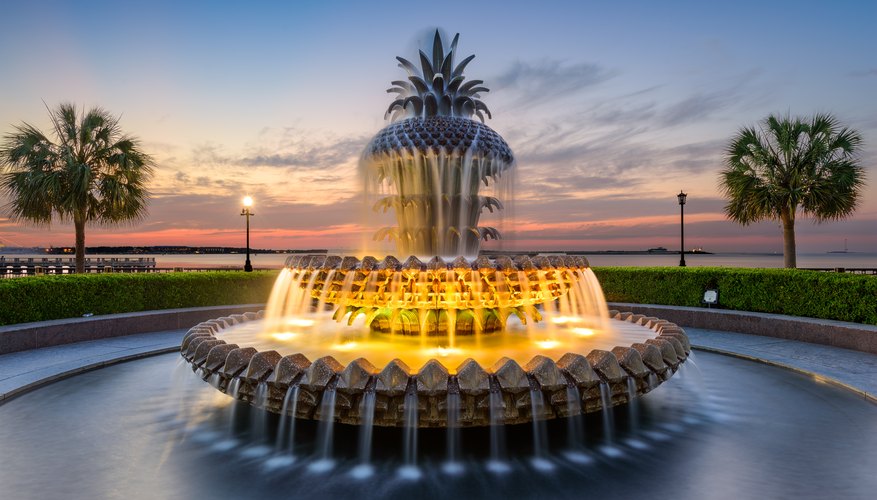 Charleston, S.C., oozes charm, but this vibrant city can't be accused of being a sleepy Southern town. You can spend hours admiring antebellum homes and touring historic sites, then sit down to reinvented lowcountry dishes at an award-winning restaurant. The high spots of Charleston are worthy of your time, but set aside some time for a day at the beach, seek out a dance bar or catch a Charleston Riverdogs game.
Q: Where should I park in downtown Charleston, S.C.?
A: Most of the 1000 metered parking spots in Charleston have two-hour time limits. If you plan to use metered parking, buy a SmartCard, a refillable card used to pay the meter. There's no discount, but you can insert the card in the meter for a refund if, for instance, you've paid for two hours but used only one.
If you prefer to leave your car in a garage, the parking garage at the Visitor Center provides access to public transportation.
Once you've parked your car, ride Charleston's free trolley system. CARTA trolleys serve the Historic Peninsula area, making stops at or near the city's attractions like the Joseph Manigault House, an antebellum home owned by a wealthy family.
Q: What's good to eat in Charleston, S.C.?
A: Lowcountry cuisine – dishes highlighting local ingredients like fresh fish and seafood, rice and produce from nearby farms – is a Charleston staple. Frogmore stew, also called a Lowcountry boil, is a classic. Potatoes, corn, shrimp or crab, and spicy sausage are boiled together with seasonings. Look for creamy shrimp and grits, she-crab soup and hoppin' john, South Carolina's version of beans and rice, on restaurant menus.
A meal at Hyman's Seafood, established in 1890, is a good starting point for exploring authentic South Carolina cuisine. Its menus feature classics like fried grit cakes, collards, oysters and fried green tomatoes with a side of hush puppies.
Q: Where should we stay in Charleston, S.C.?
A: If you want to be right in the thick of things, choose a hotel or bed and breakfast in Charleston's historic district. Expect to pay premium prices during the spring high tourist seasons. In February and March, Charleston's off-season, check for downtown hotel package deals and lower rates. The weather is still mild, and there are far fewer tourists competing for the same hotels. Make sure your hotel provides a parking lot or valet parking. Finding a spot for your car can be difficult downtown.
Beachfront hotels tend to be upscale resort properties. Folly Beach, Isle of Palms and Kiawah Island hotels have waterfront rooms with view of the Atlantic Ocean. Visitors staying more than a few days should investigate vacation rentals by owners on the barrier islands.
Travelers on a budget can find less-expensive lodging in rooms and homes advertised on sites like Airbnb, and visitors who don't mind sharing a dorm-style room pay economy rates at NotSo Hostel, a hostel with shared and private rooms.
Q: Why is Charleston called the Holy City?
A: No one is certain why Charleston is called the Holy City, but there are two popular theories about how the city got its nickname. Because of its location and early prosperity, people from other parts of the U.S. and around the world practicing different faiths moved to the city. Religious tolerance generally became the norm, and houses of worship were built across the city.
The second theory rises from a chain of correspondence between Charlestonian John Bennett and Yates Snowden, where the expression "Holy City" appeared numerous times as they discussed whether Boston or Charleston deserved the title.
Q: Where is Rainbow Row in Charleston?
A: The vivid Colonial Caribbean colors of Rainbow Row – greens, pinks, yellows and blues – give this strip of row houses on East Bay Street its name. The oldest houses, located on a section of the street between Tradd and Elliot streets, were originally constructed in the 18th century as businesses serving the nearby port. The houses weren't always so colorful. In 1931, a homeowner painted her three houses bright pink. Subsequent purchasers in what had become a neglected slum carried on the tradition. While Rainbow Row is one of the most-visited areas of the city, none of the houses are open to the public.
Q: Is there a zoo in Charleston, S.C.?
A: Established in 1676, Magnolia Plantation is still owned by the descendants of its original owner. Azaleas were first cultivated in the U.S. in the plantation's expansive gardens where white wooden bridges arch over swampy areas. Visitors can tour the house and gardens, ride the nature train or take the rice field boat tour, learn about slave life or spend time in the zoo and nature center.
The Zoo & Nature Center highlights animals indigenous to the area like deer, bobcat and beaver. It includes a petting area, a reptile house and educational programs.
Q: Where do cruise ships dock in Charleston, SC?
A: Charleston's cruise terminal is on the east side of the city's historic district. Disembarking passengers are within walking distance of shops, restaurants and attractions, and visitors or embarking passengers will find plenty of secured parking. The terminal is used as a port of call or originating location for cruise lines like Carnival that operate four to 10-day cruises to the Bahamas. At the time of publication, plans were in the works to build a larger terminal facility at the location that would include parks and housing.