Everything You Need to Know About Memphis
By Johanna Read

; Updated September 26, 2017
Get some soul in Memphis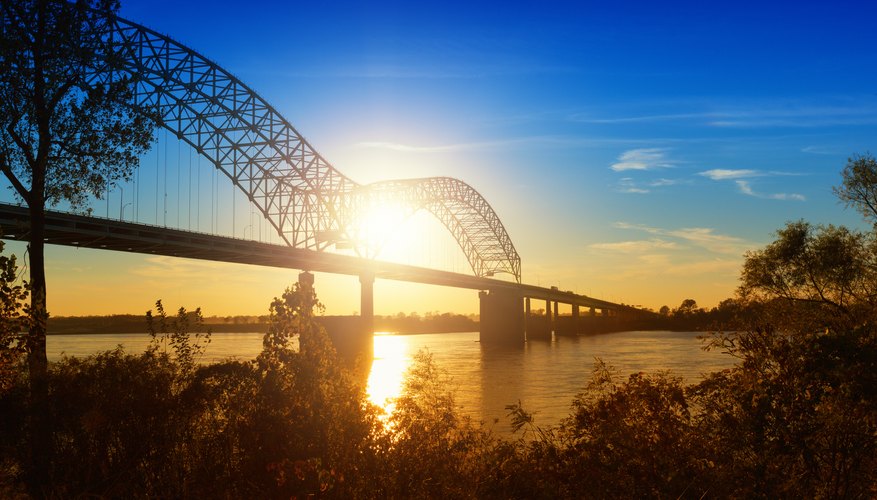 Famous for Elvis and the birthplace of the "Soundtrack of America," Memphis offers much in the way of Southern hospitality. Learn about the origins of American blues and rock 'n' roll and about the soul of America's civil rights movement in this West Tennessee city.
Q: What does the name Memphis mean?
A: Memphis, Tennessee's second biggest city, is named after Memphis, which was the ancient capital of Egypt. The word means enduring and beautiful.
Q: What is the pyramid in Memphis?
A: Befitting its ties to ancient Egypt, Memphis has its own pyramid. Originally built as a sports arena and called the Great American Pyramid and the Pyramid Arena, the pyramid is now an entertainment facility. It has an aquarium, a cypress swamp, the National Water Fowling Heritage Center, many restaurants, a hotel, sports activities like archery and bowling, and shops including a Bass Pro Shops mega-store. It's now called the Bass Pro Pyramid.
Q: How long to drive from Memphis to Nashville?
A: It takes about three hours to drive between Tennessee's two famous music cities, Nashville and Memphis. Travelers pass through the city of Jackson on the way, which features Civil War history, wineries, distilleries and the year-round West Tennessee Farmers Market.
Q: What river runs through Memphis?
A: Memphis sits in Tennessee's southwestern corner, and the mighty Mississippi River runs right next to downtown Memphis. The river is the border between the states of Tennessee and Arkansas. Those looking for a bit of exercise can enjoy the outdoors by biking or walking across Big River Crossing, an active rail bridge that traverses the Mississippi over to West Memphis in Arkansas.
Q: What is Memphis known for?
A: Memphis is famous for its music and civil rights history. The city boasts many related attractions spread through the key neighborhoods of East Memphis, Midtown, South Memphis and Downtown, along the river. The Downtown area includes famous Beale Street Historic District. Key can't-miss attractions include:
Graceland, the home of Elvis Presley and now a National Historic Landmark. As of 2017, it's also home to the new Elvis Presley's Memphis at Graceland, a 200,000 square-foot entertainment space with several museums featuring artifacts like Elvis' pink Cadillac, his costumes, and his platinum and gold records. Sleepovers are possible too, at The Guest House at Graceland, an AAA Four Diamond hotel.
The Memphis Rock N' Soul Museum and Memphis Music Hall of Fame tell the story of the birth of two of America's most influential types of music – soul and rock 'n' roll.
Sun Studio, which launched musicians like Elvis, Jerry Lee Lewis, B.B. King and Johnny Cash.
The Stax Museum of American Soul Music which features musicians like Aretha Franklin, Otis Redding and Al Green.
The National Civil Rights Museum, which is located within and around the Lorraine Motel, the location of the 1968 assassination of Dr. Martin Luther King Jr. The museum was created as a monument to Dr. King and uses interactive displays to teach visitors about the 366-year history of slavery, discrimination and the American Civil Rights Movement. The museum looks exactly like the Lorraine Motel did in the 1960s, one of the few non-segregated hotels of the time.
Q: What to do on Beale Street, Memphis?
A: Memphis Blues originated on Beale Street, thanks to musicians like Louis Armstrong, Muddy Waters and B.B. King who all played there. Today, the three-block area is full of shopping, restaurants, theaters and nightclubs, many featuring live music. Beale Street has a music festival every May in Tom Lee Park, next to the river. Beale Street's attractions include the Memphis Rock 'n' Soul Museum, the Memphis Grizzlies NBA team at the FedExForum and the American Queen steamboat.
Q: What to do with kids in Memphis?
A: Lots of Memphis activities are great for both parents and kids. Almost all attractions keep their younger visitors in mind with information and activities geared toward them.
Don't miss the twice-daily march of the Peabody Ducks through the lobby of the Peabody Memphis hotel. Other kid-friendly attractions include:
The Association of Zoos and Aquariums-accredited Memphis Zoo, which has over 500 species including pandas from China and African animals from the new Zambezi River Hippo Camp.
The hands-on exhibits at the Children's Museum of Memphis.
Shelby Farms Park for bison-watching, running around, and the treetop obstacle course at Go Ape.

Q: What to eat in Memphis?
A: Memphis is known for its barbecue, especially Memphis-style dry ribs. But there's a wide variety of choices here, including Southern Cajun-Creole, soul food and international cuisine of all kinds. To wash down the delicious food, visit one of the city's craft breweries, such as Wiseacre Brewing Company and Memphis Made Brewing Company.
Q: Where to eat in Memphis?
A: For barbecue, try Vernon's Smokehouse near Graceland and Central BBQ, which Memphians have named as their favorite barbecue restaurant many times over. The Second Line has Cajun-Creole dishes, and a local favorite is Gus's World Famous Fried Chicken. Huey's Downtown is home to live music and the city's best burger, as voted by Memphis magazine. Link Memphis' history with dinner at Blues City Café.
Q: What is the weather like in Memphis, Tennessee?
A: Memphis is hot in the summer with July temperatures at 91 degrees F. It's coldest in January when the average low is a chilly 31F. Memphis gets some rain, higher than the U.S. average, but concentrated into fewer rainy days than the national average.
Q: Does it snow in Memphis?
A: It can snow in Memphis, but the white stuff never stays around for long. The average annual snowfall is 3 inches.