Everything You Need to Know About Phoenix
By Nathalie Alonso

; Updated September 26, 2017
Essential information for your desert destination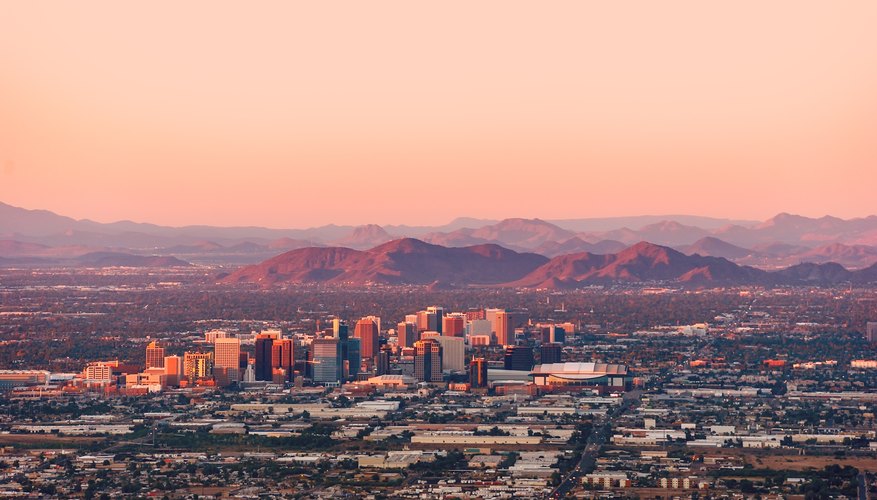 Like the mythical bird whose name it bears, Arizona's capital Phoenix is closely associated with the sun. So ubiquitous is sunshine in Phoenix, in fact, that the surrounding region is called the Valley of the Sun. Given its location in the Sonoran Desert, the mention of Phoenix might evoke images of Saguaro cacti and other Old West scenery. And while those associations hold true, you'll soon discover that there's much more to Phoenix, which offers all the cultural amenities you expect of the fifth-most populous city in the U.S.
Q: What is the weather in Phoenix, Arizona?
A: The Phoenix metropolitan area experiences more than 325 sunny days a year. Summers are sweltering, with average daytime temperatures from June through August exceeding 100 degrees F. Because it is located in an arid region, there's little humidity in Phoenix, which makes the heat "dry." That also means enticingly warm winters.
Q: Does it snow in Phoenix?
A: Phoenix is not the place to go if you are hoping for a White Christmas; it has not snowed in Phoenix since December 1998 and the largest snow accumulation that the city has ever seen is one inch.
Q: What is Phoenix known for?
A: Home to more than 200 golf courses, the Phoenix metropolitan area is a popular destination for golfers of all skill levels, especially during the winter months. Though it is a large city, Phoenix is often equated with the desert and its landscapes. That makes it an appealing destination for those who enjoy hiking – the trails at Camelback Mountain are well-tread – and other outdoor activities. There are also plenty of opportunities to relax in Phoenix, known too for its spas.
Q: What do to do in downtown Phoenix?
A: Comprising some 100 square blocks, downtown Phoenix is the place to go if you're looking for spectator sports and culture. The city's professional baseball and basketball teams – the Arizona Diamondbacks and the Phoenix Suns – play in downtown Phoenix, at Chase Field and Talking Stick Resort Arena, respectively. This is also were you'll find many of the city's top cultural institutions, such as the Phoenix Art Museum and a slew of art galleries and coffee shops, clustered in an area known as Roosevelt Row.
Q: What to do in Phoenix with kids?
A: Home to multiple zoos, aquariums and water parks, Phoenix offers plenty of opportunities for entertaining young travelers. The proximity to the desert also affords many opportunities for family recreation, whether it's stopping to smell various species of cacti at the Desert Botanical Garden – from a safe distance, of course – or an easy hike at South Mountain Park, the largest municipal park in the U.S. Phoenix also offers an array of museums that cater to kids, including the Arizona Science Center and the Children's Museum of Phoenix.
Q: What to do in Phoenix at night?
A: Phoenix might be known for the sun, but there's still plenty to do once it goes down. With an assortment of bars and dance clubs, downtown Phoenix and neighboring downtown Scottsdale are known for their nightlife. Lovers of the performing arts will also find a smorgasbord of entertainment to choose from, including Ballet Arizona, Phoenix Symphony and Arizona Opera Company. These and other companies headline various venues in Phoenix, such as Symphony Hall and the Orpheum Theater.
Q: Is Uber in Phoenix?
A: Uber and Lyft, two popular ride-share apps, operate in Phoenix. It is possible to use either service to be picked up or dropped off at Phoenix Sky Harbor International Airport.
Q:  How to get from Phoenix to the Grand Canyon?
A: Grand Canyon National Park, home to what UNESCO calls "the most spectacular gorge in the world," lies entirely in Arizona north of Phoenix. It takes about four hours to drive from Phoenix to the South Rim, the most visited side of the Grand Canyon, which is open year-round. Visitors who would rather not undertake the drive can instead opt for a commercial flight to the city of Flagstaff, where it's possible to connect to the Arizona Shuttle to the Grand Canyon. There is also no shortage of tour companies that offer one-day trips to the Grand Canyon from Phoenix, with pick-ups at many area hotels.