Your Most Pressing Fort Worth Questions Answered
By Meg Jernigan

; Updated September 26, 2017
Cowtown fun and facts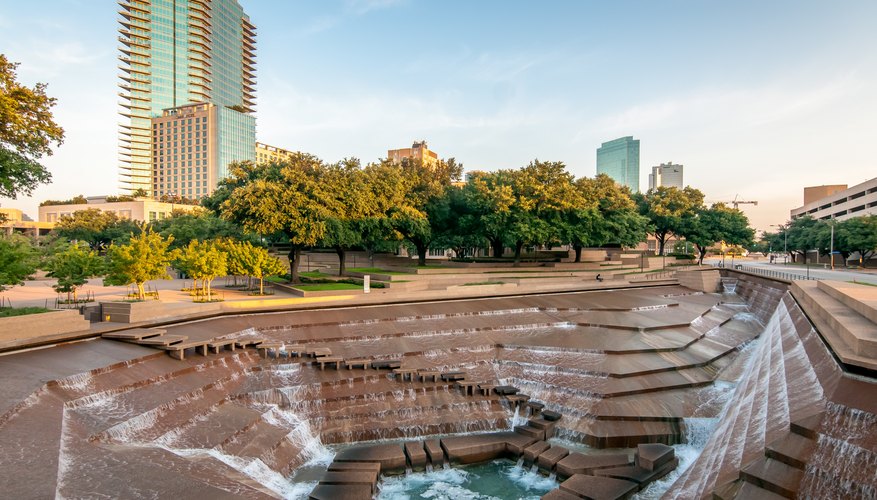 Fort Worth, Texas, part of a huge metropolitan area that includes Dallas to the east, is a modern city that treasures its Wild-West past. Don't be surprised to find a cowboy or cowgirl in a 10-gallon hat gazing at the art in a world-class museum. It's an authentic city that prides itself on being the place "where the West begins."
Q: How far is Dallas from Fort Worth?
A: Downton Dallas is around 32 miles due east of downtown Fort Worth via Interstate 30. The cities anchor a huge metropolitan area that includes places like Arlington and Irving. Dallas/Fort Worth International Airport is midway between the two and about 10 miles north of I-30.
Trinity Railway Express operates trains between Fort Worth's T&P Station and Dallas' Union Station, making stops at eight stations, including the airport and AT&T Stadium, along the way. The trip takes a little over an hour, and service is available Monday through Saturday.
Greyhound buses make the trip in about 45 minutes.
Q: How big is the Fort Worth zoo?
A: The Fort Worth Zoo covers 64 acres southwest of downtown. Take the University Drive South exit from Interstate 30. The zoo is just a few blocks away. The zoo opened in 1909 with two bears, a lion, a coyote, a gator, a peacock and a handful of rabbits. Today, more than 7,000 animals, including big cats, primates, reptiles and birds live at the zoo. Kids can spend a night at the zoo, and adults can take a photo safari with a zookeeper.
Beastro, the zoo's annual fundraiser, opens the zoo to musicians and restaurateurs each May. Boo at the Zoo, the annual Halloween event, features animal shows and carnival games.
Q: What are some things to do with kids in Fort Worth?
A: Amusement parks and a miniature train keep kids occupied in Fort Worth.
Six Flags Over Texas. The Shock Wave, a 60-mile-per-hour roller coaster, delivers nearly 6 Gs of force as it winds through double loops at Six Flags Over Texas. Not all the rides are big and scary. Little kids can take cartoon character-themed rides. The park is open year-round.
Six Flags Hurricane Harbor. Hurricane Harbor has more than a dozen thrill rides, including the Dive Bomber, a ride that drops hearty souls 70 feet in free fall. Gentle slides are available for younger kids, and families can play at the beach or float a lazy river. Hurricane Harbor is open seasonally.
Forest Park Miniature Railroad. The miniature railroad, completed in 1959, operates between Forest Park and Trinity Park near the Fort Worth Zoo. The ride takes about 40 minutes, round-trip, and runs on select days, year-round. Adults are welcome to ride the train.
Q: How big is Dallas-Fort Worth?
A: The Dallas-Fort Worth metropolitan area is the fourth largest in the U.S., following New York, Los Angeles and Chicago, and it's expected to hold that position through 2025. More than 6 million people live in the region, 1 million of them children. Dallas proper spreads across 385 square miles, while the city of Fort Worth covers 347. About 850,000 live in the city of Fort Worth and more than 1.3 million live in Dallas. Smaller cities like McKinney, Plano and Grapevine in the metropolitan area contribute to the total population and land area.
Q: What county is Fort Worth in?
A: Tarrant County, one of 254 counties in Texas, was named for General Edward H. Tarrant, renowned for his command of the Republic of Texas militias at the Battle of Village Creek in 1841. The battle, a running gunfight on the banks of Village Creek, was the culmination of a series of raids against Native American settlements. Established in 1849, the county now has a population approaching 2 million.
When the Tarrant County Courthouse was completed in 1895, the citizenry was outraged over its apparent extravagance and voted out the judge and politicians who voted for its construction. Stop by the 1895 Room at the courthouse for a quick overview of Tarrant County history.
Q: What are some sites to visit in Fort Worth?
A: Spend some time visiting science museums, learning about cowgirls and escaping the summer heat in Fort Worth.
Fort Worth Water Gardens. Designed by noted architect Phillip Johnson, the water gardens are a series of three water features next to the convention center. Sprayers in one pool lift water into the air. The other two are a series of terraced steps with water tumbling over them that passersby are welcome to walk up and down.
National Cowgirl Museum and Hall of Fame. The only one of its kind in the world, The National Cowgirl Museum is housed in a 33,000-square-foot facility. The museum's holdings include art and photography, historical memorabilia and an extensive research library. More than 220 Cowgirl Hall of Fame honorees include pioneers, artists, ranchers and rodeo stars.
Fort Worth Museum of Science and History. While originally geared toward children, the Fort Worth Museum of Science and History now draws as many adults as youngsters. An IMAX theater, interactive exhibits and educational programs share space in the 166,000-square-foot building that also houses the Children's Museum, Cattle Raisers Museum and the Havener Gallery.

Q: Where are the best places to eat in Fort Worth?
A: Grab a quick meal at the Fort Worth Food Park just west of downtown. Designed specifically for food trucks, the park has benches and comfy chairs for diners, live music and occasional special events. Food trucks rotate daily, so everyone in your group should find something appetizing.
Kincaid's, a Fort Worth institution since 1946, has three locations. Stop by the original on Camp Bowie Boulevard for the Cowtown, a cheeseburger with jalapenos and grilled onions with a side of crinkle-cut fries and a fountain drink.
The Fort Worth Stockyards Station, in the Stockyards national historic district, tells the story of the city's Western roots. You can watch a cattle drive or a rodeo at the Cowtown Coliseum, catch a Wild West show or shop for Texas goods. Riscky's BBQ, a restaurant in business for more than 75 years, serves calf fries for the adventurous and burgers and barbecue to tamer palates.