All You Need to Know About Louisville
By Leah Rendon

; Updated September 26, 2017
Learning about Louisville, also known as Derby City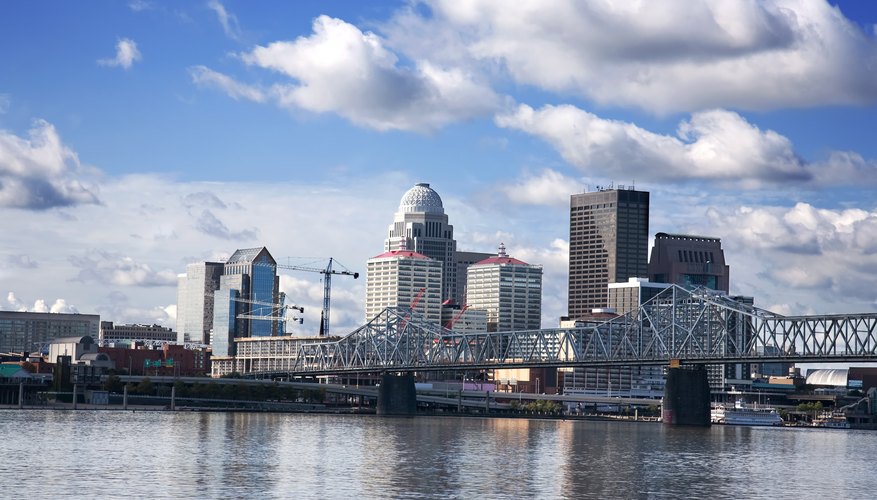 Bourbon, boxers and baseball bats. Louisville offers an array of sites and museums that celebrate its most beloved icons. Embrace the city's various moods as you spend a lazy day riding a riverboat and picnicking on a hilltop park, or experience thrills zip lining in an underground cavern and watching thoroughbreds race to victory. Eliminate the day-to-day stress of travel by gathering information about Derby City before you go.
Q: What time zone is Louisville, Kentucky in?
A: Sitting at the head of things in North-Central Kentucky along the Ohio River, Louisville is based in the Eastern time zone, while Western Kentucky is in the Central time zone. If you're traveling from the western region, make sure to add an hour to your arrival time in Louisville. The Louisville area also observes standard time during fall and winter, when clocks are set back one hour, and daylight saving time during the spring and summer, when clocks move forward one hour.
Q: What is the weather in Louisville?
A: Umbrellas come in handy in Louisville where annual rainfall averages around 43 inches, with spring being the wettest season. In the spring and fall, day to evening temperatures drop from the 70s to the 40s, so pack plenty of layers. You'll need breathable clothing and sunscreen during the hot and humid summers when temperatures frequently reach the high 80s. Winters include only the occasional snow flurry, but with daytime lows in the 40s and evenings often dipping below freezing, you'll need some heavy sweaters, coats, hats and gloves.
Q: How far is Lexington from Louisville?
A: Lexington is 90 minutes east of Louisville via Interstate 64. Along this route, the major interstate travels along the outskirts of Frankfort, the Blue Grass State's capital city. Occasional snowy and icy conditions during the winter can make driving conditions treacherous, so check weather and traffic reports ahead of time. Greyhound offers daily bus service between the two cities. Download the Greyhound app to track your bus's location, to receive important updates on your trip and to find information on bus stations.
Q: How far is Louisville from Indianapolis?
A: Indianapolis is 1 hour and 45 minutes north of Louisville via Interstate 65, but the highway sometimes gets shut down – especially the farther north you get – due to dangerous winter weather. Check the Indiana Department of Transportation and Kentucky Transportation Cabinet websites for road conditions. Keep in mind that the Abraham Lincoln and Kennedy Bridges charge tolls electronically. Drivers in cars without transponders will receive a bill in the mail. If you're driving a rental car, speak to the agency about paying toll fees. Airlines and Greyhound offer daily service between the two cities, but airfare is somewhat pricey.
Q: What is there to do in Louisville?
A: For an underground adventure, get into Mega Cavern, a former limestone mine which features tram tours, mountain bike trails and zip lines. It's around 58 degrees F inside the caverns, so bring a light jacket or sweater. Then, rise above the city by hiking or biking to the top of Iroquois Park for a sweeping view of Louisville. The summit road is open only to cars on select hours and days from April through October. Covering 550 acres, E. P. "Tom" Sawyer State Park offers a host of activities, from archery lessons and stargazing parties to pickleball and badminton games. Cool off in the park's public pool and splashpad for a nominal, cash-only fee.
Q: Where can you go in Louisville?
A: Admission to the Kentucky Derby Museum includes a 30-minute walking tour of the historic Churchill Downs racetrack. Reservations are not required, but tickets can be purchased online. Beat the crowds at the Louisville Zoo by visiting after 3 p.m. on a weekday or in the early spring, fall and winter. The zoo also offers discounted rates in the winter. The Muhammad Ali Center details the life of the legendary boxer and Louisville native through interactive exhibits, artifacts and archival footage. Purchase a "Main Ticket" for the Ali Center and receive admission to five other downtown Louisville attractions.
Kentucky Derby Museum: Located on the grounds of Churchill Downs, site of the Kentucky Derby, the museum explores the history of the world-famous race held the first Saturday of every May. Visitors can ride in simulated races, sit at a starting gate and test their Derby IQ.
Louisville Zoo: The 135-acre zoo is home to more than 1,500 animals and interactive experiences, such as a petting zoo, camel rides and giraffe feedings. The zoo also features a train, rope course and splash park, all of which are open seasonally, weather permitting.
Q: What river is near Louisville?
A: On the Belle of Louisville, a 1914 paddle wheel steamboat, take a ride down the Ohio River, which flows past downtown. Tours take place year-round, with some including narration and meals, but seating is restricted to indoors between November and March. Admire the river from land at the Louisville Waterfront Park, which features a splashpad, open from May through October, and free monthly concerts from April through September. Concert-goers parked in lots just west of I-65 can reach the park via a complimentary trolley service.
Q: What is a Louisville Slugger?
A: Beginning in 1842 as a woodworking shop, Louisville Slugger began producing baseball bats in 1884 and still makes them today for Major League Baseball players. Give yourself about 90 minutes to tour the Louisville Slugger Museum & Factory, including a complimentary 30-minute factory tour. Admission also includes a free souvenir mini-bat. For an added fee, order a personalized bat when you arrive, which will be ready for pickup before you leave.
Louisville Slugger Museum & Factory:
The museum explores the history of the famed baseball bat with interactive exhibits that let you play simulated games from the batter's box and pitcher's mound. See bats used in historic ballgames and take a selfie in front of the 120-foot-tall bat outside the museum.

Q: Where is the University of Louisville?
A: Located in South Louisville, just five minutes from downtown, the University of Louisville campus is home to more than 22,000 students. Visit the neighboring Speed Art Museum, which showcases works by such luminaries as Monet, Picasso and Rembrandt and is free to the public every Sunday. Just 10 minutes from campus, Kentucky Kingdom thrills with roller coasters and carnival rides, while the adjacent Hurricane Bay features water slides and a lazy river. Tickets include admission to both parks, and discount rates are available for purchase online.
Combined with Hurricane Bay, Kentucky Kingdom is a 63-acre amusement and water park featuring more than 70 rides and attractions. Kentucky Kingdom is open from April through September. The water park opens in late May.

Q: Where can you eat in Louisville?
A: Chow down on a hot brown, Louisville's famed open-faced turkey and bacon sandwich, at the Brown Hotel, which created the sandwich in 1926. The hotel restaurant serves the iconic sandwich, but if it's busy, grab one from the bar. Skip the wait by making a reservation online at Doc's Crow and enjoy a slice of Derby pie, Louisville's beloved baked good featuring chocolate chips, nuts and bourbon. The Bluegrass State is known for its bourbon production, and the Kentucky Bourbon Trail highlights more than 10 distilleries in Louisville and the surrounding region. Give yourself about three days to tour all of the distilleries. Each tour takes about 90 minutes.