All You Need to Know About Raleigh
By Teo Spengler

; Updated September 26, 2017
Scouting out the softer side of North Carolina's capital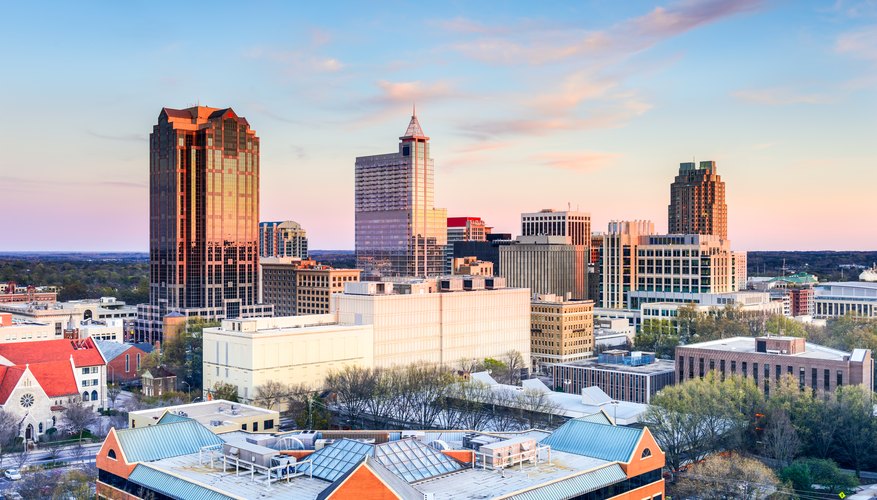 Raleigh, North Carolina looks the part of the staid capital city it was designed to become. But it's also an approachable, walkable, lovable city that is both cutting-edge and cool. Raleigh is part of the tech-y trio of North Carolina cities known as the Triangle. It's filled to the brim with businesses and universities, but it makes room for museums, shaded parks and friendly cafes as well.
Q: How do you pronounce Raleigh?
A: To pronounce the name of the capital of North Carolina, say it in two syllables, Raw Lee.
Q: What county is Raleigh N.C. in?
A: Raleigh is in Wake County and is also the county seat.
Q: What is Raleigh known for?
A: Raleigh was designed in the 1700s to be the capital of North Carolina, and it has remained the capital over the centuries. Its capital building is especially beautiful. The city is also well-known as an essential part of the Research Triangle, often called simply The Triangle, located in the Piedmont region of North Carolina. The Triangle is comprised of Raleigh, Durham and Chapel Hill, and three universities, Duke, Chapel Hill and North Carolina State, that provide skilled professionals for the numerous high-tech companies and enterprises in the 7000-acre Research Triangle Business Park.
Visitors are also drawn to Raleigh because of its reputation as a regional arts center. It has excellent museums, good music venues and upscale restaurants. Raleigh's parks are also quite impressive, like downtown Pullen Park, home of both Raleigh's Theater in the Park and the Aquatic Center.
Q: What is the population of Raleigh, North Carolina?
A: As of 2017, the city of Raleigh's population was 438,000 people. The population of the greater area, the Raleigh Metropolitan Statistical Area, was 1.21 million.
Q: What is the Raleigh N.C. zip code?
A: Make that zip codes. Raleigh is assigned 44 zip codes, all falling between 27601 and 27699.
Q: What is the weather in Raleigh?
A: Raleigh has a mild climate. The average annual temperature is 61 degrees F. The average annual high temperature is 71 degrees F, and the average low is 50 degrees F. July highs approach 90 degrees F, while January lows drop into the 30s. Some 47 inches of precipitation fall on Raleigh every year, mostly rain scattered pretty evenly around the year.
Q: Does it snow in Raleigh N.C.?
A: It snows almost every winter in Raleigh. But not much. The average annual snowfall is about 4 inches.
Q: What is the time zone in Raleigh?
A: Raleigh is on Eastern Standard Time.
Q: How far is Raleigh N.C. from Charlotte N.C.?
A: The distance between Raleigh and Charlotte is 168 miles.
Q: How far is Durham from Raleigh?
A: The distance between Raleigh and Durham is 25 miles.
Q: How far is Greensboro from Raleigh?
A: It's about 81 miles from Greensboro to Raleigh.
Q: How far is Myrtle Beach from Raleigh N.C.?
A: It is 179 miles from Raleigh to Myrtle Beach S.C.
Q: How far is Greenville N.C. from Raleigh N.C.?
A: You'll travel 84 miles if you drive from Greenville to Raleigh.
Q: What is there to do in Raleigh?
A: During a stay in Raleigh, don't miss the government buildings. These are not your typical modern steel-and-glass creations. The State Capital Building is a magnificent Greek Revival structure build in 1840, with a statue of George Washington depicted as a Roman general in the rotunda. Visit on a Saturday to sign up for a guided tour. The Capital used to be home to all of the different pieces of state government, but these days it shares that function with the State Legislative Building. Schedule a free tour of that building with Capital Area Visitor Information. While you're at it, schedule a tour of the North Carolina Executive Mansion as well, an 1800s Queen Victoria mansion. The Capital Area Visitor Information desk can arrange these in spring or fall.
Museums in Raleigh may surprise you. They are fascinating and inexpensive. Both the North Carolina Museum of History and the North Carolina Museum of Art are absolutely free. The History Museum tells the story of the state from Colonial times through the Confederacy to the current day. Don't miss a replica of the Wright Brothers' plane. The Museum of Art could provide adventure for an entire day. The complex totals 100 acres, with galleries featuring a celebrated European collection (think Monet, Botticelli and Rubens) as well as famed American artists like Georgia O'Keeffe. It also has extensive grounds and walking trails.
Music fans won't be bored in Raleigh, a town that claims it has "the most music in North Carolina." For big concerts, check out the City Plaza right in the heart of the city. It's got plenty to offer with four retail pavilions, an interactive fountain and 50-foot programmable light towers to complement the music.
Also conveniently located in downtown is the Red Hat Amphitheater, a 6,000-seat venue showcasing bluegrass and other popular bands since it opened in 2010. Another concert option is the Dorton Arena. It's also used for action-packed sports events, amateur and professional, like boxing and karate competitions. The Duke Energy Center for the Performing Arts offers a different kind of musical experience. You can hear the North Carolina Symphony at the Meymandi Concert Hall there, or hear opera at the venue's Fletcher Opera Theater. If you visit in summer, check out the series of concerts and live performances at the Joseph M. Bryan Jr. Theater in the Museum Park.
Q: Is there a zoo in Raleigh N.C.?
A: Raleigh doesn't have a zoo. The nearest zoo to Raleigh, the North Carolina Zoo, is 72 miles away in Asheboro, but it's worth the trip. It's the largest natural habitat zoo in the world and includes an aviary with over 3,000 tropical plants and dozens of exotic birds.