All You Need to Know About Charlotte
By Teo Spengler

; Updated September 26, 2017
Having a royally good time in the Queen City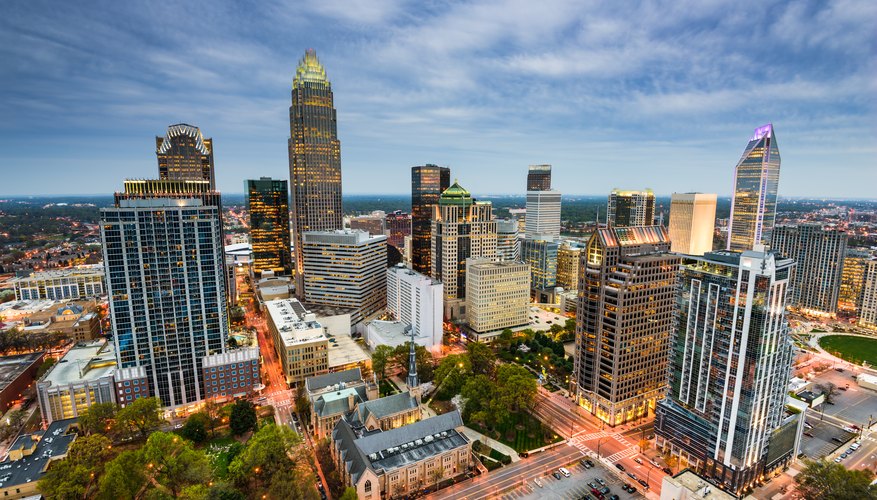 On its surface, Charlotte might look like a prosperous, sprawling financial hub. But spend a little time exploring its streets and byways, and you'll discover some excellent, eclectic museums, beautiful colonial architecture and a dynamic culinary scene with top-notch eateries.
Q: How old is Charlotte?
A: English-Irish immigrants chartered Charlotte over 150 years ago in 1768. They came upon the area while traveling on the Great Wagon Road from Philadelphia.
Q: Why is Charlotte called the Queen City?
A: When Charlotte was chartered, King George III of England ruled the colonies. His German-born wife was named Queen Charlotte. The immigrants, hoping to curry favor with the king, named the town after her. It was given the nickname the Queen City.
Q: What county is Charlotte, NC in?
A: Charlotte is located in a county in North Carolina called Mecklenburg County. It was named after Mecklenburg, Germany, the birthplace of Queen Charlotte.
Q: How many people live in Charlotte, NC?
A: As of 2017, the town of Charlotte had 810,000 residents. The population of the greater urban area is almost 2.4 million people.
Q: What is the ZIP code for Charlotte?
A: The U.S. Postal Service lists 71 ZIP codes for Charlotte. They run sequentially from 28201 to 28299, but exclude the numbers ending in 225, 238-240, 248-252, 259, 261, 264, 267-268, 276, 279, 283, 286 and 291-295.
Q: What is Charlotte, NC, known for?
A: Charlotte is known as a business and financial hub and also a university town with a well-educated population. It is home to the NFL's Carolina Panthers and the NBA's Charlotte Hornets (formerly Bobcats), and it is a NASCAR epicenter and home to the NASCAR Hall of Fame. Charlotte is also known for its historical architecture. Although many older buildings have been torn down and replaced, you can still find beautiful Craftsman-style cottages, renovated bungalows and historical homes and churches.
Q: What is the weather in Charlotte, North Carolina?
A: The average annual temperature in Charlotte is 60 degrees F. The average high temperature is 70 degrees F, while the average low temperature is 50 degrees F. July temperatures reach the high 70s, while January lows dip to the high 30s. The town gets 43 inches of precipitation every year, scattered over 110 days. The annual average snowfall is around 5 inches. About 109 days per year are clear, another 105 are partly cloudy, and the remaining days are cloudy.
Q: How far is Raleigh, NC, from Charlotte, NC?
A: The driving distance from Charlotte to Raleigh is 168 miles.
Q: How far is Winston-Salem from Charlotte?
It is 79 miles from Charlotte to Winston-Salem, North Carolina.
Q: How far is Charlotte from Charleston?
A: The driving distance from Charlotte to Charleston, South Carolina, is 209 miles.
Q: How far is Greenville from Charlotte?
A: From Greenville, South Carolina, to Charlotte is 248 miles.
Q: How far is Fort Mill, SC, from Charlotte, NC?
A: It is 19 miles from Fort Mill to Charlotte.
Q: How far is Atlanta from Charlotte?
A: It is 245 miles from Atlanta to Charlotte.
Q: Who owns the Charlotte Hornets?
A: Michael Jordan owns the Charlotte Hornets, a team worth $780 million. He bought the team in 2010 for $175 million.
Q: What to do in Charlotte, NC?
A: Charlotte is a lively college town, and you can count on lots of fun activities and places to see. Museums worth a look include the Carolinas Aviation Museum, located at the Charlotte Douglas International Airport. You can stroll the indoor hangar deck to inspect historic aircraft like an F-14 Super Tomcat and a DC-3 commercial airliner. Take in the Levine Museum of the New South, which offers a comprehensive interpretation of post–Civil War Southern history. Spend an hour or two touring the Hezekiah Alexander Rock House (built around 1774) at the Charlotte Museum of History.
Charlotte has a number of impressive parks and gardens within its metropolitan area. The Daniel Stowe Botanical Garden in nearby Belmont offers 380 acres on the banks of Lake Wylie of magnificent gardens and fountains, with a tropical plant conservatory. Rose lovers will enjoy the 500 different kinds on display at the McGill Rose Garden, while the Wing Haven Gardens and Bird Sanctuary, one of Charlotte's treasured gardens, is 3 acres of gardens right downtown. Established in 1927 by Edwin and Elizabeth Clarkson, this group of different types of gardens includes several gardens that attract a multitude of birds in the spring. If you get to the campus of the University of North Carolina, drop in on the UNC Charlotte Botanical Gardens. The variety of plants is amazing, but the crowning glory is an awe-inspiring two-story rainforest exhibit.