All You Want to Know About Columbus, Ohio
By Kristin Amico

; Updated September 26, 2017
Here's the skinny on a city that offers a wealth of education, entertainment and career options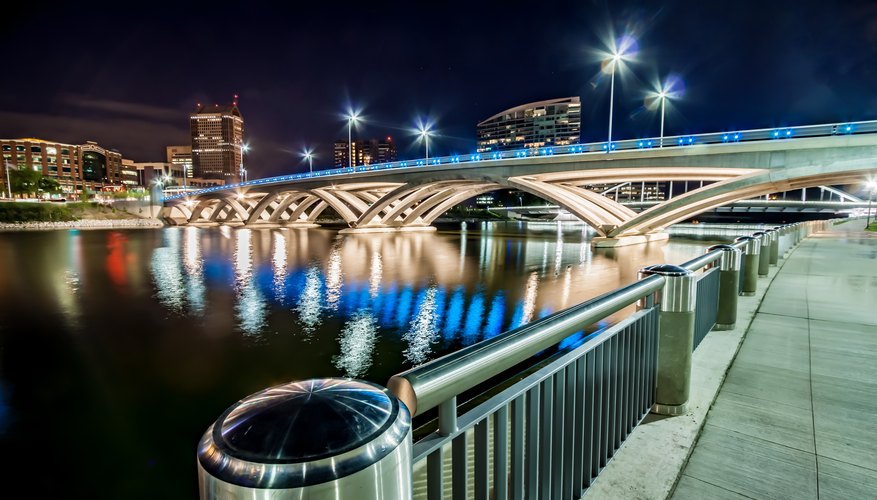 Want to know more about the city that launched the first woman to fly solo around the world (Geraldine Fredritz Mock), and the first city in the country to sanitize water using a modern water filtration plant? That's Columbus, Ohio, and it's currently home to one of the country's largest universities and ranked among the top ten most livable cities in the United States. While neighboring Cleveland may get all the media attention, Columbus offers a diversity of entertainment, job opportunities and sporting events. The city's favorable economic conditions earned it the title of the most affordable place to retire and America's best place to raise kids.
Q: What is there to do in Columbus, Ohio?
A: Columbus is a vibrant city with cultural offerings, family activities, sporting events and plenty of shopping. In spring and summer, check out the Franklin Park Conservatory and Botanical Gardens for colorful blooms and open air parks. The Columbus Museum of Art features work from the 18th century to today, and the Center of Science and Industry (COSI) is perfect for inquisitive kids and adults. Nature lovers will enjoy a walk along the Scioto Mile. Locals and visitors alike flock to free concerts and events at Bicentennial Park from late spring to early fall. Dining options are varied. German village, just south of downtown, is where to find beer pubs and traditional German food, while the downtown area is flush with modern eateries and wine bars. Sports fans have a choice between NHL hockey, minor league baseball and plenty of college sports at Ohio State University. Shopaholics can head to Easton Town Center or Polaris Fashion Place for a little of everything, while boutiques dominate Short North Arts District, Grandview and German Village.
Scioto Mile: An urban park system consisting of more than 175 acres of green boulevards, bike paths and pedestrian trails. The area stretches from the riverfront to downtown along the Scioto River and is enjoyed year-round.
COSI: A science museum and high-tech research center. There are educational and interactive exhibits for kids, while the research center partners with local universities and global organizations in areas of life, earth and space sciences.
German Village: One of the oldest neighborhoods in Columbus. Originally settled by the large population of German immigrants, the historic village now boasts German pubs and restaurants, clothing boutiques and a cafes.
Q: Is Columbus, Ohio a good place to live?
A: Home to Ohio State University, a bustling downtown and a low unemployment rate, Columbus is an ideal choice for Millennials and families. Average monthly rent is $833 and the average single family home is priced at $168,042. The job market is diverse. Ohio State University is one of the area's largest employers, and many global companies in retail, food, technology and finance have large operations in Columbus, including Nationwide Insurance, JPMorgan Chase & Co., Limited Brands and Honda of America. The city also offers arts and cultural options, plenty of sporting events and festivals throughout summer and fall. The closest airport, John Glenn Columbus International Airport, is only seven miles outside of downtown and makes connections to all major U.S. cities.
Q: When does the Columbus Zoo & Aquarium open?
A: Opening hours vary by season, and the Columbus Zoo & Aquarium is open all but two days a year. In summer months (June, July and August) it opens at 9 a.m. and closes at 7 p.m. The zoo's hours differ slightly in September when it opens at 9 a.m. and closes at 5 pm. In October, November and December, the hours are 10 a.m. to 5 p.m. In January and February, hours are reduced to 10 a.m. to 4 p.m., while March zoo hours are 10 a.m. to 5 p.m. In April and May, the zoo opens earlier once again at 9 a.m. and closes at 5 p.m. The zoo is closed Christmas and Thanksgiving.
Columbus Zoo & Aquarium: One of the largest zoos in the U.S., featuring 10,000 animals from land and sea. The zoo is divided into areas of the world, including Central Africa, the Congo, North America, Australia, and Antarctica.

Q: What is the weather like in Columbus, Ohio?
A: Given Columbus' location in Central Ohio, the city experiences four distinct seasons. Winters are cold and snowy, averaging 22 inches of snow annually. Low temperatures hover around 20 degrees F in January. Summers are hot and humid at about 85 to 90 degrees. Spring and fall are mild and generally 40 to 50 degrees. The city averages 78 rainy days annually.
Q: What is the temperature in Columbus, Ohio?
A: The temperatures range from about 20 to 30 degrees in January, and 80 to 90 degrees in August. In early spring (March and April), expect volatile temperatures that swing anywhere from a low of freezing to a high in the 50s. In May, the weather evens out and temperatures hover between a low of 50 and a high of 70. Fall is mild with temperatures tending to stay between 40 and 60.
Q: What is the time zone in Columbus, Ohio?
A: Columbus is in the Eastern Standard Time zone, the same as New York City, Boston and Washington, DC.
Q: How far is Columbus from Cleveland?
A: By highway, it's 145 miles from Columbus to Cleveland. Those traveling by car can reach Cleveland in just over two hours on Interstate 71 North. This is the easiest way to travel within Ohio, as there are few public transportation options. There is bus service between the two cities on Greyhound. A one-way ticket averages $15, and the travel time is between two and a half and three hours.
Q: How far is Cincinnati, Ohio from Columbus?
A: Cincinnati is just over 100 miles southwest of Columbus. The shortest highway route is Interstate 71, which takes about one hour 45 minutes by car. There are also buses connecting the two cities. A bus trip averages 2 1/2 hours.
Q: How many miles is it from Dayton to Columbus?
A: It's a short 72 miles from downtown Dayton to downtown Columbus traveling by car on Interstate 70 East. In normal traffic conditions, the trip should take about 75 minutes. Bus connections also run between the two cities. An average one-way ticket is $25 and takes about 1 1/2 hours.