Everything You Need to Know About Seattle
By Teo Spengler

; Updated September 26, 2017
Adventuring into the other magical Emerald City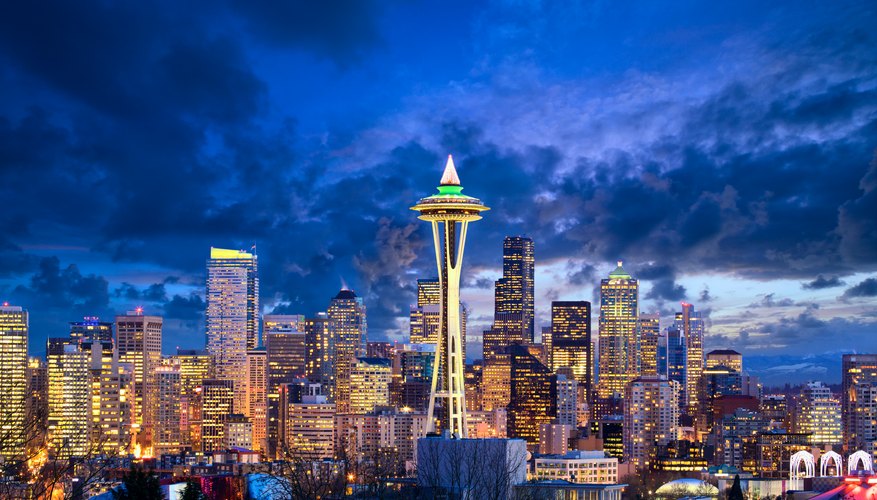 Seattle gracefully twines technology-trendoid consciousness with heart-stopping natural beauty. It's a shape-shifter city, transitioning over time from a gold-rush transport center for Alaska-bound miners, to an aviation heavy-weight with Boeing's arrival, to a tech-y town thanks to Microsoft and Amazon. Seattle has emerged from these changes a cosmopolitan, decidedly green, hyper-caffeinated urban delight.
Q: How did Seattle get its name?
Seattle was named for Chief Seattle, a chief of the Duwamish and Suquamish tribes who lived around the Puget Sound in the 1800s. The son of a Suquamish father and a Duwamish mother, Seattle had influence in both tribes. Chief Seattle welcomed the small bands of Euro-Americans who established villages in the area.
Q: Why is Seattle called the Emerald City?
If someone tells you Seattle is called the Emerald City because of the deep green forests nearby, that is partially correct – but it's also due to an advertising campaign. In 1981, the Seattle Convention and Visitors Bureau had a contest to come up with a slogan for Seattle. The winning entry was: "Seattle, the Emerald City. Seattle is the jewel of the Northwest, the queen of the Evergreen State, the many-faceted city of space, elegance, magic and beauty."
Q: What is Seattle known for?
Seattle is famous for its great coffee (think Starbucks, Tully's and Seattle's Best) and as the home of the grunge music movement in the 1990s (think Nirvana). Important landmarks include the Space Needle, Pike Place Market and looming Mt. Rainier. It's also home to well-known big companies like Boeing, Microsoft, Costco and Amazon.
Q: What mountain is in Seattle?
No mountain of any size exists within the town limits of Seattle, but some of the Cascade Mountains loom large in the area. First among them is Mt. Rainier, the highest of the Cascades at 14,410 feet, located southeast of Seattle with its photo on every Washington license plate. The beer was named after the mountain, not the other way around.
Q: How often does it rain in Seattle?
Seattle gets its fair share of rainfall. Some 34 inches of rain fall every year on average, divided over about 152 days. Summer months get the least rain, and November, December and January get the most.
Q: How cold is it in Seattle?
Seattle's average high temperature for the year is just under 60 degrees F. Its average low is just over 45 degrees F. But highs push above 70 degrees F in the summer and dip below 40 degrees F in winter.
Q: What is there to see in Seattle?
Think of Pike Place Market as the heart of downtown Seattle. The sprawling, multilevel, outdoor market is a kaleidoscope of sounds, smells, colors, art pieces, local personalities, jokes and urban theater sprinkled liberally around a gorgeous waterside strip. Explore the diverse food and craft shops, then hike on down to the waterfront, another must-see and the very place to catch a tour boat or a Puget Sound Ferry to one of the islands. Don't miss the Space Needle, built for the 1962 World's Fair. It says "Seattle" to the entire world. You can catch a quick monorail from downtown to the Seattle Center, the complex around the Space Needle. Also not to be missed, the Museum of Pop Culture (formerly the "Experience Music Project Museum"). This creation of Paul Allen, Microsoft co-creator, combines ultra-modern architecture with legendary rock-and-roll. For a different kind of art, catch a visiting exhibition at the Seattle Art Museum downtown. You can't miss it with Jonathan Borofsky's giant kinetic sculpture Hammering Man out front.
Q: How do you get around Seattle?
You have lots of choices for exploring Seattle. It's not a great biking city for amateurs given the lack of dedicated bike lanes and the many steep hills. But hiking can be fun as long as you are reasonably fit. Otherwise, catch a city bus, hop on a Central Link Light Rail train, catch the Monorail from Westlake Center to Seattle Center, take a streetcar from Westlake and Olive to the shore of Lake Union, or grab a taxi or a ride-sharing car.
Q: How much is Seattle bus fare?
One ticket for a Seattle bus will set you back $2.75 for one zone, $3.25 for two zones during peak times and $2.50 for off-peak travel. Fares for seniors and youth are lower, costing $1.00 and $1.50 respectively.
Q: Does Seattle have a subway?
Seattle does not have an underground subway.
Q: How many airports are in Seattle?
Seattle's primary airport is the Seattle-Tacoma International Airport (SEA). It is called Sea-Tac by locals. Sea-Tac is just south of Seattle and only about 30 minutes away if you catch the traffic right. A second airport, Boeing Field, provides airport service for charter flights and small carriers operating shuttle flights between Pacific Northwest cities. It is located halfway between Sea-Tac and Seattle.
Q: How do you get from Seattle Airport to Downtown?
You have various options to get from Sea-Tac to downtown Seattle. If you rent a car, take I-5 North, then take the Seneca Street exit. Metered cabs can cost some $45 plus tip, although slightly better flat fees are available to and from some hotels. You'll pay more to get to Capitol Hill, Queen Anne or neighborhoods north of the canal. Sometimes you have to wait a long time to get a cab when many flights arrive at the same time.
A popular option is Shuttle Express. It offers scheduled, hourly runs between the airport and Seattle hotels 24 hours a day. Go to the Shuttle Express counter to buy a ticket when you get to Sea-Tac or else reserve in advance online. You can also hire other private transportation services. Perhaps the best option is to take Sound Transit's Link Light Rail. Hike up to the 4th floor of the airport parking garage. It whisks you to downtown in a little over half an hour for just a few bucks. Buy tickets at a ticket kiosks on the train platform before you board, using cash or plastic.