Your Most Pressing Questions About Houston Answered
By Leah Rendon

; Updated September 26, 2017
From airports to weather: learn all about H-Town before your Texas vacation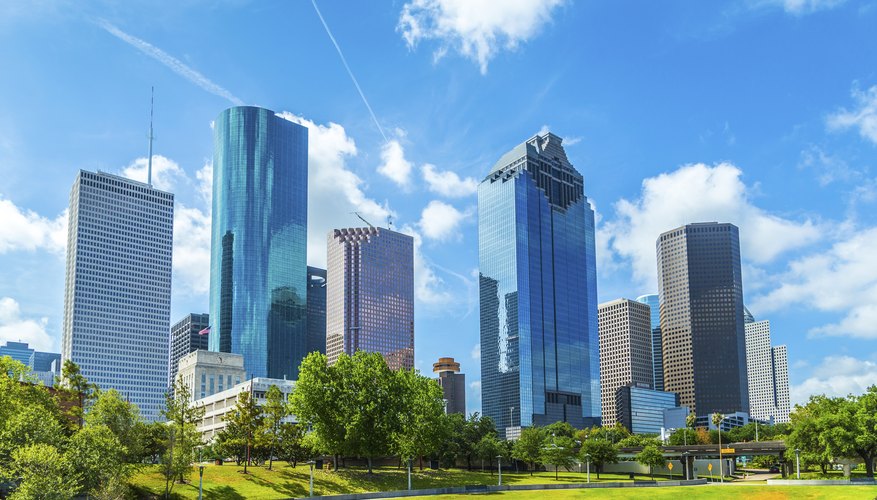 Before you visit Houston, the Lone Star State's biggest city, you may find yourself wrestling with some Texas-sized questions. There's so much to see in this bustling metropolis, including revered museums, innovative green space and a historic NASA command center, that you shouldn't waste a single minute fretting over logistics. Master Houston's public transportation system, find the best places to stay and arrive prepared for the weather; do all that and you'll have even more time for dancing in trendy Midtown nightclubs, shopping at the Galleria or taking in world-class performances in the Theater District.
Q: How many airports are in Houston?
A: Houston features two major airports, the largest one being George Bush Intercontinental Airport, just 25 minutes north of downtown. Look for the volunteer ambassadors dressed in red shirts if you need help with anything, from reaching a connecting flight to finding ground transportation. Bush Intercontinental's five terminals are connected by an above-ground people-mover and an underground train, so allow added time if you're traveling between terminals. The compact William P. Hobby Airport is just 15 minutes south of downtown and accommodates domestic carriers. City buses provide cheap transportation between Hobby and downtown.
Q: How do I get to Houston, Texas?
A: If flying is not an option, try riding the rails aboard Amtrak's Sunset Limited, the popular New Orleans to Los Angeles line. The train arrives in Houston six days a week, but the direction it's traveling alternates daily, so make sure you study the schedule carefully. Greyhound offers daily service, but if you're really watching your budget, look into the Megabus line, which provides low-cost tickets from a variety of Texas cities. Book early to grab a seat with a panoramic window. Pay close attention if you're arriving by car since many of the city's major highways operate under at least two names.
Q: What is Houston known for?
A: Home to a famed NASA center, Houston is synonymous with space travel, and Space Center Houston lets you delve into the storied history of space exploration. Your ticket, which you can purchase ahead of time online, includes a free tram tour of the compound. Make sure you arrive early though – not only does the center get crowded, but large portions of the tour take place outdoors and Houston's midday heat is sometimes punishing.
Space Center Houston is the official visitor's center of NASA's Lyndon B. Johnson Space Center. In addition to a theater and mission control rooms that you can tour, exhibits showcase everything from historic spacecraft to moon rocks.
Q: Where can I go in Houston?
A: Located just 10 minutes southwest of downtown, Houston's massive Museum District features more than 19 educational institutions. The Houston Museum of Natural Science offers special after-hours admission once a month and free admission to its permanent exhibits once a week. The district is also home to the Houston Zoo and its more than 6,000 wild animals. Little ones can cool off for free at the zoo's splashpad when it's 70 degrees F or warmer. Indulge in retail therapy at the Uptown District's Galleria, the largest mall in Texas with more than 375 stores. Take a break from all that shopping with a twirl across the mall's indoor ice rink, but check ahead of time for public ice times.
Houston Museum of Natural Science highlights fossils, ancient artwork and kid-friendly, interactive exhibits. For an additional fee, visit the museum's butterfly habitat, planetarium and giant-screened theater.
Q: What is there to do in downtown Houston?
A: Downtown is home to an assortment of kid-friendly activities and attractions. Downtown Aquarium Houston features a variety of underwater critters, giving visitors the chance to touch stingrays and marvel as giant Pacific octopuses splash about. Save some money in your budget if you want to ride the on-site carousel or take a spin on the 100-foot Ferris wheel. Discovery Green is a cutting-edge park in the heart of downtown. Rent unique sporting equipment free of charge on the weekends, such as horseshoes and bocce balls. There's also a small library where you can curl up with a book and a stage that showcases free concerts throughout the year.
Downtown Aquarium Houston includes a family-friendly restaurant, shops and carnival rides. Exhibits feature marine life from around the world, including coral reefs, crayfish and alligators.

Discovery Green is a 12-acre green space outfitted with a lake, sprawling lawns and a splashpad. Writing workshops and dance lessons are offered on select days as well.
Q: What is there to do in Houston at night?
A: Just five minutes southwest of downtown, Midtown features an active nightlife filled with nightclubs, bars and live music venues, many of which are within walking distance of one another. The lively neighborhood offers plenty of street parking, and the city's light rail system offers direct service from downtown to Midtown. Keep in mind, an inexpensive one-day Metro pass provides unlimited access to Houston's light rail and numerous bus lines. For an evening filled with high art, visit downtown's Theater District, where you may enjoy an evening of ballet, opera, classical music or live theater. Some venues allow you to reserve your parking and make dinner reservations when purchasing tickets.
Q: How cold is it in Houston?
A: Winter is Houston's cold season, but even then the conditions are mild. In December and January, daytime temps usually hover in the low to mid-60s, and overcast days require little more than a light sweater or sweatshirt. You'll probably need a heavy coat for the evenings, when temperatures can fall to the mid-40s, but rarely dip below freezing. Winters are also dry, averaging between 3 to 4 inches of rain each month, so bring an umbrella just in case, even though there's a chance you won't use it. Snow is incredibly infrequent, but check the forecast so you won't be blindsided by any surprise flurries.