Your Most Pressing Philadelphia Questions Answered
By Brenna Swanston

; Updated September 26, 2017
Planning the perfect trip to Philly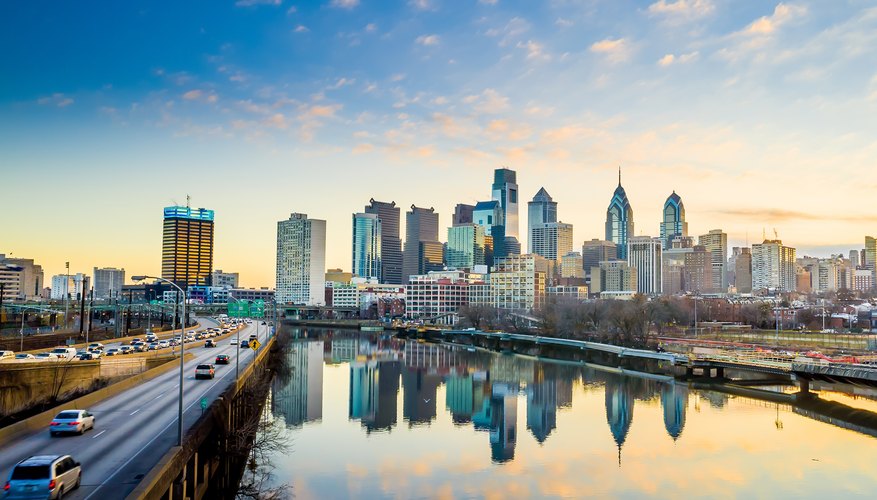 Philadelphia, Penn., boasts a rich history, a unique culture and one of the largest city populations in the United States, with nearly 1.6 million residents. You know Philly as home to the Liberty Bell, a type of sandwich called a "cheesesteak" and an opening lyric to the iconic theme song for "The Fresh Prince of Bel-Air." But what this city has to offer goes far beyond any of that. Here's everything you need to know to make the most of a trip to Philadelphia, the City of Brotherly Love.
Q: What is the weather in Philadelphia?
A: In Philly, you can expect warm, muggy summers and cold winters. The hot season starts in late May and lasts until mid-September, with the daily high temperature averaging 77 degrees F. The cold season spans from early December to early March, with temperatures rarely exceeding 50 degrees F. The city sees consistent cloud coverage, and during four months of the year, from late November to late March, regular snow.
Q: Does Philadelphia have a subway?
A: Yes. Philly prides itself on its comprehensive public transportation system, which is the fifth largest in the United States, including its subway network. Between the bus, subway and commuter-rail systems, it's pretty easy to get anywhere you need to go in Philly without a car. And on top of that, the city is walking-friendly.
Q: Why is Philadelphia called the City of Brotherly Love?
A: When William Penn named Philadelphia at its founding, he combined the Greek words for love and brother – "phileo" and "adelphos," respectively. The City of Brotherly Love came out of the translation from Greek.
Q: Is there really a Rocky statue in Philadelphia?
A: You bet there's a Rocky statue in Philadelphia. There are also "Rocky steps," which are actually the steps to the Philadelphia Museum of Art. The statue and steps together are two of the city's most popular attractions.
The statue dates back to 1980, when the bronze piece was created for "Rocky III." It immortalizes the fictional Rocky Balboa, portrayed by Sylvester Stallone in the film series. After filming wrapped on "Rocky III," Stallone donated the statue to the city. You can find it at the bottom of the steps to the museum, perfect for a photo op before making your own run up the iconic steps climbed by the ebullient Rocky.
Q: What is there to eat in Philadelphia?
A: Ever heard of a Philly cheesesteak? The sandwich is Philadelphia's staple, famous throughout the country despite its simple concept – griddle-fried beef mixed with "whiz" and slapped on a sandwich bun. The city is bursting with fine eateries, but if you're going to pay the city a visit, you're morally obligated to find a good cheesesteak. Here are a few spots that won't disappoint:
John's Roast Pork: Eater, in its guide to cheesesteaks, calls these cheesesteak sandwiches "hands-down, no question, the best cheesesteaks in Philadelphia." And that's high praise. John's sandwiches are notoriously heavily packed with seasoned beef cooked to order, topped with sharp provolone.

Tony Luke's: This one's a chain, with locations all over the city as well as beyond. But the original location is on Oregon Avenue.

Ralph & Ricky's: Here, a small cheesesteak means a foot-long stuffed with juicy beef, American cheese and caramelized onions.

Q: What's there to do in Chinatown in Philadelphia?
A: Philadelphia's Chinatown is vibrant and full of delicious food, so don't miss your chance to explore it. If you're looking more for an activity than a meal, check out the following:
Friendship Gate: Its ornamental, colorful arches offer artwork of fire-breathing dragons and calligraphy. Chinese artisans constructed the gate in 1984, and it's still one of Chinatown's most beautiful draws.

Kimmel Center: Pay the center a visit to watch a show, play or concert. It's home to the orchestra, and it hosts live music every night, so you're always sure to catch something good.

Starlight Holiness Church: This church is one of the oldest in Philadelphia's Chinese community. It's beautiful, charming and worth a stop for photos.

If you find yourself hungry in Chinatown, you're in luck. The area offers an abundance of unique Chinese eateries, so you can take your pick:
KC's Pastries: This bakery features a selection of Chinese delicacies, all modestly priced.

Penang: If you want a meal that'll leave you feeling warm and fuzzy and ready to explode, this is where you'll find it. They give generous servings of their delicious menu items.

QT Vietnamese Sandwich: If you've never tried an Asian-based sandwich, this is the place to do it. It serves subs and hoagies with traditional Vietnamese meats and vegetables stacked high.

Q: What's there to do in Philadelphia at night?
A: You'd have to try hard to be bored on a night out in Philly. Head to Old City for a late dinner and dancing, or to South Philadelphia for a younger, more hip atmosphere. You can also hit Northern Liberties for a live show, especially if you like jazz. And all the neighborhoods are situated close together, so you can take your pick of outings.
If nightlife is your thing, make sure to pack your dancing shoes, your trendiest outfits and your most big-dinner-friendly pants – you'll need all of them.