Every Question You Have About Dallas Answered
By Leah Rendon

; Updated September 26, 2017
Know where to eat, what to see and how to get around while vacationing in Big D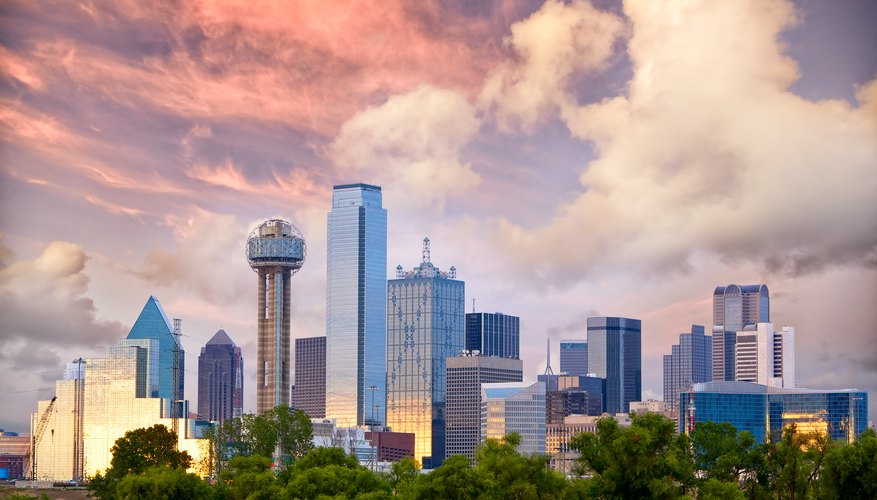 Combine your 10-gallon hat and cowboy boots with some insider knowledge and you may find yourself feeling like a local during your Dallas vacation. Discover how to save money and beat the crowds before exploring the lively streets of downtown Dallas, where world-class museums, theaters and significant moments in American history all converge. Keep the party going as you sample some down-home cooking in Uptown and line dance the night away in Deep Ellum. For a slower pace, retreat to the city's tranquil parks and gardens or spend an afternoon with the family at Dallas' revered zoo and aquarium.
Q: How long is the drive from Dallas to Houston?
A: It takes about 3.5 hours to travel between the two Texas cities on Interstate 45, a large highway with plenty of opportunities for food and gas. Winter storms occasionally dust the interstate with light snow but not enough to require chains or cause major delays. The interstate may become jammed with residents of Houston and Galveston who use the highway to escape the cities during hurricane season, which usually lasts from June to November.
Q: How often does it snow in Dallas?
A: Most snow falls from December through February, with the occasional flurry from October to November and March to April. Dallas experiences only about five days of snowfall and less than 2 inches annually. While you probably won't need snow boots or mittens, it's not unusual for cold Arctic fronts to blast Dallas in the winter, so make sure you pack a heavy jacket, scarves and gloves.
Q: Is Uber in Dallas?
A: Just 15 minutes northwest of the city center, Dallas Love Field Airport allows Uber to pick up passengers outside baggage claim. At Dallas-Fort Worth International Airport, Uber drivers are found in the arrival level's passenger pick-up area, but you'll need to include your terminal and door number in your request. You'll pay a higher fee when traveling to and from the international airport, located 25 minutes northwest of downtown, when compared to Love Field. Uber drivers are available all over Dallas, so you shouldn't have to wait too long for a ride.
Q: What is Dallas known for?
A: On November 22, 1963, President John F. Kennedy was assassinated while riding in a motorcade through the streets of Dallas. The Sixth Floor Museum at Dealey Plaza commemorates that tragic day. It takes about 90 minutes to tour the facility, but add time if you're going to visit the temporary exhibits on the seventh floor. Save time by buying your tickets in advance, particularly on the weekends when it gets especially crowded, and print your tickets at home or download them to your phone.
Sixth Floor Museum at Dealey Plaza: Located within the former Texas School Book Depository, the building from which Lee Harvey Oswald shot and killed Kennedy, the museum explores the president's life and details surrounding his assassination. Enjoy a moment of peaceful reflection at John Fitzgerald Kennedy Memorial Plaza, just steps from the museum.
Q: What is there to do in downtown Dallas?
A: Visit downtown's 68-acre Arts District, home to the Dallas Museum of Art, which offers free daily admission, and the AT&T Performing Arts Center, which provides free weekday tours and discounted student tickets to select performances 90 minutes prior to show time. Built over the Woodall Rodgers Freeway, Klyde Warren Park features unique and free programming throughout the year, including yoga classes, dance lessons and concerts. Just west of the Arts District, the Dallas Holocaust Museum/Center for Education & Tolerance provides audio guides in English or Spanish, free with the cost of admission.
This innovative 5-plus-acre park includes green space, a dog park and a children's park. Board games and books are free to borrow and food trucks frequently park on-site. * The Dallas Holocaust Museum/Center for Education & Tolerance: Exhibits featuring artifacts and archival footage honor victims of the Holocaust. Special events include author lecture series and speaking engagements from actual survivors.
Q: What is there to do in Dallas with kids?
A: Check the schedule at the Dallas World Aquarium for daily shark feedings and kid-friendly talks about jaguars and sloths. Enjoy discounted admission prices at the Dallas Zoo during the colder months, from December through February. Make sure you pack a hat, sunscreen and bottled water, however, on scorching summer days as the zoo doesn't offer a lot of shade. The Dallas Arboretum and Botanical Garden has a children's section where kids can walk under a waterfall, look through a kaleidoscope or take in a puppet show. Save some money by bringing your own lunch and picnicking on the grounds.
This downtown-based aquarium is home to marine life, birds and reptiles. Exhibits include a rainforest where toucans fly free and a walk-through tank with sharks swimming overhead. * Dallas Arboretum and Botanical Garden: Set along the shores of White Rock Lake, the 66-acre grounds feature 11 gardens, including rose, sunken and camellia gardens. The arboretum also features a tea house and outdoor evening concerts in the summer and fall.

Q: Where can you watch fireworks in Dallas?
A: Minute Maid Park, home to Major League Baseball's Houston Astros, hosts a fireworks show after each Friday home game from April through September. Arrive early for happy hour at the Centerfield bar, which also includes cornhole games and a photo booth. Fair Park, a 277-acre facility with fair grounds, sports venues and museums, hosts a free fireworks show every Fourth of July. Other free events at the holiday celebration include concerts, lawn games, obstacle courses and a splash pad.
Q: What is there to do in Dallas at night?
A: Explore one of the numerous bars in Uptown, Dallas' bustling nightlife district, including a ride on the mechanical bull at the Trophy Room. Barhop your way through the neighborhood for free upon the McKinney Avenue Trolley, the area's old-fashioned streetcar, or walk to Round-Up Saloon, a popular gay bar in nearby Oak Lawn, and sign-up for free dance lessons. Visit lively Deep Ellum, a neighborhood with more than 20 live music venues. Take in a show at Trees, Dallas' famed concert hall, but arrive early to grab a good spot or call ahead to reserve a table.
Q: Where to stay in Dallas?
A: Stay downtown, where Dallas' four light rail lines all converge, and enjoy access to public transportation. Enjoy a unique view in Hotel Joule's rooftop swimming pool, which hangs over the building's edge and above downtown. Some Uptown hotels, including the upscale Rosewood Mansion on Turtle Creek, are just steps from the Katy Trail, a popular walking and biking path that connects numerous restaurants and bars. Save money by staying in the University Park District, 15 minutes north of the city center, such as at the Lumen, which offers a rooftop terrace and complimentary car service to downtown.
Q: Where to eat in Dallas?
A: Make the most of Dallas' diverse culinary landscape, from smoky barbecue to massive steaks, by signing up for a food tour. The Food Tours of America is a walking tour that focuses on the Uptown and Downtown region. Tours feature various levels of walking and outdoor activity so check the schedule before you book. On select tours, you can add alcoholic beverages to the tasting menu. Tickets must be purchased in advance in-person, online and by phone, but cash is not permitted.