Every Question You Have About Baltimore Answered
By Kathryn Walsh

; Updated September 26, 2017
Get crabby: planning for a visit to Charm City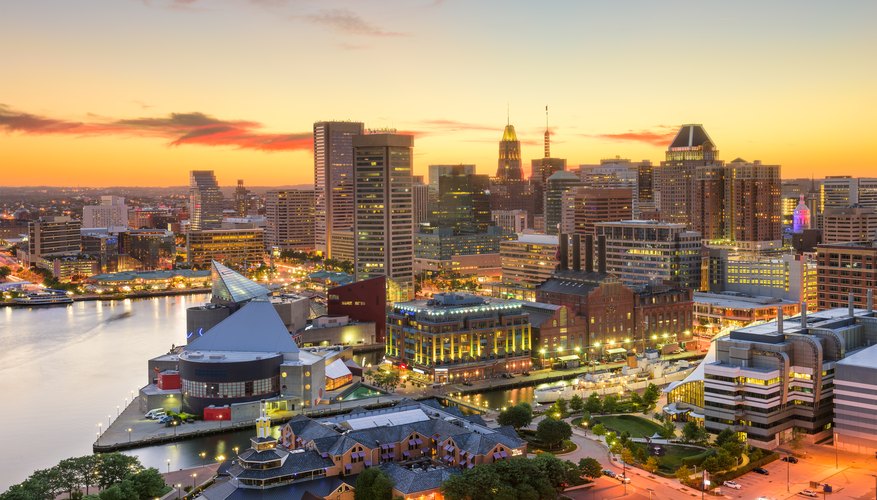 If it can be made with crab, someone in Baltimore has probably perfected the recipe – and it no doubt pairs well with a cold beer. Baltimore is a city that loves its sea life so much that one of the world's premiere aquariums is located there. That makes sense, because the city sits on the Patapsco River, which provides the harbor that makes Baltimore so scenic. Before you enjoy the sea air, brush up on everything you need to know about Baltimore.
Q: Why is Baltimore called Charm City?
A: The city's nickname is a sweet one, but the history of how it came about isn't terribly charming. Baltimore was coined Charm City in the 1970s, when the mayor wanted to find a way to promote the city. Some of the area's major advertising execs got together and brainstormed ideas, ultimately coming up with Charm City in reference to their belief that Baltimore had a lot of hidden charms. They were right, and the nickname stuck.
Q: What is the weather in Baltimore?
A: Baltimore has four distinct seasons. Winters are cold and tend to be fairly snowy. Spring and autumn bring milder temperatures. Baltimore summers can be humid and hot, with temperatures sometimes reaching or exceeding 100 degrees F. The city doesn't really have a distinct rainy season, and showers are possible throughout the year.
Q: How many inches of snow fall in Baltimore?
A: It really depends on the season. Some years Baltimore gets no more than a few inches of snowfall. And then there are years like winter 2009-2010, when the city received 50 inches of snow in February alone. Between 1981 and 2010, Baltimore had an average annual snowfall of 20 inches.
Q: How much is the Baltimore aquarium?
A: The National Aquarium is probably Baltimore's most famous attraction and is known as one of the best aquariums in the country, if not the best. As such, ticket prices are fairly steep and range from about $25 to $40, with the cheaper tickets reserved for seniors over 65 and for children between ages 3 and 11. Kids 2 and under are admitted free. Tickets are sold for specific entry times, and popular times – like summer weekends – sell out in advance. The aquarium does offer special discounts and packages throughout the year, so check its website for details when you're ready to visit.
Q: Where should I stay in Baltimore?
A: The Inner Harbor area is probably Baltimore's most popular spot with visitors. When you stay there, you can walk to bars, restaurants and attractions and enjoy the water views. Another good option is to stay Downtown. Like the Inner Harbor, the area is convenient to tons of dining and entertainment options. The Fells Point neighborhood is also on the water and is known for its historical charm and hip shopping and dining options.
Q: What is there to do in Baltimore's Inner Harbor?
A: In short? Tons. The National Aquarium, Maryland Science Center, American Visionary Art Museum and USS Constellation are all located within the Inner Harbor area. The harbor is lined with restaurants serving fresh seafood. There's also a harborside marketplace and a performing arts pavilion. The Babe Ruth Birthplace & Museum and Camden Yards, home of the Baltimore Orioles, are within walking distance of the Inner Harbor, as are the Port Discovery Children's Museum and the Reginald F. Lewis Museum of Maryland African American History & Culture.
Q: Does Baltimore have a subway system?
A: Yes. The city's Metro SubwayLink system has 14 stations and serves the greater Baltimore area. The city also has a light rail system that links some of the most popular spots in Baltimore. The light rail has stops near Camden Yards, Lexington Market and the Convention Center, among other spots.
Q: When is crab season in Baltimore?
A: Seafood lovers can find delicious crab dishes served year-round in Baltimore, but between December and May your crabs probably won't be local. Maryland's crabbing season runs from April 1 to December 1 most years. It's subject to change if the crab population gets too low and authorities deem it necessary to shorten the season. During crabbing season, you can get locally-caught hard-shell crabs throughout Baltimore. Local soft-shell crabs are a little harder to come by, and are generally available between April or May and September. Summer is peak crab time, and Baltimore restaurants and seafood vendors should have a plentiful supply for you to enjoy.