Every Question You Have About Amsterdam Answered
By Teo Spengler

; Updated September 26, 2017
Exploring art-filled, openhearted  Amsterdam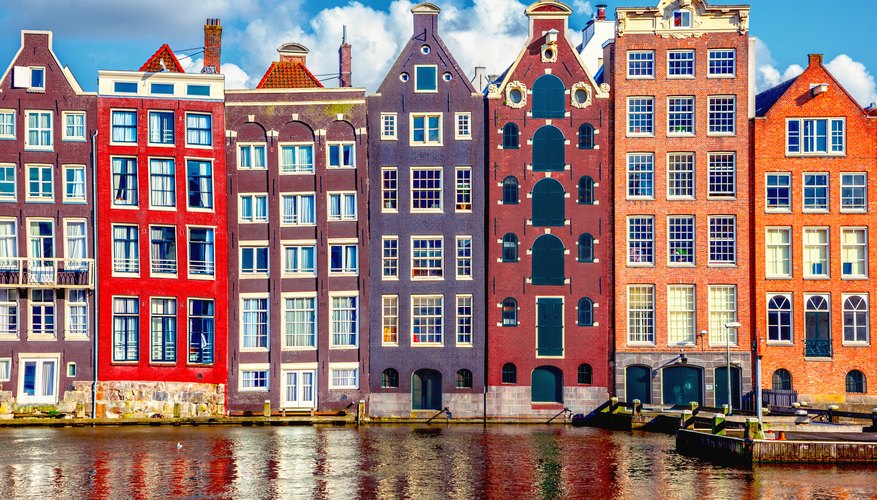 It's impossible not to fall in love with beautiful, multifaceted Amsterdam, with its narrow, gabled buildings and Golden Age concentric canal system. The rambling city is both a big, friendly village and the cosmopolitan capital of Netherlands. Art and bike paths abound here, and fun is guaranteed. Here's the scoop for those getting ready to go.
Q:  What language do they speak in Amsterdam?
A: Amsterdam is the capital of the Netherlands, and the official language of the country (and the city) is Dutch. However, this is Europe, where multilingual is the rule, not the exception, so you are likely to find that many of the people in tourism trades speak English.
Q: What is Amsterdam known for?
A: Amsterdam is known for its world-class art museums, oodles of bicycles for its untold kilometers of bike trails and, of course, those picturesque canals lined by slender buildings. Then, there's also the coffee shop culture and the red-light district. But this capital is also famed for its open, friendly and accepting spirit.
Q: What is the weather in Amsterdam?
A: A city of distinct seasons, Amsterdam is warmest in summer and coolest and wettest in winter. But don't be surprised if it rains in any season. The city is only 14 miles from the North Sea, so maritime elements cannot be avoided. This makes the climate mild, with pleasant summers, generally gentle winters with temperatures ranging from freezing and above and absolutely no dry season. Amsterdammers usually carry umbrellas every day, even during the peak of summer season, since a shower can sneak in regardless of what the calendar says. Spring is the driest season and may be the best time for a trip.
Q: Does it snow in Amsterdam?
A: It can and does snow in Amsterdam, but not a lot and not too frequently. Most years, Amsterdam gets a few inches of snow.
Q: Do you tip in Amsterdam?
A: You tip in Amsterdam whether you want to or not, since a supplement of six percent on food items and 21 percent on alcoholic drinks gets rolled into the listed prices. It's customary here to toss in a little extra when you are eating a casual dinner. Those diners with big bills often round up when they pay, leaving 50 euros, for example, for a 47 euro tab.
Q: What are people from Amsterdam called?
A: Residents of Amsterdam, like all residents of the Netherlands, are called Dutch. If you want to refer to those living in the city proper, you can say Amsterdammers. An Amsterdammer born and raised in the city can also be called a Mokummer. That's because the local nickname for the city is Mokum, from the Hebrew word mokum, meaning place.
Q: When do tulips bloom in Amsterdam?
A: The tulip display is best at the bulb fields near Amsterdam. Tulips and other bulb flowers bloom mid-spring, usually from the middle of April through the middle of May.
Q: How do you get from London to Amsterdam?
A: Your options for getting from London to Amsterdam are numerous. The bus takes about 12 hours, but it's probably the cheapest option for spontaneous travel. Flying is fast, less than an hour if you just count the time in the air. Add in the hanging-around-the-airport downtime, plus the transportation to and from the airports, and this plan may not shine as bright. But it isn't very expensive either, and costs even less when you buy a ticket in advance.
There's the ferry, of course, combined with a train. It's not wildly expensive, but it takes over eight hours. The train itself is quicker, and a ticket can be had for a reasonable sum if you buy in advance. Taking your car is a possibility, but once you calculate the Eurostar Tunnel fees and the cost of gas, it's far and away the worst, most expensive option.
Q: Can you get the Eurostar to Amsterdam?
A: As of Christmas, 2017, Eurostars run direct from London to Amsterdam. The new e320 trains are interoperable. They can run on the European high-speed network beyond the UK, France and Belgium.
Q: What is there to see in Amsterdam?
A: It's easy to feel overwhelmed by the long list of wonderful things to do in Amsterdam, so many of them requiring more than a passing visit. Make walking around downtown a priority, exploring the canal network. And you can't possibly go to Amsterdam without taking a cruise along the 60 miles of canal. Just approach one of the boating companies docked in the city center.
Art museums in Amsterdam overflow with work by Dutch masters including Rembrandt, Vermeer and Van Gogh, and you don't want to miss them. The Rijksmuseum, one of the world's finest art museums, is an absolute must-see. Purchase your tickets in advance online and arrive before 10 a.m. or after 3 p.m. to avoid the crowds. The Van Gogh Museum is another extremely popular museum and an important stop on any trip to Amsterdam, with its 200 paintings by the master. The Amsterdam Museum offers a great overview of the city's history. For contemporary art, head to the Stedelijk Museum.
The Rijksmuseum means "state museum," and it is large enough to be worthy of its name. A huge art museum in the heart of Amsterdam, it houses over 7,500 masterpieces in its galleries, including an excellent collection of Golden Age painters like Vermeer. But first among equals is probably Rembrandt's The Night Watch.
Another top attraction you won't want to miss is the Anne Frank House, the actual house in which she wrote her famous diary. It draws over a million visitors a year. Buy tickets online since only online ticket-holders can enter before 3:30 p.m. The Rembrandt Museum is the master painter's actual house in the Jewish Quarter. He lived there from 1639 to 1656.
In the Anne Frank House, you can see the the rear house, called the achterhuis, that served as the Franks' secret annex as they were hiding from the Nazis. You can also see the original diary she wrote of their time there before being arrested bythe Nazis and sent to concentration camps.