Every Question You Have About Barcelona Answered
By Johanna Read

; Updated October 09, 2017
Barcelona: Too popular, but with good reason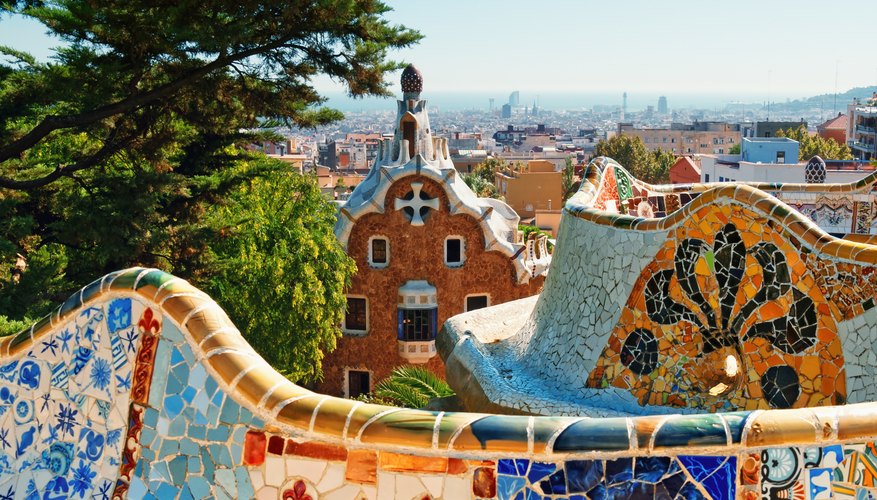 Barcelona's residents often grumble about the high numbers of tourists stretching the busy city to its limits. But who can blame the curious traveler? The spectacular architecture of Antoni Gaudí is like none other, the city is perfect for strolling and soaking up the Catalonian sun and there are delicious things to eat on every corner. Because it's so popular, consider visiting Barcelona in the off-season to enjoy fewer crowds, better hotel prices and to relieve some of the pressure on local residents. And don't forget to make your experience even more enriching by getting all the info you can before you go.
Q: What is the weather in Barcelona, Spain?
A: Thanks to its location along the Mediterranean and the protection of nearby mountains, Barcelona has moderate weather. The busy summer tourist season sees temperatures in the 80s. Sporadic rain is more common in the late autumn and winter, with temperatures only rarely dropping below freezing.
Q: What is the language of Barcelona?
A: The city has two official languages, Spanish and Catalan, because the city is the capital of Catalonia, an autonomous region of Spain. The red and yellow-striped flag of Catalonia is seen far more often in Barcelona than the Spanish flag. Many people do speak English, however, especially in tourist areas.
Q: Is there only one airport in Barcelona?
A: Yes. The airport is Barcelona International Airport. But people refer to it by a variety of names, which can confuse first-time visitors. The full name of the airport is Aeroport de Barcelona-El Prat, though several variations of that name are used. The airport code is BCN.
Other airports like Girona and Reus are about an hour away. Some budget airlines describe their flights to these airports as landing in Barcelona.
Q: Is there a train station at the Barcelona airport?
A: Yes. The RENFE train from the airport Sants station runs every half hour and takes about 20 minutes to reach the city. Metro, bus and taxi can also be taken from the airport.
Q:  Where can you go from Barcelona by train?
A: High-speed trains take passengers from Barcelona to Madrid and to eastern and southern Spain. It's also possible to travel by train to Milan, Paris and Zurich, among other European cities.
Q: What is Barcelona known for?
A: Barcelona is a very popular tourist destination. The city, the second largest in Spain, has been an important cultural epicenter since Roman times. It's famous for its food and for Catalan architect Antoni Gaudí who designed several unusual buildings in the city that have been awarded UNESCO World Heritage status.
Q: What is there to see in Barcelona?
A: No visit to Barcelona is complete without seeing some of the architectural feats of Antoni Gaudí. Born in 1852, he moved to Barcelona in 1868. Before he died in 1926, he designed several acclaimed buildings that visitors can explore:
Sagrada Família: This UNESCO World Heritage basilica almost can't be believed. Looking at the models of how the cathedral has evolved over the decades – and what it will look like when finished – is almost as fascinating as exploring the building itself. Construction began in 1882 and it is predicted that the church will finally be finished in 2026. Visitors can explore various parts of the interior and exterior, and those with a reservation can go up the Passion and Nativity Towers, two of the completed eight spires of the planned 18.

Casa Batlló: Nicknamed Casa dels Ossos, or House of Bones, because its facade looks like a skeleton, Casa Batlló has few straight lines and a roof that many compare to the spine of a dragon.

Casa Milà: Also called La Pedrera, Casa Milà was built as an apartment building between 1906 and 1912. Also honored by UNESCO, its many notable features include a lack of straight lines, a roof supported by a catenary arch and chimneys that resemble warriors guarding the skylights.
Park Güell: The main section of this park featuring Gaudí designs requires a fee, but other areas can be explored for free. Features include mosaic walls; curved, tilting columns forming an almost-tunnel; and an immense terrace with views of the city.
Both visitors and residents stroll Barcelona's La Rambla for people-watching, dining and shopping. The area can get very crowded and is a favorite haunt of Barcelona's famous pickpockets, so keep a close eye on your belongings. The street stretches all the way down to the port where visitors enjoy an aquarium, the maritime museum, a monument to Christopher Columbus and walking along the water. Near La Rambla is a museum with the art of Pablo Picasso and, on Montjuïc Hill, a museum with paintings by Joan Miró i Ferrà.
Q: Where to eat in Barcelona?
A: Where there are people, there are excellent restaurants in Barcelona. Tapas restaurants, which serve small plates, are a good bet for trying many of Barcelona's and Spain's famous dishes. Tapas 24, not far from Casa Milà, is justifiably famous and should be tried if there's no line. Order the sandwich made from Serrano ham, cheese and truffles. Barcelona's Mercado de la Boqueria, just off La Rambla, is a good place to see and try the wide variety of foods Barcelona has to offer.
When in Barcelona, watch for:
Patatas bravas: Thick, fried potatoes with a tomato sauce poured on top, often served with aioli.

Arbequina olives: A buttery, peppery olive grown in Catalonia.

Churros: Traditionally eaten in the morning, these sticks of fried dough are different than the ones often served at American fairgrounds, and best dipped in a cup of melted chocolate.

Crema Catalana: A crème brûlée flavored with cinnamon and citrus peel.

Zarzuela de mariscos a la Catalana: Barcelona's signature fish soup.

Escalivada: A salad of char-grilled vegetables such as peppers and eggplants.

Jamon Serrano: Even better than prosciutto.
Tortilla de patata: A cold potato omelette.