All Your Questions About Guangzhou Answered
By Joanne Thomas

; Updated September 26, 2017
Stepping into the heartland of Cantonese culture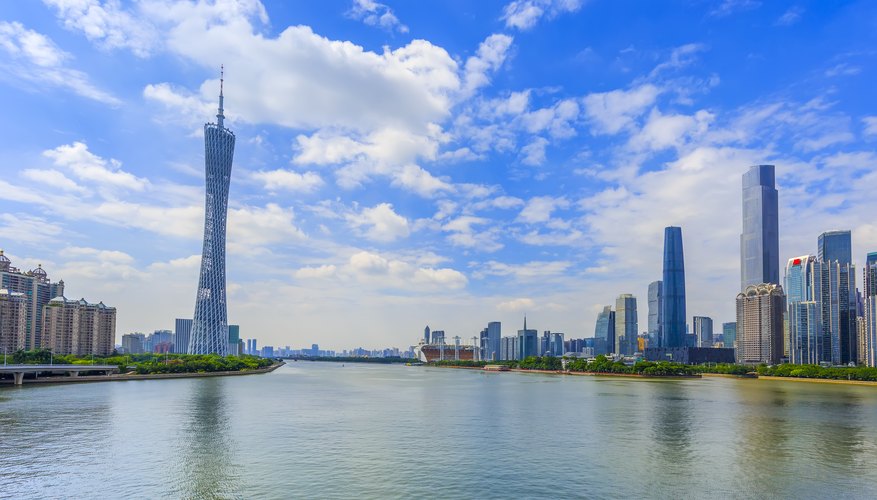 Guangzhou, also known as Canton, is the third-largest city in China and the heart of the mainland's biggest metropolis. It's also one of China's most popular tourist destinations, offering its visitors an intriguing mix of modern urban appeal alongside the natural beauty of the Baiyun Mountain range and Pearl River. With a heritage dating back over 2,000 years, Guangzhou also claims a great number of historic attractions that are as picturesque as they are enthralling. If you're planning a visit to Guangzhou, you'll want to learn about the city's complexities. The following questions and answers are a great place to start.
Q: Is Guangzhou a city?
A: Yes, Guangzhou is a city, officially one of China's five National Central Cities and the capital of Guangdong Province, located on the southern coast of the mainland. As a major manufacturing hub and one of China's most prosperous cities, it's ranked as an Alpha-Global city, indicating its importance to the global economy. Guangzhou is home to approximately 11 million people, and the hub of a huge, sprawling metropolis (that also includes neighboring cities Shenzhen, Dongguan and Foshan) with a population of around 44 million.
Q: What is Guangzhou famous for?
A: In the economic realm, Guangzhou is known for hosting the biannual Canton Fair, the oldest and biggest trade fair in China. It brings thousands of visitors from all over the world into the city every April and October. The city is also famous for its most prominent landmark, Canton Tower. In Chinese society, Guangzhou is considered the heartland of Cantonese culture, language and cuisine. Its heritage remains evident in such sites as Shaiman Island with its 19th-century European colonial buildings, the Guangdong Folk Museum housed inside the Chen Ancestral Shrine complex and the Museum of the Mausoleum of the Nanyue King.
Canton Tower, a 1,967-foot radio and TV tower, is the second-tallest structure in China and seventh-tallest in the world. Visitors can ride around its observation deck in revolving, spherical glass cars, taking in unmatched panoramic views of Guangzhou. After sunset, the tower is illuminated in rainbow colors, which reflect in the nearby Pearl River.
The Museum of the Mausoleum of the Nanyue King is the burial place of Zhao Mo, a king of the ancient Nanyue Kingdom whose tomb was accidentally uncovered in 1983. The museum comprises the tomb, 66 feet underground, as well as extensive exhibits of over 1,000 relics of the era also discovered at the site.
Q: What is there to do in Guangzhou?
A: Given its size, status and prominence as a tourist destination, it's no surprise that there's plenty for visitors to do in Guangzhou. The city hosts China's most popular mainland theme park, Chimelong Paradise. Visitors enjoy shopping for bargains on clothing, electronics and other goods, taking scenic cruises along the Pearl River and watching Cantonese opera performances at the city's modern opera house. Historic temples, in particular the Temple of Six Banyan Trees, and the bustling, pedestrian-only streets and alleys of Old Guangzhou, offer a glimpse of the past. For outdoor adventures amid beautiful natural landscapes, visitors head to the trails and parks of Baiyun Mountain.
Chimelong Paradise features an amusement park with thrill rides, a water park, a 320-acre safari park where you can see giant pandas, a crocodile park and a circus. It's especially popular with families.
The Temple of the Six Banyan Trees, built in AD 537, houses priceless Buddhist relics brought from India within its centerpiece, a pretty octagonal tower named the Flower Pagoda. Its prestige is magnified by Bodhidarma, the founder of Zen Buddhism, having taught at the temple, along with other important monks.
Baiyun Mountain, actually a full mountain range with 30 peaks, features numerous trails, an ecological park, a sculpture park and a cable-car ride to its tallest peak. Its name translates to "White Cloud Mountain," a tip of the hat to the shroud of mist that hides its peaks after a rainfall.
Q: What is the weather like in Guangzhou, China?
A: Guangzhou has a humid, subtropical climate with an average year-round mean temperature of 73 degrees F and a monsoon season from April to early September. The city is subject to typhoons every year during this rainy season. June through September are the hottest, most humid months, with an average temperature of 85 degrees F. Winters are short, with average lows of 54 degrees F in January. Winter is also a season of blooming flowers, when flower markets pop up all over the city. Fall, with its moderate rainfall and cool temperatures, is generally considered the best time to visit Guangzhou.
Q: What is there to eat in Guangzhou?
A: Guangzhou is the heartland of Cantonese cuisine, which is popular throughout China and across the world. Locals start their day with yum cha, or morning tea, which involves eating dim sum and bite-sized baked goods as well as drinking hot tea. Local specialties include rice rolls filled with meat or seafood, both as street food and home cooking; various dishes featuring soft, broad noodles; congee, a savory rice porridge; and, for special occasions, a roasted whole suckling pig. Egg tarts – hand-sized, sweet custard-filled pastry treats – are a popular local dessert. However, in this huge city with its diverse population, countless Chinese and international cuisines can be found in almost every price range.
Q: Do I need a visa for Guangzhou?
A: A tourist visa is required for U.S. citizens visiting Guangzhou, as well as all of mainland China. You must obtain a visa prior to arrival in the country and also have at least six months validity left on your passport. Find the required forms and up-to-date information on the Chinese Embassy's website and then mail in the application with fees and other required documents/items to the closest embassy or consulate-general to your residence. Also be sure to have at least two blank pages available in your passport.
Q: How long from Guangzhou to Hong Kong?
A: Hong Kong is approximately 75 miles from Guangzhou. The most straightforward way to travel between the two cities is by train. The journey by high-speed train takes about 45 minutes, while a standard train journey takes 1 hour and 53 minutes, one-way. Allow additional time to check in. A bus ride between the two cities takes approximately 2 hours. A flight takes just over an hour.