Your Most Pressing Phuket Questions Answered
By Johanna Read

; Updated September 26, 2017
Partying or Unwinding: Phuket Delivers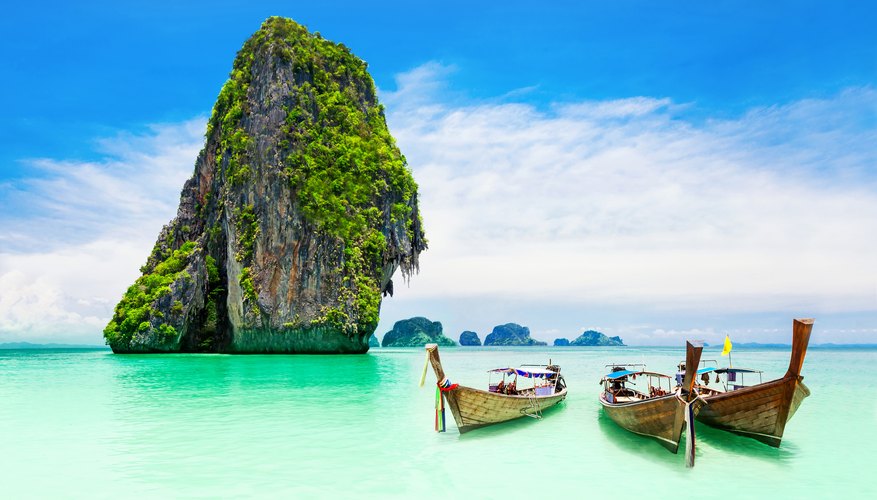 Phuket is Thailand's best known island, thanks to its white sand beaches, proximity to the beautiful islands of Phang Nga Bay and the famous party atmosphere in Patong. The large island is varied enough to accommodate those who want to experience Thai nightlife or just relax on one of its many beaches. The first key thing to know is that Phuket is pronounced poo-ket, just as neighboring Phi Phi Island is pronounced pee-pee. While Thailand is used to foreign tourists, Thais always appreciate visitors who treat their language, culture and religion with respect.
Q: What is the weather like in Phuket in October?
A: Phuket, like the rest of the Thai-Malay peninsula, is affected by the monsoon. October is the end of Phuket's rainy season, which begins in April, with September being the wettest month. Visitors during monsoon season still see lots of sun, but when it does rain it can be heavy. Generally Phuket's weather will be hot and humid year round.
Q: Do you need vaccinations for Phuket?
A: It's always smart to ensure immunizations are up to date and to consult a travel medicine clinic four to six weeks before traveling. The CDC reports that Phuket sees few to rare cases of malaria, and nearby islands like Ko Lanta and Ko Phi Phi are not affected. Mosquitoes here can carry Dengue fever though, a painful disease which has no vaccine or cure, so be sure to wear mosquito repellent. Recommended routine immunizations are for measles, mumps and rubella; tetanus, diphtheria and pertussis; polio; chickenpox; and the annual flu shot. Recommended travel immunizations are for Hepatitis A and B and typhoid.
Q: How to fly to Phuket?
A: While it is possible to come by road and rail, the fastest way to get to Phuket is to fly. Most people arrive via Bangkok, but there are frequent flights from other parts of Thailand, from Hong Kong and from Kuala Lumpur.
Q: How do you to get from Bangkok to Phuket?
A: There are over 50 flights daily between Bangkok and Phuket, departing from two different Bangkok airports. Whether leaving from Bangkok's main Suvarnabhumi International Airport or the secondary Don Mueang Airport, all flights land at Phuket International Airport. Bus and train are also options, but it can take a long time and thefts have occurred on board.
Q: How long is the flight to Phuket?
A: The flight from Bangkok takes about 80 minutes. In comparison, travel by bus or train can take 13 to 18 hours.
Q: What is there to do in Phuket?
A: Plan for plenty of time in and around the clear Andaman Sea, for example at Patong and Karon beaches. Top activities are snorkeling, diving and boat trips to nearby islands like Ko Phi Phi (ko means island in Thai).
Off the beach, Phuket offers lots to see and do. Those staying on the south part of Phuket will see the Big Buddha atop the Nakkerd Hills from almost wherever they are. Going to see it close up means being able to see some of the non-touristy parts of Phuket too. There's lots of shopping in Old Phuket Town and in Patong. Even those not into the party scene and who don't want to partake in lady boy shows or nightclubs should see the sites of Patong's Bangla Road after dark. It's is a distinctive part of a Thai holiday.
If it rains, the island has a few museums to visit, including:
Phuket Trickeye Museum: in Phuket Town, this museum has unusual three-dimensional and trompe l'oeil paintings that aren't as they initially seem. It's a fun stop for kids and adults, with photo opportunities galore.
Phuket Seashell: this shell museum near Rawai Beach has shells found in the local waters as well as valuable shells from all over the world, many prized by collectors. What is said to be the largest golden pearl in the world is here, as well as a shell weighing over 550 pounds.
Thalang National Museum: While it is closed for renovation at least until October 2018, this museum has artifacts about daily life on the island, its history and art, including a statue of Vishnu that is over 1,000 years old.
Those wanting to see animals should choose their activities with care. The privately-owned Phuket Zoo makes some animals, including elephants, perform tricks for tourists, which is no longer considered healthy and safe for the animals. Similarly, animal welfare concerns have been raised about places advertising tiger interactions. The Phuket Elephant Sanctuary, which opened in 2016, is a better choice for encouraging the ethical treatment of animals.
Q: How to go to Phang Nga Bay from Phuket?
A: Phang Nga Bay, northeast of Phuket, has many unusual islands with sheer limestone walls. A few are shaped like doughnuts, and at low tide boats can go into the center, called a hong in Thai, so passengers can wade or swim in the shallow calm water. The most famous island is James Bond Island, featured in the film "The Man With the Golden Gun." Its base is narrower than its top, making it look like it might topple over. Phang Nga Bay is a very popular day trip from Phuket. Excursions can be arranged from hotels, travel agents and from the beach.
Q: Where is there to stay in Phuket?
A: Phuket is a large island with plenty of lodging options. The most popular area is Patong, and the beach and streets can be very busy and crowded. Higher-end hotels have the location and space for a calmer escape. Karon is quieter than Patong, though there's lots of shopping and bars. Families tend to like Kata, as it is fairly peaceful but still with plenty of things to do. People wanting to escape from the crowds go to Nai Yang or to Rawai. Phromthep Cape is near Rawai, which some say has the most beautiful sunsets in Thailand.