Your Most Pressing Questions About Jacksonville Answered
By Johanna Read

; Updated September 26, 2017
Explore the outdoors in America's largest city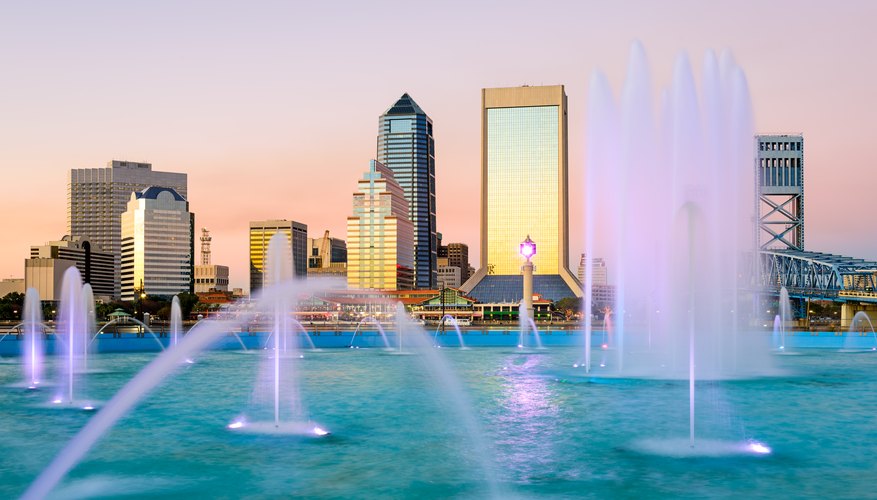 You'd never guess this Florida city is the largest in the continental U.S. It's not by population (the city has about 820,000 residents), but by area. Jacksonville is almost 900 square miles, so residents and visitors alike have plenty of green space and beaches to explore.
Q: Who is Jacksonville, Florida named after?
A: The city gets its name from President Andrew Jackson, who was President of the United States from 1829 to 1837. The city was originally named Cow Ford, but people started calling it Jacksonville around 1822 in honor of General Jackson, who was military governor of the Florida Territory. The area became part of the United States in 1821 when the territory was sold to the U.S. by Spain.
Q: What is the weather like in Jacksonville, Florida?
A: Sunny Jacksonville boasts great weather year round with an average temperature of 70 degrees F. The city does get more rain than the national average, but it comes mostly in the summer and can be a refreshing change from summertime temperatures which are in the low 90s. In the winter, Jacksonville's lows are in the mid-40s, and daytime highs are in the mid-60s.
Q: Does it snow in Jacksonville, Florida?
A: Snow in Jacksonville is very rare. When it does come, the flakes usually melt before they hit the ground. Jacksonville did have a white Christmas in 1989 when two inches of snow fell and lasted for four days.
Q: What time is sunrise in Jacksonville, Florida?
A: The time of sunrise in Jacksonville changes throughout the year. The earliest sunrise is in June at about 6:24 a.m. The latest is about 7:41 a.m. and takes place in early November just before the change back from daylight savings time to standard time.
Q: What cruise lines depart from Jacksonville, Florida?
A: Jacksonville's port is often called Jaxport, or just Jax. American Cruise Lines has three ships using Jaxport and Carnival's 2050-passenger Elation embarks on several cruises from the port year-round.
Q: How far is Amelia Island from Jacksonville?
A: Amelia Island, an island about the same size as Manhattan, is a barrier island in the Sea Island chain. It is 30 minutes from the Jacksonville airport. The island can be reached via two bridges or a ferry. Visitors enjoy golf, spas, theater, music and the island's parks and beaches, and stay in accommodation ranging from luxury resorts to small B&Bs to campsites. Local residents include deer, sea turtles, manatees and dolphins.
Q: What is there to do in Jacksonville, Florida?
A: With 1,100 miles of shoreline, 22 miles of beaches and 80,000 acres of green space, Jacksonville is a great place to get outside. The over 400 parks make the city's urban park system the largest in the U.S. Whether atop a bike, a horse or on your own two feet, there's lots of green space to explore. Not to miss:
Hanna Park: Featuring The Poles, an excellent surfing location, as well as 1.5 miles of beachfront, Hanna Park also has 20 miles of trails for hiking and biking at all skill levels. There's even a freshwater lake for kayaking, pedal boats and fishing. The park is named for Kathryn Abbey Hanna, who was a member of the Parks and Historical Places Board.

Fort Clinch State Park: This park is on Amelia Island. Visitors can go inside the rooms of Fort Clinch, which are decorated as they would have been in 1864. It's possible to see American alligator and painted buntings, among other wildlife, within this 1,400-acre park. Recreational activities include fishing, biking and hiking on paths and on off-road trails and swimming and beachcombing for shells and shark teeth.

Jacksonville Zoo and Gardens: In addition to over 2,000 animals, there are 1,000 varieties of plants in the 92 developed acres of this zoo, which has been accredited by the Association of Zoos and Aquariums for 25 years. The Jacksonville Zoo is the largest botanical garden in the northeast part of the state and features an innovative tiger exhibit as well as Florida panthers that were rescued from the area.

Cummer Museum of Art and Gardens: One of Jacksonville's oldest trees is in the museum's 2.5 acres of gardens, as are sculptures, reflecting pools and gardens designed to be historically accurate to the early 20th century. Inside the museum, visitors admire 5,000 artifacts and works of art dating from 2100 B.C.E. to today.