Everything you need to know about Brew City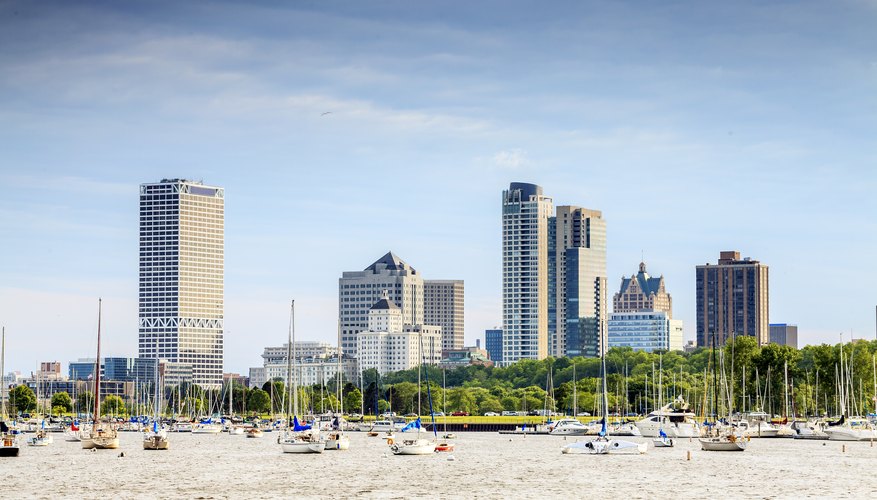 Kayaking through downtown and sunning on a beach aren't activities that readily come to mind when you think about Milwaukee, but drinking beer and eating brats might. In fact, the answer to the question, "What is there to do in Milwaukee?" is, surprisingly, "all of the above."
Q: What Great Lake is Milwaukee on?
A: Milwaukee is on Lake Michigan, the only Great Lake entirely in the U.S. With 22,300 square miles of surface area, the lake is the third largest of the Great Lakes and the sixth largest freshwater lake in the world. Before becoming Lake Michigan, perhaps named after the Native American phrase "michi gami," the body of water was called Grand Lac and Lake of the Stinking Water.
You may not think of beaches and Milwaukee as likely partners, but the city does have public beaches on Lake Michigan. Bradford Beach, the only one with lifeguards on duty seven days a week, has a bar and concession stand and hosts beach volleyball tournaments. To beat the crowds, head to McKinley Beach.
Q: What is Milwaukee known for?
A: A number of famous Americans were either born in or lived in Milwaukee. Poet Carl Sandburg lived in the city, writing poems, working for a newspaper and acting as assistant to the city's first Socialist mayor. General Douglas MacArthur called the city home, even though he lived there only a short time. The Zucker brothers, known for their comedy movies, are natives.
Beer, brats and cheese leap to mind when you think about Milwaukee cuisine. Usinger's opened in 1880 and now sells more than 70 varieties of sausage, including the bratwurst Milwaukee is famous for. Miller, Schlitz, Blatz and Pabst made Milwaukee the beer capital of the world. Tours at Best Place at the Historic Pabst Brewery include the history of beer brewing in the city. Head to the Wisconsin Cheese Mart to sample some of its 150 different cheeses.
Q: How far is Green Bay from Milwaukee?
A: Green Bay is about 110 miles due north of Milwaukee. The drive, partly along the shore of Lake Michigan, takes almost two hours on Interstate 43. Exiting the interstate north of Saukville and continuing on Route 57 cuts the miles but takes longer. Flights between the two cities generally make at least one stop and take around three hours. Greyhound buses that take a less direct route, stopping in Fond du Lac and Oshkosh, take about three hours and 20 minutes, but the bus line does operate along the more direct interstate route.
Q: When is Summerfest in Milwaukee?
A: The 11-day Summerfest begins in the last week in June, runs through July 2, and reopens from July 4 through July 9. The festival is open from noon until midnight and is closed on July 3. Big names in music like Bob Dylan, Pink and the Red Hot Chili Peppers perform on a dozen stages. Fireworks shows, food vendors, a Ferris wheel, paddleboats and activities geared to kids play out at the festival's venue on the shore of Lake Michigan.
Download the Summerfest app for current information on performance lineups, transportation options, food vendors and maps.
Q: What is there to do in Milwaukee?
A: Spend some time at a world famous museum, eye the elephants at the zoo and climb aboard a Harley without leaving the city.
Milwaukee Art Museum. The buildings that house the collections at the Milwaukee Art Museum are themselves works of art. Santiago Calatrava's pavilion has sunscreens that appear to be wings as they open and close. The museum's permanent collection includes drawings and paintings, three dimensional art, photography and furniture.

Milwaukee County Zoo. Almost 400 species are represented at the Milwaukee County Zoo in exhibition areas where predators stare down their prey (the animals are separated by natural barriers) and sharks swim in a 28,000-gallon tank. During warm months, zoo-goers can ride the Safari Train or the Zoomobile. Kids can ride the carousel or try out the zip line.
Harley-Davidson Museum. Hardcore Harley fans can inspect every inch of what goes into a Knucklehead, explore the history of America's most famous ride or sling their leg over the saddle of a motorcycle at the Harley-Davidson Museum.

Q: How big is Milwaukee?
A: Milwaukee spreads across 96 square miles of land in southeastern Wisconsin. It's the largest city in the state and one of the largest ports on Lake Michigan. Almost 1 million people live in Milwaukee County, with about 600,000 of them within the city limits. Milwaukee is the northern end of a largely metropolitan region that stretches 90 miles south to Chicago and on to Gary, Indiana. The largest ethnic group in Milwaukee identifies with their immigrant German ancestors, hence the city's reputation for beer and bratwurst.
Q: How do you get from O'Hare to Milwaukee?
A: O'Hare International Airport, about 17 miles from Chicago's Loop, is about 80 miles south of Milwaukee. Rental cars, which you can drop off at Milwaukee's General Mitchell International Airport, are readily available at O'Hare. The drive on Interstate 94 takes about an hour and 15 minutes. Flights operate between the two cities, and Greyhound offers regular service between Chicago and Milwaukee. If you choose Greyhound, the CTA Blue Line in Terminal 2 at O'Hare will take you into the city where you can catch the bus.