Every Question You Have About Pittsburgh Answered
By Leah Rendon

; Updated September 26, 2017
Food, weather and attractions: The best of the Steel City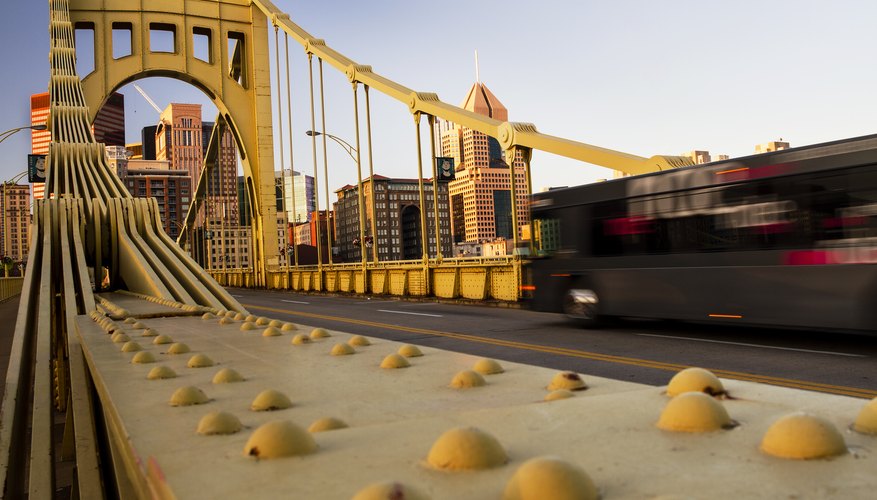 Explore the unique setting of downtown Pittsburgh, where three rivers converge beneath the span of bright yellow bridges before giving way to a lively city dotted with world-class museums and lush parks. Set out on the water or climb to towering heights to soak up the sights of this sprawling urban landscape, where former steel mills and factories now house trendy shops, hotels and eateries. With plenty of sightseeing, accommodations to suit any style and ample dining choices, a Pittsburgh vacation is sure to provide plenty of adventure.
Q: How far is Philadelphia from Pittsburgh?
A: With Philadelphia located in eastern Pennsylvania, and Pittsburgh based in the state's western portion, the two cities are approximately five hours apart via Interstate 76, a toll road. You can calculate your fees on the Pennsylvania Turnpike Commission's website, and cash and/or credit cards are accepted at most toll booths. Megabus provides daily, low-cost service between the two locations aboard a double-decker bus. Make your reservation early online to grab a seat with a table or panoramic window. For the fastest route, book a nonstop, approximately one-hour flight.
Q: What is the weather in Pittsburgh, Pennsylvania?
A: Pack a parka, snow boots and gloves if you're visiting in the winter, when lows barely hover above 20 degrees F and heavy snow falls. In the fall and spring, daytime highs climb to the 60s and 70s, but you might need a light jacket in the evening, when temps dip into the 30s and 40s. Up to 2 to 3 inches of rain fall every month, but keep an umbrella handy in May, which averages more than 4 inches. Summers are often humid, with highs in the 80s, so bring light and breathable clothes.
Q: What is Pittsburgh famous for?
A: Born and raised in Pittsburgh, pop art icon Andy Warhol is celebrated throughout the city. Located on the North Shore of the Allegheny River, the Andy Warhol Museum is accessible from downtown via the Andy Warhol bridge, which features lanes for pedestrians and automobiles.
Andy Warhol Museum: The museum is home to the largest collection of Warhol art in the world, including paintings, drawings, prints, photographs and films. The facility also showcases works by artists inspired by Warhol and hosts gallery lectures throughout the year. Tickets include admission to special exhibits and daily art workshops. The museum offers discounted prices every Friday night.

Q: What to see in Pittsburgh?
A: There's more to see in Pittsburgh than just contemporary art. The city has plenty to offer for both nature lovers and fans of more traditional art:
Phipps Conservatory and Botanical Gardens: Based in Schenley Park, the massive conservatory showcases everything from orchids and waterfalls to ferns and succulents. Outdoor space includes a rooftop edible garden filled with fruits and vegetables and a Japanese garden with a brook and bonsai. It takes about 90 minutes to tour the enormous glass Victorian greenhouse and outdoor gardens. Dress in layers as the greenhouse gets warm during the summer and cold in the winter. The gardens are least crowded on Mondays and Tuesdays, particularly from 3 to 5 p.m.
Carnegie Museum of Art: Founded in 1895 by Pittsburgh's famed industrialist Andrew Carnegie, the museum showcases more than 30,000 objects, including works by Van Gogh, Monet and Rodin. The museum also features lectures, film screenings and art workshops. It stays open after-hours the third Thursday of every month, complete with live music and food. Enjoy free guided tours with the price of your ticket and discounted admission every weekday after 3 p.m.
Q: What to do in Pittsburgh?
A: For a day of unique adventures, take the Monongahela Incline, the nation's oldest continuously operating funicular railway, to the hilltop neighborhood of Mount Washington, and enjoy panoramic views of downtown. Exact change is required for your incline fare, and you can bring your bikes, which you can use to explore the densely wooded trails of Emerald View Park. Day passes are available at nearby Ream swimming pool, a public outdoor facility open from mid-June through Labor Day.
Q: What are the three rivers in Pittsburgh?
A: The Allegheny, Monongahela and Ohio Rivers all converge in Pittsburgh, dividing the city into three sections: the North Side, the South Side and the Golden Triangle, or downtown. From April through early November, Gateway Clipper offers sightseeing cruises down the rivers, complete with narration. Weekend cruises from April through Labor Day include a pirate adventure show for kids. Pittsburgh's light rail system is free to ride downtown, and the Gateway Station is less than a five-minute walk from the waterfront Point State Park.
Point State Park: Set at the confluence of the three rivers, the 36-acre park sits at the tip of the Golden Triangle. The park is home to an iconic fountain, sprawling lawns and the Fort Pitt Museum, which details city's role in the American Revolution and French and Indian War. Take in free performances each summer at the park's Three Rivers Arts Festival.

Q: How much does the Pittsburgh zoo cost?
A: The 77-acre Pittsburgh Zoo and PPG Aquarium is home to more than 4,000 animals, including cheetahs, African elephants and polar bears. The zoo also features an aquarium and a children's zoo. As of 2017, from April through November, the zoo charges $16 for general admission, while seniors 60-plus and kids ages 2 to 13 receive a nominal discount. General admission rates are reduced to $13 from December through March. Children younger than 24 months always enter free of charge. Parking is also complimentary, but special exhibits and tours charge extra.
Q: Where to stay in Pittsburgh for Pirates game?
A: You'll find a handful of hotels located just steps from PNC Park, the home stadium to Major League Baseball's Pittsburgh Pirates. The nearby Residence Inn Pittsburgh North Shore and Hyatt Place Pittsburgh-North Shore are both less than five minutes on foot from the North Side metro station. Stay downtown and walk to the stadium via the Roberto Clemente Bridge, which is open exclusively to pedestrians on game day.
Q: What to eat in Pittsburgh?
A: With numerous locations throughout the city, Primanti Bros. serves up Pittsburgh's most famous sandwiches: massive piles of meat, coleslaw and French fries stuffed between two pieces of white bread. Beat the crowds by visiting the Strip District's 24-hour location any time after 10 p.m. Experience the city's rich German heritage at Hofbrauhaus Pittsburgh as you chow down on pierogi, schnitzel and bratwurst. Fill up on food at the affordable lunch buffet, and enjoy a beer at happy hour, both available on weekdays.