Every Question You Have About Tampa Answered
By Kathryn Walsh

; Updated September 26, 2017
Sun, sand and sharks meet in one of Florida's biggest cities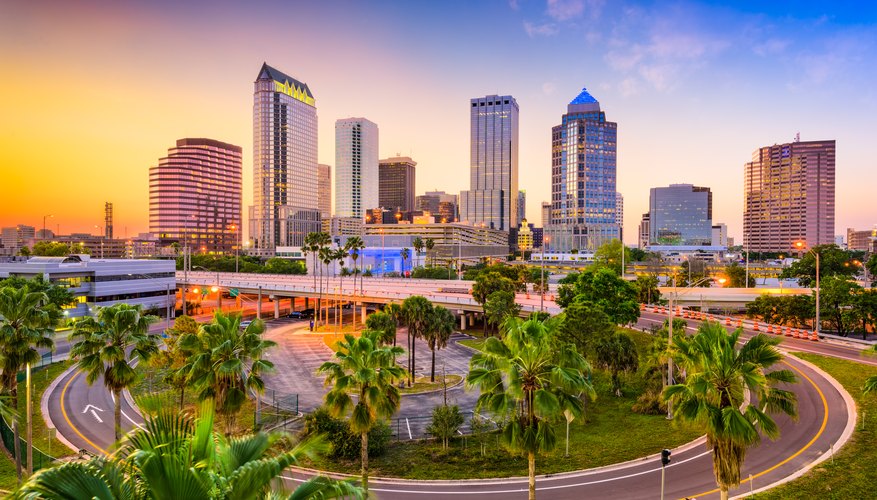 Tampa is one of those cities that feels like it was built for leisure. Tampa Bay gently laps at the city's shoreline, the area is surrounded by beaches and cruise ships pour in and out each day. But there's more to Tampa than surf and sand. It's a major city with museums, theme parks and cultural attractions. Explore it all – under the warm Florida sun.
Q: How far is Tampa from Miami?
A: Downtown Tampa is about 280 miles from downtown Miami. Tampa sits on the western coast of Central Florida, while Miami is on the eastern coast of South Florida, so you have to cross the state in order to travel between the two. You can choose your own route, but generally it's a drive of around four hours. Alternately, you can take a one-hour flight from one city to the other.
Q: How far is Tampa from Orlando?
A: Orlando is about 85 miles northeast of Tampa. The cities are so close that no airline operates direct flights between the two. You'll have to drive yourself or take a bus or train.
Q: What is the weather like in Tampa, Florida?
A: Like the weather in many parts of Florida, Tampa's is typically either hot or wet, and sometimes both. In summer, temperatures generally fall above 80 degrees F and often creep into the low or mid-90s. Temperatures cool off the rest of the year with averages in the 60s during winter. And like the rest of Florida, Tampa experiences hurricane season each summer and autumn. The city's average rainfall between June and September is about three times higher than it is the rest of the year. Tampa is also quite humid year-round.
Q: What is there to do in Tampa?
A: Busch Gardens Tampa Bay is one of the area's most popular attractions, thanks to its mix of kid-friendly attractions and heart-pounding thrill rides, combined with a zoo featuring more than 300 species of animals. The Florida Aquarium is also a bright spot of any Tampa visit, as is the Adventure Island water park. Some of Tampa's best attractions are free, though. Stroll the city's 2.5-mile Riverwalk and explore Ybor City, Tampa's historic Latin Quarter. You can also participate in a boat tour or try your hand at water sports, with the help of one of Tampa's many tour companies.
Busch Gardens Tampa Bay is an African-themed amusement park. Its attractions include roller coasters, safaris and live shows.

The Florida Aquarium features animals and aquatic plants native to the Florida area. It has a massive coral reef gallery and a wetlands trail that lets visitors experience a recreation of a Florida swamp.
Adventure Island is a water park that offers fun for visitors of all ages. The park, which closes during winter, includes plenty of high-speed water slides, wave pools and other water attractions.
Q: Are there beaches in Tampa?
A: The Tampa area has tons of beaches. However, because Tampa sits on a bay and not right on the ocean, options are limited close to the city. The Ben T. Davis beach is small, but its location near Tampa International Airport means it's easily accessible for people staying in the city. If you're looking for more options, head across the bay to St. Petersburg/Clearwater. The entire western coast is lined with beautiful beaches that face the Gulf of Mexico.
Q: Where do cruise ships dock in Tampa?
A: Cruise ships dock at Port Tampa Bay, on the Ybor Channel. It's located just east of the downtown area. Several carriers operate cruises out of Port Tampa Bay, so the port is very large. If you're cruising out of Tampa, carefully check your paperwork to determine which terminal you need to find. The port has plenty of parking options, starting at about $15 per day. You can buy parking online before your cruise.
Q: How many roller coasters does Busch Gardens Tampa have?
A: If you're looking for roller coasters, Busch Gardens Tampa is your place. It has seven high-speed coasters, each with its own blend of drops and loops. Some of the park's coasters are less intense than others and, therefore, appropriate for kids. Busch Gardens Tampa also has one Sesame Street-themed coaster for kids.
Q: Can you take food into Busch Gardens Tampa?
A: When you visit Busch Gardens Tampa, you're at the mercy of the park concessions stands. The park does not allow visitors to carry in outside food. Even flavored drinks aren't allowed past the gates. You may, however, take your own water.