Every Question You Have About Cleveland Answered
By Ashley Friedman

; Updated September 26, 2017
What to know and where to go in America's North Coast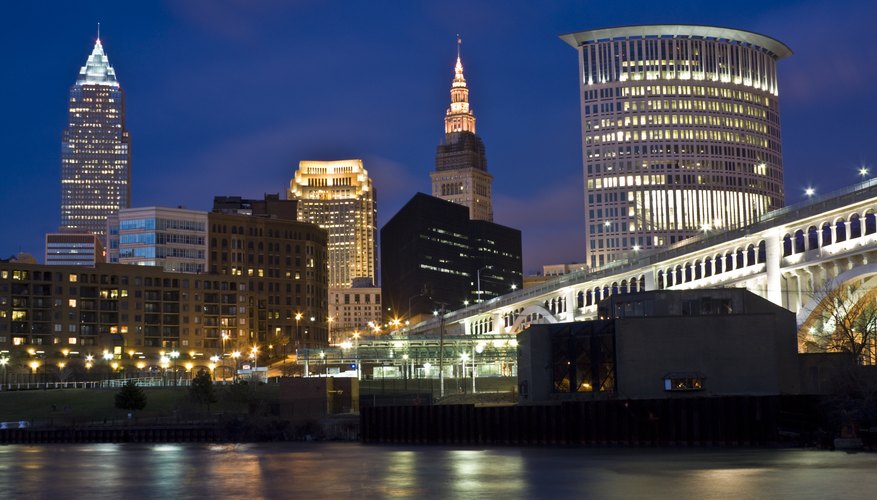 The U.S.'s 51st largest city, Cleveland, Ohio, is known for its prime spot on Lake Erie and world-famous landmarks like the Rock and Roll Hall of Fame. Whether you're in town for a week or just a day, there's plenty in Cleveland to entertain, inform and amuse, no matter what your tastes may be.
Q. What is there to do in Cleveland?
A. Cleveland, as a tourist destination, offers plenty to do and see for visitors of varied interests. Music buffs will be thrilled to spend an afternoon at the Rock and Roll Hall of Fame. Established in 1983, the venue honors the most important contributors to the field of rock and popular music. The museum inducts new performers each year and also has categories honoring non-performers, early influences and lifetime achievement. Animal lovers will enjoy the Cleveland Metroparks Zoo, which offers attractions like a railroad, a 4-D theater and the chance to observe diverse species from every continent on the globe. If your interests run more toward the fine arts and history, the Cleveland Museum of Art in the city's Wade Park district has a world-renowned collection of impressive Egyptian and Asian art; European, Japanese and American art; Greek and Roman art; and Islamic textiles. Admission is free, and the grounds are perfect for a post-culture stroll.
The Rock and Roll Hall of Fame has a changing roster of special exhibits and events year-round, as well as personal items belonging to inductees like Elvis Presley, Jimi Hendrix, Blondie and The Rolling Stones , rare footage of performances and sections dedicated to the music of specific cities and influences.
Cleveland Metroparks Zoo has one of North America's largest collections of primates. The zoo's programming board hosts special events and programs that change throughout the year, including opportunities for overnight stays.
Cleveland Museum of Art was founded in 1913. It has holdings in more than 16 different areas of art and objects including pre-Colombian art; Japanese and Korean art; modern European sculptures by Edgar Degas, George Minne, and Antonio Canova among others, as well as work by American painters, sculptures and photographers like Andy Warhol, Donald Judd and Richard Serra.
Q. Why is the Rock and Roll Hall of Fame in Cleveland?
A. In 1983, when the museum was created, several cities lobbied for the chance to have the museum erected in their city. Cleveland made a strong case, pointing out that the term "rock 'n' roll" was coined by local disc jockey Alan Freed and that the location of the very first rock concert took place in the city at the Moondog Coronation Ball. Cleveland was also, historically, a premiere tour stop for artists on the road and Freed and other local DJs claim to have brought some of rock's biggest acts to the airwaves, including David Bowie, Rush and Bruce Springsteen.
Q. How big is Cleveland?
A. The city of Cleveland covers approximately 82.47 square miles, and is home to approximately 385,809 citizens.
Q. What Great Lake is near Cleveland?
A. Cleveland sits on the banks of Lake Erie, the fourth largest of the five Great Lakes in the Midwest.
Q. What's the weather like in Cleveland?
A. Cleveland sees a great deal of precipitation. Fall in Cleveland tends to be damp and rainy. The average rainfall in the city is 39.12 inches, and a third of that accumulation occurs between September and December. In the wintertime, the city experiences snowfall of about 68 inches annually. The location on Lake Erie contributes to the amount of snow that the city gets, in that air rolling over the water creates precipitation that blows inland. Springtime tends to be cool and wet with average temperatures in the high 50s and low 60s. Summertime in Cleveland is typically humid, with high temperatures in the high 70s and low 80s.
Q. How far is Columbus from Cleveland?
A. Columbus, Ohio, is about 144 miles from Cleveland, a drive of just over two hours.
Q. How far is Sandusky from Cleveland?
A. Sandusky, Ohio, is approximately 66 miles from Cleveland, about an hour and 10 minutes by car.
Q. How far is Akron from Cleveland?
A. Akron, Ohio, is about 39.8 miles from Cleveland. Drive time between the two cities is roughly 45 minutes.
Q. How far is Toledo from Cleveland?
A. Toledo, Ohio, is approximately 117 miles from Cleveland. Depending on traffic conditions, the driving time between the two cities is around two hours.
Q. How far is Detroit from Cleveland?
A. Detroit, Michigan, is about 180 miles from Cleveland. Driving time is approximately three hours and 10 minutes, depending on the time of day and traffic conditions.
Q. How far is Canton from Cleveland?
A. Canton, Ohio, is about 60 miles from Cleveland. Drive time between the two cities is approximately an hour and five minutes.
Q.  Where is Cleveland Heights?
A. Cleveland Heights is located in Cuyahoga County, Ohio, and is a direct suburb of the city of Cleveland. The suburb is about 10 miles outside Cleveland proper, and the travel time by car between the two is approximately 26 minutes.
Q. What is there to do in downtown Cleveland?
A. Downtown Cleveland has a number of attractions and destinations worth a visit. The Greater Cleveland Aquarium displays excellent exhibits of marine life and is a relaxing place to spend an afternoon. The Cleveland Public Library – designed in classical Renaissance style – is the third-largest public library in the U.S., behind New York and Boston, and boasts a collection of baseball memorabilia and the Eastman Reading Garden, which includes sculptures by artists Tom Otterness and Maya Lin. The Cleveland Mall offers green spaces, fountains and beautiful views of the river. During football season, fans of the Browns will love taking in a game at First Energy Stadium.
Greater Cleveland Aquarium features eight galleries and more than 50 exhibits, with some focusing on fish, creatures and habitats from Australia, Africa, Asia and the IndoPacific.

The Cleveland Public Library became a depository for the United Nations Library Network in 1947. Its 6th-floor geography collection houses an impressive genealogy collection.
Cleveland Mall, built in the neoclassical style, was added to the National Register of Historic Places in 1975. Cleveland Public Art sponsors public art installations in the park to enrich the cultural life of the city.
First Energy Stadium is adjacent to the Rock and Roll Hall of Fame. It was built as the Cleveland Brown's Stadium in 1999 and renamed after a 2014 and 2015 renovation. In addition to Browns games, the stadium hosts high school football games and United States men's and women's soccer.