Every Question You Have About Vancouver Answered
By Johanna Read

; Updated October 09, 2017
Occasional showers bring lots of Vancouver flowers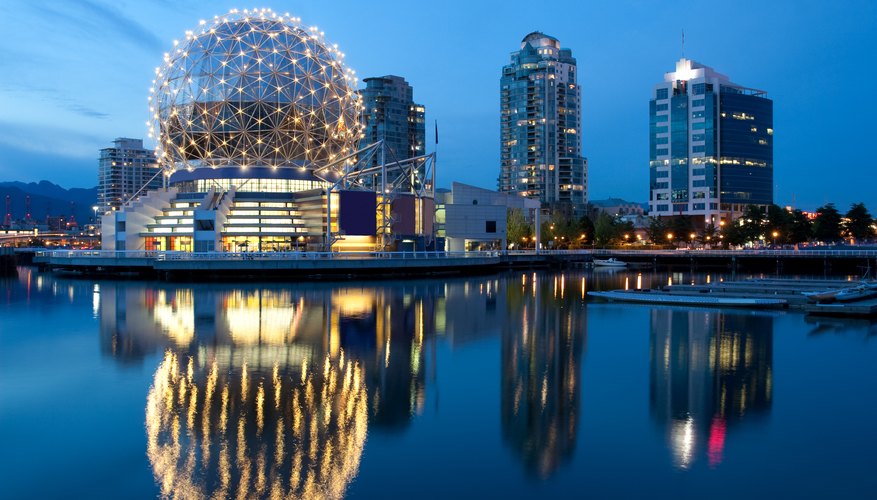 While it does rain in this rainforest city by the sea, that means lush green spaces and restaurants featuring a bounty of local, sustainable ingredients. Many visitors don't even notice the rain, because summer, the most popular time for tourist visits, is mild and sunny.
Q: What is Vancouver known for?
A: Vancouver is known around the world for its natural beauty. This western Canadian city is surrounded by the snow-capped Coast Mountains and the blue Salish Sea. Canada's third largest city has nicknames like Vangroovy, for its laid-back atmosphere, and Hollywood North, because so many films and television shows are filmed in and around the city. Vancouver is also known as Rain City because, especially in the winter, it can get wet.
Q: What is the weather like in Vancouver?
A: Rain is often forecast for Vancouver – the city is in a temperate rainforest zone after all. But Vancouverites try to keep it a secret from other Canadians who might want to move here that the rain often falls overnight or only briefly. In fact, recent summers have brought mild droughts to Vancouver, and the city's normally green parks have yellow grass for much of July and August.
Thanks to its proximity to the Pacific Ocean, Vancouver never gets too hot or too cold. The city often seems to be in a state of perpetual spring, as flowers start budding in January or February. Cherry blossoms, so fleeting elsewhere, can last from February until May. Summer temperatures are in the 70s, sometimes reaching the low 80s. Christmas and the first half of January are coldest, with temperatures hovering near freezing. Dress in layers as the weather can change quickly every day of the year, and there's often a breeze off the water.
Q: Does it snow in Vancouver?
A: It can snow in Vancouver, but it melts away quickly in the sea-level downtown area. The snow sticks around more at altitude, especially on the city's North Shore, where the neighborhoods are built up the sides of mountains. It snows so rarely at sea level that, when it does, Vancouverites talk about it for days.
Q: How do you get from the Vancouver airport to the cruise terminal?
A: When it was preparing to host the 2010 Winter Olympics, Vancouver built a light rail system to help residents and visitors get around more easily. The SkyTrain is the easiest way to get from the airport to downtown and the cruise ship terminal. The Canada Line takes passengers directly from YVR-Airport station to the Waterfront station, where the cruise ships dock at the Canada Place cruise terminal. Pay SkyTrain fares via a Compass Card. A two-zone ticket to get downtown costs $3.25 Canadian plus the $5 airport surcharge.
Q:  How do you get to the Vancouver airport by SkyTrain?
A: The SkyTrain's Canada Line goes directly to the airport from downtown, and connects to other SkyTrain lines and to buses from other parts of the city. When returning to the airport, the $5 surcharge for trains departing from the airport no longer applies.
Q: What is there to do in Vancouver?
A: No trip to Vancouver is complete without a walk on the Seawall into Stanley Park. The Seawall is a 13-mile paved pathway which begins at the cruise ship terminal, loops around Stanley Park and then circles False Creek. Pedestrians and cyclists share the path, so make sure you stay in your designated area.
Within Stanley Park, the massive urban park next to downtown, it's easy to see that Vancouver is a temperate rainforest. The exterior walking paths go by several beaches while pathways inside the park lead past ferns, moss and towering Douglas fir and cedar trees. There are formal gardens and a few eateries inside the park, as well as the Vancouver Aquarium, which hosts the global conservation organization Ocean Wise.
Green space is important to Vancouverites, and there are large and small parks everywhere. Especially popular:
Queen Elizabeth Park: Its location on a hill means fantastic views of the arboretum, the city and the North Shore mountains, especially from the Seasons in the Park restaurant.
VanDusen Botanical Garden: This more formal garden requires a fee to see its sculptures and over 7,500 species of plants. In December to early-January, there's a spectacular Christmas light show.
Dr. Sun Yat-Sen Classical Chinese Garden: This garden is an authentic replica of a Ming Dynasty garden, and the first like it outside of China. Parts of this Chinatown garden require a fee, but some can be seen for free.
Q: Where is there to eat in Vancouver?
A: Vancouver has a bounty of fresh seafood thanks to its coastal location, and the rain means gardens and orchards full of fresh produce. Restaurants feature as many local ingredients as they can. Some favorites:
Beaucoup Bakery & Cafe: Vancouver's best croissants and to-die-for pastries, especially the passionfruit tarts.
Harvest Community Foods: This shop has Canadian food products to take home, and the restaurant integrates local sustainable ingredients into fabulous udon and ramen noodle soups.
Burdock & Co: This Mount Pleasant restaurant highlights the foods and wines of western Canada's coast and valleys with a focus on sustainability.
Ancora: On the Seawall at False Creek, this beautiful restaurant blends Japanese and Peruvian influences. It's open for dinner, weekday lunch and Sunday brunch.
Farmer's Apprentice: A farm-to-table restaurant serving a tasting menu dinner, lunch and weekend brunch. Next door is Grapes & Soda, a more casual space for drinks and small plates dining.
Osteria Savio Volpe: A neighborhood eatery serving rustic wood-fired Italian food focused on local ingredients.
Q: Where is there to stay in Vancouver?
A: Downtown Vancouver has a concentration of hotels within walking distance of Stanley Park and the Seawall. Try:
The Burrard: A funky downtown boutique hotel near Granville Street's music venues, The Burrard's amenities include free Brodie bike rentals, gym passes, in-room Nespresso machines and a courtyard with ping pong tables.
Parq Vancouver: A brand new Vancouver property that is two hotels in one: the Autograph Collection boutique hotel The Douglas, and a JW Marriott with a Spa by JW. The space has eight restaurants and lounges, a casino and a huge elevated park.
OPUS Vancouver: In trendy Yaletown, and right across the street from a SkyTrain station, this boutique hotel is design-focused and often has celebrity guests.
The Wedgewood Hotel & Spa: An elegant Relais & Chateaux hotel with a romantic restaurant serving modern French cuisine as well as a first-rate spa.